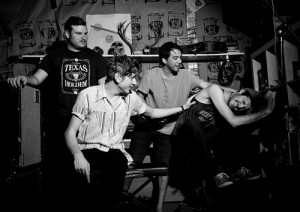 "I think our lives shows are really based on that we just play really hard, it's a lot of energy. Every show is 100% of us and I don't know how it comes off actually."
From Bio: When they started in 2009, seeing FIDLAR meant showing up to a house party and eventually having this exchange with one of them. Zac Carper, The bands guitarist and singer (well, one of 'em) would hand you a red cup, throw an arm around your neck and probably end up blurting out how fucked up he was. Their set list would read more like a grocery list of party supplies than a list of songs: "Cocaine. Cheap Beer. Chinese weed. Four Loko."
FIDLAR are your dumbass friends that find a beer, scrape the shit off their shoes, and tell you how the hardest thing about waking up late and trying not to fuck up your life is having to do it with no job, no money and everyone bumming your cigarettes.
Speaking to FIDLAR singer Zac Carper while in Leeds in UK on tour, we talked about their debut album, touring and what he loves about Australians. These guys are a fun band and the album is great, so check out FIDLAR as one of our Best Things You've Never Heard…
Tell us about the name of the band and the meaning behind it, if there is one…
Yeah it means 'Fuck It Dog, Life's a Risk', it was like a skate thing in LA for a while and like when me and Elvis met and we decided to start a band we decided to go with the name FIDLAR because we were always saying fidlar all the time.
Your debut album has been out for a month now, how is it going for you since release?
It's great, I mean, I think it's good.
With two EP's out prior, how if in anyway did the writing and recording process differ when you were making the album?
Oh no, not at all, the reason why we signed our deal to put records out is that we have full creative control over it, so like we got to record our own shit and do everything for it, so there was nothing different, we just do everything the way we do it. I never really believed in the whole… I mean I love records, I love records from bands, I mean 'Sticky Fingers' from The Rolling Stones, amazing record, and you have it and you have all the songs off of it, but I think with our generation it's a little weird, it's like the Napster generation, we download music for free and we make our own playlist you know?
In terms of your song writing, what do you consider to be the most important ingredients that make up a Fidlar song?
Real life. All the songs we write are stories that happened to us, it's kind of like an autobiography of our lives now. What else are you going to write about if you can't write about your own shit?
Who would you site as the bands main influences?
We really like the Black Lips and we really like the OC's, like garage rock and a lot of punk rock and things like that and so we also listen to a lot of country music and we listen to everything, a lot. That's the kind of thing about our band is that we can write any sort of song we want.
So when you were putting Fidlar together, is that eclectic mix of influences how you came up with what would eventually be the band's sound?
Yeah, totally.
So explain to us how you translate your music to a live show and what your show entails…
I think our lives shows are really based on that we just play really hard, it's a lot of energy. Every show is 100% of us and I don't know how it comes off actually.
You've toured with and played with a few bands, have you in essence, studied them and taken any techniques for your own live show?
Oh yeah, the first tour we ever did was with The Hives and when I played I never realty engaged the audience that much, and when we toured with The Hives, he is so good, Pele is so fucking good at talking to the audience, the whole band is really good at that and it kind of made me engage the audience a little bit. I fuckin' love that band, what's crazy about them is that they actually know their shit, they know punk rock and they know every fucking little band in the world, it's amazing.
I've read that you enjoy a good cover tune at your shows, so what's your favourite song to cover?
Right now we've been covering 'Suburban Home' by The Descendants and that's really fun.
In only a few years together has there been a highlight you can share with us?
I think Japan, right now for us we went to Japan, and that was a really fun trip.
So when do you think you'll be heading down here to see us?
I don't know, it's still in the works, we were supposed to come down there in May but I don't think that's happening anymore, but we're going to come down there in I think Summer. That's the plan. One thing, I grew up in Hawaii and we have a lot of Australians and the one thing I always remembered is that they always point to the ground when they want to hitchhike, in America and Hawaii we always put our thumb out but you guys always point to the ground, it's amazing, I love that *laughs*
What does the remainder of the year hold for you?
Tour, tour, tour, a lot of touring… we're like practically homeless now, so touring. We're in the UK now then Amsterdam tomorrow, holy shit *laughs*… no we're on tour for like ten weeks, this is the beginning of our ten week tour.
Best of luck with everything, Zac…
Thanks, man. I'll see you soon.
Essential Information
From: Los Angeles, CA, USA
Sounds like: Pop Punk Rock
Band members: Zac Carper, Elvis Kuehn, Brandon Schwartzel, and Max Kuehn
Website: http://www.fidlarmusic.com/
Latest release: Fidlar (Warner Music Australia)