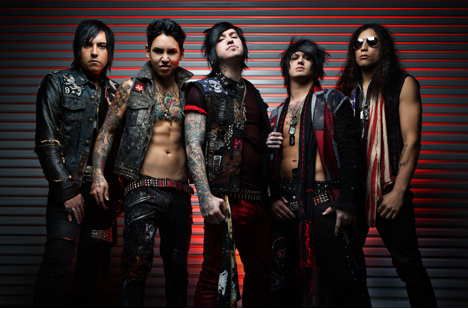 New York, NY – Kings of underground rock, Escape The Fate have announced the release date for their 4th studio album, Ungrateful on May 14th with new label home Eleven Seven Music. AlternativePress.com is hosting today an exclusive audio premiere of the album's lead single and title track. The song will be available to stream for 24 hours. Click here to listen.
 A deluxe version of Ungrateful will also be available on May 14th and will include a DVD of the jam-packed free show the band held at The Roxy in Los Angeles on January 6th, along with additional bonus content. Fans can purchase Ungrateful on the band's direct to fan store at http://www.myplaydirect.com/escape-the-fate.
The band will be unveiling their powerful and moving new video for "Ungrateful" in early March. The video covers an important topic for the band and illustrates brutally graphic stories touching on bullying and abuse.
Ungrateful is an example of the foot-to-the-throat intensity combined with soaring choruses and commanding songwriting that has set the band apart. Escape The Fate appeal to several layers of rock fans as a real band that blends classic qualities with edgy and new elements and have been categorized with the next generation of exciting rock bands.  The album was co-produced by John Feldman, Monte Money and Brandon Saller (Atreyu) and mixed by Josh Wilbur.
Originally from Las Vegas, Nevada, Escape The Fate features Craig Mabbitt, Monte Money, Robert Ortiz, TJ Bell and Michael Money. This release will be the bands 5th studio recording and first since 2010's self titled release.
About The Eleven Seven Music Group:
The Eleven Seven Music Group is a full service physical, digital and mobile record label group operating with global sales, distribution and marketing capabilities.  The label group continues to build on its model of research-based marketing strategies targeted directly to the fans and building out from that base. The Eleven Seven Music Group's expanding roster includes Mötley Crüe, Buckcherry, Papa Roach, Escape the Fate, Crossfade, Cavo, Sixx:A.M., Vince Neil, HELLYEAH, Trapt, Drowning Pool and Cold.   Driven by a core group of thought leaders, the independent mini-major has in-house marketing, promotion, publicity, new media, International, sales, tour marketing, production, video promotion, creative services, business management, web design, advertising, development and other services to support every release.
Eleven Seven Music, the cornerstone of the Eleven Seven Music Group, is the rock label of the year 2008 (FMQB) and 2010 (Billboard) and Mediabase's #1 Independent Rock label, taking hold on a good portion of the rock charts since its inception in January 2006. Recent releases include the #1 rock album from Motley Crüe, the Top 10 debut of Sixx:A.M.'s sophomore effort This Is Gonna Hurt, Buckcherry's Platinum and Grammy-nominated 15 and Drowning Pool's self titled #5 Independent disc. The label also dominated the iTunes 2008 and 2009 Critics and Sales Charts appearing at the top of most of the rock categories.