Digital Lies is the new studio album from Lord, which will no doubt further affirm their standing as one of Australia's leading, internationally renowned metal bands.  It may have been the best part of four years between album releases, but as one of the hardest working bands here in Australia with relentless touring, an EP release and the occasional video clip during that time, Lord have been anything but, out of the spotlight.
We chatted with bass player Andy Dowling about the new album and how the band have risen to the challenge during one of the most frenetic periods of international metal touring action we've quite possibly ever experienced here in Australia?
So Andy thanks for chatting this evening!  Well it's been about 4 years between the last album Set In Stone and new release Digital Lies…so walk us through what you guys have been up to in that time, you weren't exactly writing that whole time, you guys toured pretty hard didn't you?
Well we always try to keep busy, and no we didn't write for 4 years, we would have gone nuts, or thrown the album in the trash by then (laughs).  We toured a fair bit behind Set In Stone and we tried to knock that along for as long as we could.  Music just seems to be so disposable these days that you get bands churning out albums quickly just to keep interest out there and I guess maybe if we had the budget and time to sit down and continuously write, maybe we might do the same.  But you've got to give an album it's fair dues so we were out there for 2 or 3 National tours and headed overseas and really milked the hell out of that album, but it worked in our favour and set the tone for the new album.
We also released an EP in that time and also took a break off the live circuit, I think for most of 2011 it was, but we still put out a bunch of video clips as well.  So we were still in the public eye and keeping that Lord brand rolling.  It's a conscious thing for us, because especially here in Australia, we struggle as a scene as a whole to get recognised.  There are great bands out there that will release an album, do 4 or 5 album shows, then you won't hear from them for 6 to 12 months.  Then when it comes time to write a new album, they talk about trying to gain interest, but they're already on the back foot to where they were beforehand.  That's what we as Lord are conscious of, as soon as we stop being active, we are going to lose momentum, so we've got to be releasing EP's or videos or what not, to keep that going if we aren't touring.
This is potentially opening a can of worms I know, but generally speaking – in recent years, the amount of heavy bands touring Australia has grown significantly, as has a festival such as Soundwave – as one of Australia's premiere metal bands, can you in anyway correlate a growth in fans with this rise in touring action?
It's an interesting question, because normally I would expect a question along the lines of "have you guys suffered because of it…"  Look there are pros and cons about it, and most of the time all we hear is the cons, but there's positives and one thing I've noticed is that because there's international bands coming here, there's competition for bands that doesn't just come from peers in their local area.  People have got to step up their game if they want to be noticed.  So suddenly you've got your average metal fan who's not in a band, and loves going to gigs and there's all these international bands coming out in say an 8 to 10 month period, that's a lot if money to be spent on tickets.  So how do convince that person that you are worthy and get them coming out in between those big tours and paying the $15 or so to see a band like Lord?  So I think we're finding the quality of local music is increasing, their image in the way they promote themselves, the video clips, there's a lot bands pushing and trying to find new ways of bring innovative.  So I think it has benefited the scene in some ways as the quality is increasing, but I think it's still quite a while before Australia is as well recognised as the USA or Europe, but people are starting to clock on and realize we've got the potential there.   Especially the younger people, who are getting exposed to metal and heavier music, they are starting to realize there are bands in their local areas that sound like the international bands they are loving and seeing at Soundwave or in the media etc, etc.  We are noticing that, with a lot of younger fans getting into Lord and thinking we are from the USA or something…but we're nothing fancy from overseas or anything, were just a bunch of dickheads from Wollongong (laughs).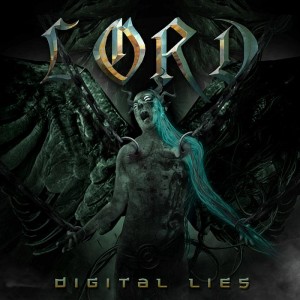 With Lord Tim largely writing the bulk of the material for this album, at what point in the process do you guys first hear a song, was it different this time around?
It does change for each album and does really depend on what the initial idea is.  For this album Tim and Mark primarily wrote it.  Mark had a fair bit of input into this album, but myself and Damo, we didn't and this is the first album I personally haven't.  That's just circumstances and me being lazy and not in the right mindset or whatever.  At least with this album it started off with ideas that were typically 30 second samples with a bit of guitar and say some melody lead guitar over the top to work out where a vocal line is.  So we worked through each one and maybe having different riffs or bits and pieces and then mashing them all together.  There were particular songs that Mark wrote the majority of and he'd hone that song and put it together and Tim would do the same for his as well, then we'd each have some input.  But it really does potentially change from song to song so we don't really have a set writing process as such.
So you've got the guys in Riot on board again for the release locally, but with the exception of Japan, it sounds like you guys are pretty much handling distribution and sales yourselves…that's a big job no doubt?
I guess that's one of the great things with this band, it's pretty much all DIY, from recording and producing, through to videos, promo, merch etc.  It's not that we don't want the assistance, it's just finding the assistance we think us right for us.  Until we find that we will continue to do things our way and we take pride in doing that.  At times that can be painstaking and might see us about 7 steps behind some other bands, but we figure if we stick to what we are doing and give things the required time, then we should be ok.
Knowing some of your own personal music influences, there's some highly melodic stuff in there…a key feature of the Lord sound also.  Is that melodic'ness something you are all influenced by in the band?
Yeah I think definitely.  We've all got our own little niche musical tastes that nobody else likes, but it all comes back to a core of bands that we all collectively love, those traditional metal roots, or rock roots, or some of those 80's influences that come in, that's where a lot of our melodies and vocal hook lines and catchy choruses come straight from the 80's and we mould it into a Lord sound.  The biggest thing for us is making each song memorable, whether that is putting a harsher vocal, or a melodic vocal or whatever it might be.  I guess for the most part we've been more of a melodic band than anything, that's what we do best.  Having a wide range of musical tastes in the band, that's also really where that diversity on our albums comes from.
What are some of your immediate memories of the recording sessions?  Are yours as traumatic as Tim's, who I have seen refer to these sessions as being a nightmare for him!
Well from my side of things it was pretty straightforward.  I came in and did my bass tracks, then came back in a few weeks later and did all my backing vocals.  But for Tim, he slaved away on the album for months and months.  We did different mixed versions of the album and would pick up that something hasn't quite recorded properly or needed to go back and re-do different sections.  It was a painstaking process as we were initially looking at having it out in August last year, but that obviously just fell through and stretched everything out as far as time goes and here we are.  From my side doing a lot of the promo and booking the tours, it was a bit of a stressful time for me trying to coordinate touring and the album release and trying to not be in a situation where it's like shit, I've got 20 shows coming up and not got a new album to sell!
On Set In Stone you had an number of special guests appear on the album – this time around that's not the case, was it a conscious decision not to have other players contribute to the album?
It was a conscious decision I guess you could say.  We raised it when we'd had most of the album written and considered whether we would get any guests to appear.  We had some who were meant to be on Set In Stone who couldn't be on it for whatever reason, who we thought, lets put them on the next album.  I guess it's a similar reason why we also don't have a cover song on this album, we wanted to just put out an album that was just us and we don't have any distractions.  The guests on Set In Stone worked perfectly for that album and at that point of time, but this time around we just kept the focus on us and not turning us completely into one of those bands who have always got special guests appearing all the time.  It's not to say we won't have guests on future albums, but for this one, we just wanted it to be us only.
You've got a bunch of tour dates coming up I see in both Australia and New Zealand, so is this the start of the next 4 year touring cycle!
As I had mentioned before, it's going to be great to get out there with an album to sell at the shows.  The dates are quite spread out at the moment and that's largely due to the amount of bands that have been touring this year, but we've decided to use that to our advantage and make each show more of an event and make the shows a bit bigger and the bands on the bills a bit bigger and make these shows really decent events.
Essential Information
From: Australia
Band members:
Lord Tim – (lead vocals/guitars)
Damian Costas (drums/backing vocals)
Andy Dowling (bass/backing vocals)
Mark Furtner (guitars/backing vocals)
Latest release: Digital Lies (February 22nd, 2013, Riot! Entertainment)
Website:  www.lord.net.au
Tour dates:
06/04/2013            Wollongong                     Dicey Riley's
04/05/2013            Sydney                               Bald Faced Stag Hotel
11/05/2013            Melbourne                         Evelyn Hotel