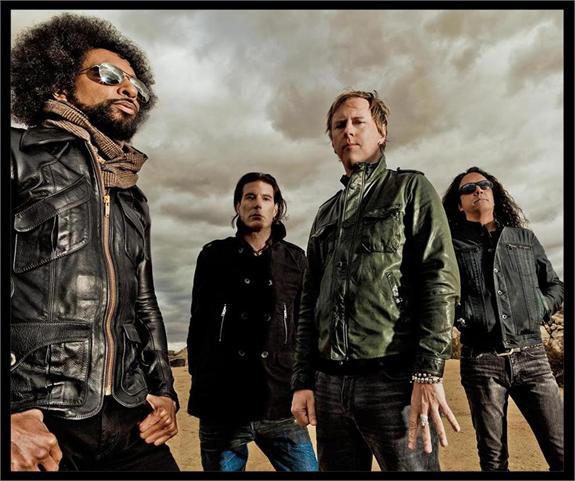 Alice In Chains have announced a May 24th release for highly anticipated new album'THE DEVIL PUT DINOSAURS HERE'. Those who can't wait that long to hear new music can receive an instant download of new single "Stone" by pre-ordering the album on iTunes: http://smarturl.it/BuyAIC
The band, who grace the cover of this month's Revolver  magazine in the US, will perform"Stone" April 10th on "Jimmy Kimmel Live!"  "Stone" follows the album's hugely successful first single "Hollow," which hit No. 1 on both the Mainstream and Active Rock US radio charts, while its companion video has amassed more than a million views on YouTube.
"We're excited about this album," vocalist/guitarist Jerry Cantrell recently told Rolling Stone. "We made a record that's completely different from anything we ever did. You see growth and that the band is moving ahead in new territory that we haven't been to before, but we haven't lost our identity."
'THE DEVIL PUT DINOSAURS HERE' was recorded in Los Angeles with producer Nick Raskulinecz (Foo Fighters, Deftones).
Album track listing is as follows:
"Hollow"
"Pretty Done"
"Stone"
"Voices"
"The Devil Put Dinosaurs Here"
"Lab Monkey"
"Low Ceiling"
"Breath On A Window"
"Scalpel"
"Phantom Limb"
"Hung On A Hook"
"Choke"
'THE DEVIL PUT DINOSAURS HERE' follows 2009's hugely successful release 'BLACK GIVES WAY TO BLUE'.  That album entered Billboard's Top 200 at No. 5, sold over one million copies, spawned two No. 1 hit singles ("Check My Brain" and "Your Decision") and a third ("Lesson Learned") that went top 10, earned two Grammy nominations and saw the band (vocalist/guitarist Jerry Cantrell, vocalist/guitarist William DuVall, drummer Sean Kinney and bassist Mike Inez) headlining a sold-out international tour.
On April 25th, Alice In Chains will hit the road for a US, Latin American and European tour that will see them playing an electrifying mix of new songs and classic tracks. Don't miss your chance to see them live – full list of dates here – www.aliceinchains.com
ALICE IN CHAINS | 'THE DEVIL PUT DINOSAURS HERE' | NEW ALBUM RELEASED MAY 24