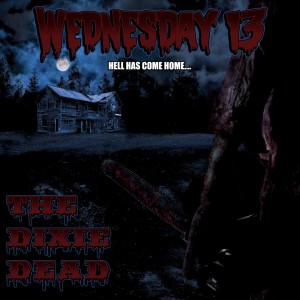 In summary: The Dixie Dead is a 'feature' of heavy riffs, gruesome lyrics, awesome melody and many a toe tapped. What more can you ask for?
From the opening of 'The Dixie Dead' with its haunting musical introduction and the premise of 'Death Arise – main titles', this concept from Wednesday 13 on his newest studio release gives you the feeling that it really is set as almost a story / soundtrack. Wednesday has always maintained the horror theme throughout all releases over his almost twenty year career and ten with his band, and this album will be no different that's a certainty; I mean the title alone gives that away. Straight in to 'Blood Sucker' which is as crunchy and heavy as you'd like with a killer riff and solo to boot, this is a great track and the perfect set up and lead in to the remainder of the album. We see the heavy continue in the vein of what I feel Marilyn Manson wishes he still did or could do as 'Get Your Grave On' is better than the last track in my opinion and if this keeps up, by the time we get to track 13 it'll be a masterpiece. So let's see how the rest of the album stands up.
I do have to say, musically though so far this is where it's at, lyrically the content is as you'd expect purely from the song titles and the balance is perfect and there's not a thing wrong with them. 'Curse The Living', 'Too Fast For Blood' and 'Hail Ming' keep the tempo up and I'm hoping the album stays this heavy as it'd be a shame for it to take a curve or stray from this onslaught of riffs and fist pumping goodness. Thinking about it, to say that these songs would be monsters in a live environment is pretty much a gimme and I hope that if this is Wednesday's concept, that they take it to the stage as just this, a whole album which paints the picture and makes it a spectacle, much as people like Alice Cooper have been doing for years. The theatrical, show element to me has been missing from the live scene, besides a few artists, so I hope this is an album to help bring it back.
The majority of the tracks clock in at 3:30 or less and pack that punch as I've said, there are no epic tracks on here, just a short, aggressive batch of horror type anthems and I for one am super impressed and happy with what I'm listening to. An interesting 'Coming Attractions' interlude gives us the idea of 'The Dixie Dead' coming to a theatre near you and holy shit, have you ever been listening to an album and as a track starts your eyebrows raise in a 'wow, what is this about?' Well I just had that when title track 'The Dixie Dead' started. This is not only going to be the best track on the album but I'd go as far as to say it's the best track I've heard from Wednesday 13 full stop. This is now stuck in my head and it can stay there for a little while, the production and elements of this track completely stand out and the only bad part about the track is that it just finished. There is your winner ladies and or gentlemen.
This 'second half' of the album is trumping the first half, something I thought that would be near impossible, songs like 'Ghost Stories' which takes that deep, dark almost gothic style musically in what felt like it came straight out of a Finnish metal band is outstanding and then a song like 'Fuck You (in memory of…) is the 'R.A.M.B.O.' of this album, destined to be an absolute crowd favourite sing along at every Wednesday 13 show from now until they stop playing, this is fun and sounds like a therapy session in a song. It's great.
'Carol Anne – They're Here' just freaks me out by reading the title, thanks for reminding me about Poltergeist, I'd blanked that out, but is a great story telling song, hopefully not taken too much from real life but this really has a rocked up 60's style musically on this track, that or just heavy as fuck 'Weezer' which is kinda one in the same if you get what I mean. With only a couple of tracks to go, one of them being the frantic 'Hands of The Ripper' at 3 minutes, it's a frenzy of horror metal. Rounding out the album is 'Death Arise – Overture – Credits' thus rounding out this 'feature'… a 'feature' of heavy riffs, gruesome lyrics, awesome melody and many a toe tapped. What more can you ask for?
I really think I enjoyed this album so much partly as I need to see what comes next in the year of Wednesday 13. Talk of a movie, a new live show production, and who knows what else, gives this album some great appeal and if this is only the beginning then I for one can't wait. I think today instead of Wednesday 13 they should be called Welldonesday 13. Stellar effort. Beware The Dixie Dead…
Essential Information
From: USA
For fans of: Horror style hard rock / punk / metal
Release date: 22 February 2013
Record label: 3Wise Records
Website:  http://www.wednesday-13.com
Tracklist
1.   Death Arise – Intro
2.   Blood Sucker
3.   Get Your Grave On
4.   Curse the Living
5.   Too Fast for Blood
6.   Hail Ming
7.   Coming Attractions
8.   The Dixie Dead
9.   Ghost Stories
10.  Fuck You (in memory of…)
11.  Carol Anne… They're Here
12.  Hands of the Ripper
13.  Death Arise – Overture