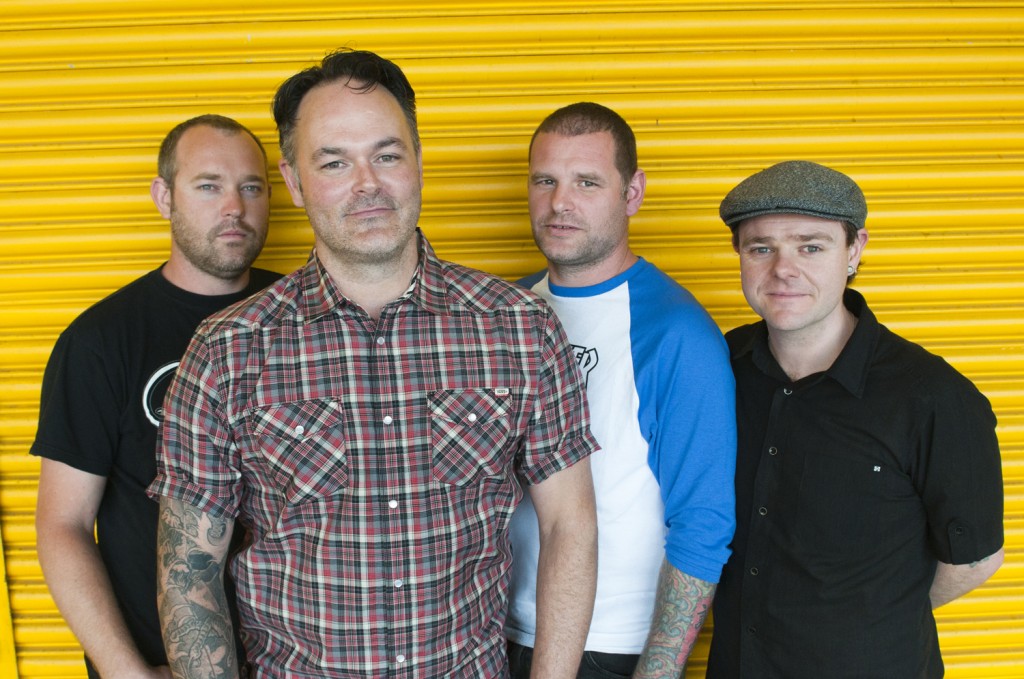 "Is it fair to say that Bodyjar are back and sticking around? – Yeah fuck why not"
From Tour Press Release: BODYJAR returned to Aussie stages last year into the warm arms of the Australian music-listening public after a brief hiatus. Smashing out a series of rad shows, the Melbourne lads launched the first ever vinyl release of their classic 1998 album No Touch Red by playing it in full and mustering a bevy of Aussie punk rock royalty to help them celebrate.
Always armed with great songs, look back at 1998's "No Touch Red" through to 2000's gold selling "How It Works" & 2002's "Plastic Skies", Bodyjar have released a string of classic singles that many would know straight away, including "Not The Same", "One In A Million" & "Too Drunk To Drive".
So on the back of their return, we had Tom from Bodyjar answer some questions for us about the band and their 'reformation' as well as reissues and their upcoming tour with The Descendants that kicks off this coming week in Brisbane.
After calling it quits back in 2009, can you tell us the story behind the decision of 'getting the band back together'?
Cam and our website guy Brenton decided to put the "No Touch Red" album out on vinyl, somehow we decided to do a show in Melbourne and play that album front to back. The show sold out super quick so we booked another one, then interest from other states started coming in and we thought why not? We rehearsed pretty hard to get the music right so we really enjoyed playing it more than once!
It has just rolled on from there, we are enjoying each others smells again and having a good time.
You recently played the Big Day Out in Melbourne, how was being back up in front of a festival crowd for the band?
It was a real experience, haven't played the BDO for more than 10 years so it was a buzz, took the wife, left the kids at home and had a good night out.
Crowd was awesome but we lost a few when "The Killers" started, I wanted to go watch them too, but was busy!
That shit doesn't happen at a pub show.
Of course we're here to chat about you being on the bill with The Descendants for a number of shows starting next week, what can people expect should they come and catch your set?
An Aussie version of the Descendents that don't play as well or write songs as well as the masters themselves. Poor man's Descendents!
The Descendents have been named as being the reason you are a band, what does touring with them on this run mean to you?
The awesome thing is just getting to watch them 4 times in 5 days, they have such a big catalogue of songs that I expect every night to be a different set list, and I'll see them all. GOLD.
And then having a couple of shandy's after the show and stuff will be great.
Oh and playing early means we can get our drinking shoes on early, steal the other bands riders, shit like that.
So I guess the question is now, is there any chance of a new Bodyjar album in the near future?
Yeah I reckon there is a good chance, we've written some songs together again but it is still a long way off even thinking about getting in the studio and all that.
Just having a good time at the moment and seeing where that takes us.
The response from what we have been doing has been amazing so I figure we would be stupid to sit on our hands and not try to create something again, it's just time with work and families, all that shit!
Is it fair to say that Bodyjar are back and sticking around?
Yeah fuck why not
You've also remastered and reissued the first three Bodyjar albums, what was the idea behind the re-releases?
They were deleted items so nobody could buy them anymore, we really just needed to make them available again.
Tell us a bit about your side project Burn The City, is this something you're still working on?
Grant and I started that band years ago, we've had a revolving door of members, put out an album and had some rad times. Mick sticks from One Dollar Short was drumming and Pete from As A Rival on guitar.
While focusing on Bodyjar there isn't any time for Burn The City but later on some time we will have to record some more stuff. It's all written and ready to go we just didn't get into the studio and put it down which is a bit sad. Grant and i talk about it sometime after a bottle of scotch and agree that we will record the good songs later on. Just chuck em on itunes or something.
Lastly, what are Bodyjar's plans for the rest of 2013?
DESCENDENTS!!!
We haven't done No Touch Red in Western Oz yet so hopefully that will happen.
Then we'll just jam out some new tunes I reckon, see if anything good comes out. Hopefully we can go on a fishing charter together so everyone can see me catch a big fish and slap Shane in the face with it.
And I want to tour Japan again.
Eating contest at sushi train?
Titty bar………
Essential Information
From: Melbourne, Australia
Band members: Cameron Baines, Grant Relf, Tom Read, Shane Wakker
Website: www.bodyjar.com
Latest release: album reissues available via Bodyjar website
Tour Dates:

Wednesday February 06 – Eaton's Hill – Brisbane, QLD
with THE DISABLES
Tickets: www.oztix.com.au, 1300 762 545
Thursday February 07 – Big Top Luna Park – Sydney, NSW
with IRRELEVANT
Tickets: www.ticketek.com 132 849, www.oztix.com.au 1300 762 545 & www.bigtopsydney.com 1300 BIG TOP
Saturday February 09 – Festival Hall – Melbourne, VIC (Lic. All Ages)
with GAME OVER
Tickets: www.ticketmaster.com.au
 Sunday February 10 – Metro City – Perth, WA
with guests
Tickets: www.oztix.com.au, 1300 762 545 & www.heatseeker.com.au