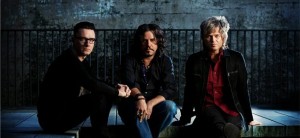 In July 2012, The Tea Party made a triumphant return to the stage in Australia with a series of sold out shows across all major capital cities after being apart for almost 8 years.
The band made a promise to the fans each night that they would return with new music and they are about to make good on this promise commencing recording sessions – in Australia – in March.
Armed with a renewed energy from the tour, its subsequent chart topping DVD/blu-ray release, Live In Australia and their double CD release of the same name, the sessions are inspired to recapture the essence of the iconic albums The Edges of Twilight and Transmission and will ultimately be the first studio release since 2004's Seven Circles album when finished.
While the band is bunkered down in the studio making new magic, they are going to resurface for special one off shows in Brisbane, Sydney and Melbourne. And take that energy back into the sessions.
Their shows in 2012 sold out well in advance so fans are encouraged to not delay or risk missing out once again!
The shows will differ from the 2012 concert and will be a fully acoustic performance.  The band has not done a full show like this in Australia ever before.  In Canada they undertook a mid '90's tour called Alhambra which was fully acoustic – and these special shows will recapture the unique "Moroccan Roll" of the band's sound that have made the Canadian band of Australia's all time favourite bands of the 90's and beyond.
Even unplugged, The Tea Party remains an intense, emotional and vital live act.  The set list will encompass their entire career.
This is the 14th time the band will have visited Australia to perform and coincides with the 20th anniversary of the release of their debut album Splendor Solis.
There are no possible additional dates for this mini tour!
SHOW & TICKETING DETAILS:
BRISBANE:    Eaton Hills 9 March, 2013.  Tickets on sale through the venue and www.oztix.com.au   ON SALE NOW
SYDNEY:        The Factory Theatre 10 March, 2013.  Tickets on sale through the venue.  www.factorytheatre.com.au ON SALE FROM 21 FEBRUARY, 2013
MELBOURNE:           The HiFi Bar 11 March, 2013.  Tickets on sale through the venue or www.oztix.com.au  www.thehifi.com.au   ON SALE FROM 21 FEBRUARY, 2013