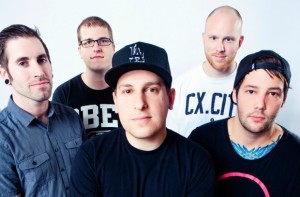 THE GHOST INSIDE DEBUT NEW VIDEO
First Australian Headline Tour Announced
Los Angeles based melodic hardcore band The Ghost Inside are gearing up to embark on their first headlining tour of Australia. The band will be joined by Emmure, Antagaonist AD and Hand Of Mercy. The "Destroy Music Tour" will begin May 23rd in Perth and wrap up June 2nd  in Brisbane. Tickets are on sale Thursday Feb 21 at 9am AEDT.
In addition, The Ghost Inside have just released the music video for their second single "The Great Unknown" off the band's fan-favourite Epitaph debut, Get What You Give. The video depicts 'a day in the life' feel following the band on the road. You can check out the video here :
Formed in 2007, the quintet's two prior records – their full-length debut, Fury and the Fallen Ones and their breakthrough album Returners laid the groundwork for the modern hardcore masterwork that is Get What You Give. Tracks like "Dark Horse," "Engine 45" and "Outlive" are rousing powerful anthems with lyrics addressing a wide variety of resonating topics from addiction to the loss of a loved one.
The Ghost Inside Tour Dates:
May 23, The Amplifier Bar – Perth
May 24, Fowlers Live – Adelaide
May 25, The Hi Fi – Melbourne
May 26, The Hi Fi – Melbourne
May 29, The Basement – Canberra
May 30, The Metro – Sydney
May 31, Newcastle Panthers – Newcastle
June 1, The Hi Fi – Brisbane
June 2, The Hi Fi – Brisbane
"Get What You Give" is out now on Epitaph Records!
For more information