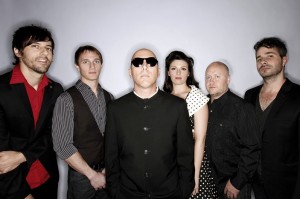 PUSCIFER ANNOUNCED ON SOUNDWAVE FESTIVAL IN SYDNEY AND ADELAIDE!
Soundwave Fans in Sydney and Adelaide are in for an extra special treat as PUSCIFER join the already massive lineup!
A PUSCIFER live show leads their audience through laughter, tears and reflective enlightenment throughout one night's performance. It's a musically driven evening that merges technology, quirky characters and comedy in what can best be described as an anarchist dinner theatre.  Continuing to spiral out in a genuinely innovative and masterful coil Maynard makes an audience tap into themselves and discover masses of introspective depth and as The Owl Mag so aptly put it "Sonically, visually, it was a visceral mind-fuck".
There's certainly nobody out there like Puscifer and this is nowhere more evident than on their new EP 'Donkey Punch The Night' (featuring two new songs "Breathe' and 'Dear Brother', two covers Queen's 'Bohemian Rhapsody' and Accept's 'Balls To The Wall'). It's a "wham-bam-thank-you-ma'am…fascinating, focused, and fiery seven-song collection and that's why this act is so essential. No one's got balls like they do!" Artist Direct
__________________________________________________________________________
FRIDAY 22 FEBRUARY           BRISBANE, THE TIVOLI – 18+ – SOLD OUT
www.ticketek.com.au
SUNDAY 24 FEBRUARY           SYDNEY, OLYMPIC PARK – SOLD OUT
TUESDAY 26 FEBRUARY           SYDNEY, ENMORE THEATRE – Lic A/A
www.oztix.com.au  and www.ticketek.com.au
THURSDAY 28 FEBRUARY              MELBOURNE, PALAIS THEATRE – All Ages
www.ticketmaster.com.au
SUNDAY 2 MARCH              ADELAIDE, BONYTHON PARK –SOLD OUT
For more information head to www.soundwavefestival.com