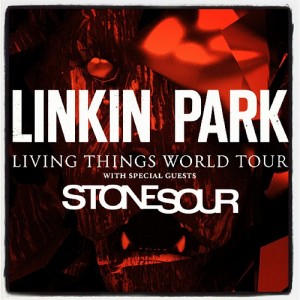 Oh another Sidewave? Don't mind if I do… This time we're heading up to Soundwave headliner status with Linkin Park, and along for the ride tonight on this awesomely paired show is Stone Sour. This is shaping up to be a big night and I for one can't wait to see both of these monster bands who I have had the pleasure of seeing many times before.
With the floor slowly starting to fill up, and still with twenty minutes until Stone Sour take the stage it will be interesting to see how many will make their way in to check out Corey Taylor and crew, hopefully more than are in here now, but I guess if they're not here they miss out.
Cut to black, the stage is pitch black as newest album opener 'Gone Sovereign' starts the show and instantly the sound of this band is huge, musically this band is on fire which I must say includes a very sharp dressed guitarist Josh Rand in a bow tie which is pure rock and roll, but his playing along with Jim Root's is seamless, as they dive into 'Absolute Zero' this here is a prime example of the melodic nature of Stone Sour. Giving us 'Hell and Consequences' for the first time and wow, that was just awesome. 'A Rumour of Skin' that allows Corey Taylor to show us how it's done, holy cow that dude can sing, and I say this as its the fifth time I've seen him perform whether it be Slipknot or Stone Sour and he always impresses me. Treating us now to something from their forthcoming 'House of Gold & Bones part 2, 'Do Me a Favour' is played, and well that was just a great sign of things to come. 'Say You'll Haunt Me' has received the biggest reaction yet and I think they're slowly starting to win over this very heavy Linkin Park fan strong audience. But as Corey Taylor emerges with a guitar to play 'Bother' solo, it was simply amazing and with that, we have a bevy of new fans, the reception to that track was just something special. 'Through Glass' is doing a great job of showing the crowd here that this isn't Slipknot, this is some great melodic hard rock, and after each song the crowd reaction is bigger and the love from the band is reciprocated. With only a couple to go and as a treat we're getting a couple that have never been played here before straight off of 'House of Gold & Bones Part 1' we have 'The Traveller Part 2' which shows the emotion in Taylor's voice and then as the bass starts off 'Last of the Real' they really go out with a bang and that's it. No encore but a whole lot of new love from new fans. How this band isn't bigger astounds me…
An interesting video between sets that Linkin Park have put together about those that live without electricity, gotta love a good cause. So may as well give it a plug… Powertheworld.org check it out.
The arena is now full besides those last minute stragglers and as 'Smack My Bitch Up' by the Prodigy is being played followed by The Beastie Boys 'No Sleep Til Brooklyn' we're very close time wise so let's see if LP are up at the end of this song… As the 'Linkin Park' chant begins… everyone is ready… Now to preface, even though I caught Linkin Park at Soundwave it will be interesting to hear if the set differs and also how differently it translates to an arena compared to the stadium.
Oh wow, it's already different, as they absolutely set the place rockin' with 'Faint' to open to open the set and one thing is for sure… Tonight, Linkin Park will not be ignored. YES!! 'Papercut', ok, sorry for my over excitement, but this is my favourite Linkin Park song and have to say, I seriously don't know how Chester is able to sing the way he does, this guy has a set of pipes that is like none other I've heard, it's simply amazing. 'Given Up' is killer and with a heavy breakdown in the middle that was a mosh frenzy. 'With You' takes it to another level and now… "Ladies and gentlemen Mr Hahn." A circle pit has emerged for 'Somewhere I Belong' and looking around and by the cheers as it finished it seems this is a favourite for many here. 'New Divide' sees the count of Transformers in the Entertainment Centre at 0 which is somewhat disappointing. Um, wow, 'Victimized' is so heavy and featuring some amazing video work behind the band on this one, another part of where the band shines with their imagery and art, really cool to see. While I'm on the video let's talk about the stage set up… With two stairways leading to the back behind the drums and Mr Hahn let's just sidenote and hope Chester doesn't decide to jump off again like he did last tour and bust his arm. The stage also has four risers at the front of the stage, a staple in LP land always cool when they get up on those, seems that Phoenix does love a bit of stage block action the most.
Hopefully today we'll get the whole version of 'Points of Authority' as it got stopped on Sunday, for good reason of course. Yes, made it, and always a ball tearer of a song. The next track 'Lies Greed Misery' from newest album 'Living Things' is a great mix of melody and hip hop and has the crowd loving it. 'Waiting for the End' allows Chester to actually sing rather than scream and man, he really has a killer voice. It heads in a rap rock almost reggae kinda style which is cool and some amazing drumming thrown in by Rob for good measure but as they move straight in to 'Breaking the Habit' the cheer of 'I know this one!' is heard, as Mike Shinoda thanks everyone for their support of the band's new album 'Living Things' they play 'Castle of Glass' followed by an amazing version of 'Shadow of the Day' is haunting and moving as the vocals accompanied only by the keyboards and drums start the song and it builds to be absolutely unbelievable. This actually gave me goose bumps. There are phones held up everywhere and the lights just look amazing. What a moment, see this is why I love going to concerts, there's just something about it, and the interaction from the thousands here just proved it.
To the other extreme here is 'Catalyst' which when it was released took me a while to get but any doubts I has once have now been shot hearing it tonight, it is so perfect for the live environment.  Oh well this one has them jumping… 'Lost In The Echo' allows Chester to scream his head off as does 'Numb' as you'd expect and as a crowd favourite gets a huge reception. 'What I've Done' continues the 0 transformer count but who cares, this is awesome!! Some little song called 'One Step Closer', is exactly as you'd expect, aggressive, loud, heavy and awesome. In that order… the mosh pit once again was insane (always is when they play this), the circle pit opened up for this one and the band leaves the stage. They'll be back…
There they are! Returning to the stage with 'Burn It Down' from Living Things and it's really a cool thing to see the evolution of Linkin Park, their newer material is in a way miles apart from anything off 'Hybrid Theory' but it is just a perfect mix, the band has grown and a song like this really shows that. In saying that though, as the new songs take time to know and love, it's that keyboard intro to 'In The End' that kicks in and makes the place erupt and rightfully so, let's hope we can get one more and it isn't in fact the end. Thankfully, yes, 'Bleed It Out' is a perfect choice for the closer, and what an ending! One last circle pit makes the fans at the front happy, well everyone is happy but they got one last run around in for good measure.
I still maintain that Linkin Park are one of the best live bands going at the moment and seeing them now a number of times, comparing that to eleven years ago when I saw them at 'Livid' here, they've just gotten better and although their newer material is somewhat 'softer' than their first few releases as I just mentioned, it stands up so well in the live environment and that's the place where Linkin Park truly shine.
Essential Information
Venue:  Sydney Entertainment Centre
Date: February 26, 2013
Supports: Stone Sour
Website: www.linkinpark.com www.stonesour.com
Linkin park Setlist
Faint
Papercut
Given Up
With You
Somewhere I Belong
New Divide
Victimized
Points of Authority
Lies Greed Misery
Waiting For The End
Breaking The Habit
Castle Of Glass
Shadow Of The Day
Catalyst
Lost In The Echo
Numb
What I've done
One Step Closer
Burn It Down
In The End
Bleed It Out