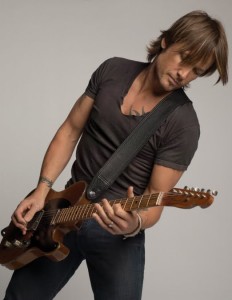 Keith Urban has always been an amazing performer and has made a name for himself by working hard, putting in the years of effort and clawing his way to where he is as one of the most successful modern country artists out there today.  So of course on this tour of Australia it goes without saying that his fanbase has increased due to his face being all over the TV of late, and good luck to him, but it's the die-hards, those from monkeyville that are here tonight to see Keith perform his amazing works (as they have been doing for years) and not simply for what he is now somewhat known as, 'the cute guy on The Voice or American Idol' sigh…
What on paper looks like 'The Voice' on tour sees The Madden Brothers (Joel and Benji) open for Keith, now was I worried when I heard about this? Yes… but as the brothers took to the stage and opened with 'Last Dance with Mary Jane' which is a Tom Petty cover and completely not what I was expecting, I was kinda impressed! The difference musically in what they are known as normally is amazing, now if they could only find an image to suit The Madden Brothers rather than always having that Good Charlotte vibe it would work much better for me. With no album out as such, they are trailing these new songs on us and 'Dear Jane' is ok before they go a little 'Sugar Ray' and a bit reggae on us. I ask you please go back to the Tom Petty vibe, that's all I ask.
Ok so I did fear they may throw in a couple of Good Charlotte tracks and lo and behold, here is 'Dance Floor Anthem' which of course graces the biggest reception of the evening to date. Interesting that 'I Just Want To Live' got stopped during the intro by Joel (who really likes to talk a lot in between songs) to play 'Last Night' instead. I actually prefer the later anyway so all good with me. Back to the new material with a song called 'You Are' a nice little ditty about Joel's wife and kid turned reggae once again and they rounded out the set closing with an interesting cover of 'Hotel California' maintaining the reggae vibe through it which works, and I honestly didn't hate it. I have to admit that I was so dubious heading in with the Madden Brothers supporting but I'm prepared to eat my dubiousness as these guys have grown from the 'punks' in good Charlotte to now writing and performing some damn good songs. I look forward to them finding what they want to be with this new project and fingers crossed they can get it right. Check them out, don't just dismiss them as I did originally.
As I mentioned above, the die-hards know about Keith's talent and is this is the seventh time I've seen Keith  and I remember seeing Keith for the first time live when he supported Leann Rimes and no one really knew who he was, it's amazing to see his rise and I'm proud to say I've been there for a while so I'm looking forward to what he can come up with tonight at this sold out arena show.
As the white sheet is dropped and opening with 'You Gonna Fly' instantly allowing Keith to show us his amazing guitar talent, trust me, you have to see it to believe it and I can already tell this is going to be a great show. 'Put You In a Song' literally put us in it with the first great use of crowd participation of the evening and then the acoustic emerges to a quiet and attentive arena as 'Raining on Sunday' comes out much earlier in the set than I thought it may. Ironically though, that that's exactly what it was doing last Sunday in Brisbane that caused the postponing of his show up there, now I've always loved this song but as Keith straps on a telecaster to play the solo, there is so much emotion in what he plays. This guy is, and I shit you not is one if the best guitarists I've ever seen live. Not only that, he's just so nice, so nice that he was given a wagon wheel for it from an adorning fan down the front which is graciously accepted! 'Long Hot Summer' was amazing with 'Stupid Boy' and 'I Told You So' just as good with again some amazing guitar work and more sing-alongs and a pattern is emerging…
Slowing it way down now with 'Making Memories of Us' sees Keith solo on stage with an acoustic and the wife dedication comes out in 'Without You' followed by an interesting cover choice in the Oasis classic 'Wonderwall' which was great, just odd to hear Keith do it, ahhhh well that explains it as the Madden Brothers have just appeared to join Keith on this one, much to the pleasure of the reality TV show loving crowd.
Braving the crowd Keith heads to a stage at the back of the venue to a very happy bunch of people to play 'I'm In' and he just knows how to entertain and I can't say that enough, his crowd interaction is second to none. Staying at the back of the arena for another one, and crowd favourite 'Days Go By' which has easily received the best reaction so far, and from me too, gotta love that song. Headed back to the main stage and with his best Pink Floyd light show slows it down a little for 'Til Summer Comes Around' and he makes his Stratocaster work for it with a bloody amazing guitar outro. I'm jealous.  Ha ha 'Kiss a Girl' starts and just about every girl in my area has just stood up, funny. Uh oh he's just pulled out three people out of the crowd to sing it with him. OK, that was hilarious! Something you have to see to believe.
Solo acoustic time again for a version of the Australian Cold Chisel classic 'Flame Trees' and this sounds great, oh holy shit Jimmy Barnes is here!! This is marvelous. Wow! The place has just exploded! What a rendition and an amazing moment to be a part of. As Keith put it at the end of the 'Jimmy Fuckin Barnes' and Jimmy Fuckin' Barnes indeed!  I could go home happy now…
'Better Life' had another guest in Darren Percival (the Voice, go figure) and the crowd on its feet. What a great live song that is! Damn it, I was hoping he wouldn't play this one (purely for personal reasons) ha ha. Keith takes to the piano for an outstanding version of 'Tonight I Want To Cry' to a silent completely respectful crowd. Just wow. Thanks Keith. The volume is turned back up for 'Who Wouldn't Want To Be Me' as he lets the crowd takes on the first verse, to me it seems the 'Golden Road' tracks are killing it tonight. Ahhh you know you're seeing an Aussie perform when he can yell 'Sydney New South Wales' rather than 'Sydney Australia' as we're more than used to and it doesn't sound weird, well it did a little ha ha.
The band introductions were great with each member getting a little time on the microphone but that took us straight in to 'You Look Good In My Shirt' as Keith takes to the crowd once again and as per usual he gives away his guitar to someone up there. Yep. Simply signed it and gave it away. Annoyingly directly opposite me, same row, same spot just the other side.  Thanks Keith, I thought we were mates… Now, my favourite track of Keith's has to be 'Somebody Like You' which is up next and the perfect way to finish the night complete with confetti cannons and some of the best musicianship of the night.
Oh wait there's more. Emerging in the middle of the arena is Mr Urban and the song I actually didn't think we'd get thankfully here it is, 'You'll Think of Me'. This is such an amazing song and again from 'Golden Road' all the way back in 2002. Ha ha he's just pulled a Peter Criss and his middle stage has risen (look it up folks), that's awesome.  He heads back up front again, man he's done some miles tonight, and is REALLY leaving us now with a great choice in 'Sweet Thing' which was an absolutely perfect way to end tonight. The band and Keith take their bows to a crowd that are on their feet, he shakes as many hands as he can, even signs a few autographs, waves to the crowd, takes his wagon wheel and heads off stage and its good night.
Hopefully the many that came tonight just out of interest due to his TV presence can now walk away a true fan and hopefully next time when Keith asks 'Who here hasn't seen me before?' as he did early in the evening, a lot less hands will go up.
Essential Information
Venue: Allphones Arena – Sydney
Date: January 30 2013
Supports: The Madden Brothers
Website: www.keithurban.net
Set List:
You Gonna Fly
Put You in a Song
Raining on Sunday
Long Hot Summer
Stupid Boy
I Told You So
Making Memories of Us
Without You
Wonderwall
I'm In
Days Go By
'Til Summer Comes Around
Kiss a Girl
Flame Trees
Better Life
Tonight I Want To Cry
Who Wouldn't Want To Be Me
You Look Good In My Shirt
Somebody Like You
You'll Think of Me
Sweet Thing