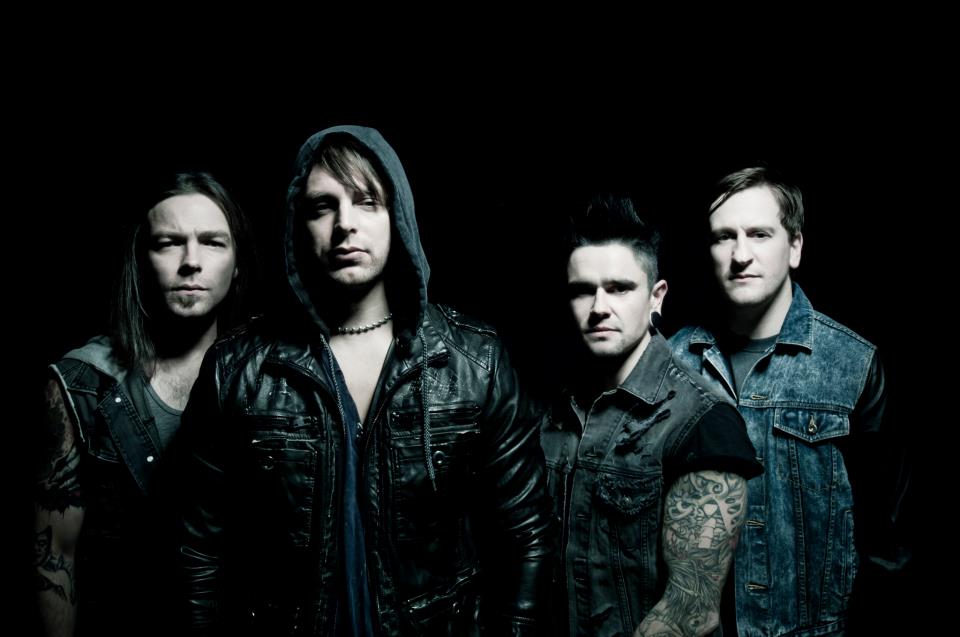 "Obviously you're only as good as your last album, so we've improved and adopted a little less is more on this album, the songs only have what the songs need and we've matured a lot…"
Bullet For My Valentine have been ripping it up now for almost fifteen years.  In that time have released three albums and helped pave the way for a new breed of thrash melodic metal bands.  With songs like 'Waking The Demon' and 'Hearts Burst into Fire' they have truly cemented themselves as a main stayer.  Now with their fourth album 'Temper Temper' released today they have once again delivered one hell of an album with a monster sound, and I think it's up there as their best yet, it's certainly tipped to be.
We had the chance to have a chat to Bullet For My Valentine bass player about the 'Temper Temper', touring including Soundwave and his love of Australia in general.
Thanks for taking the time to talk to us today Jay, now the first single and also the new album name is 'Temper Temper'. Is there a specific meaning behind the name?
The song, is the most different song on the album, the whole album is kind of aggressive and kind of based on the temper, Matt wrote a lot of the lyrics about the struggles and hard times that we had on the road, relentless touring, the last touring cycle and stuff.  The song is pretty hard hitting, aggressive and so, the name 'Temper Temper' for the song just suits the whole album.
The album is due in a few weeks, so can you give me 5 words that you think capture the album perfectly?
A hybrid, progression, matured, Bullet…
Looking through the song titles, was there anything specifically that inspired the songs this time around?
Yes some of them, some of the are just Matt's take on things, same old story, some are fiction and things that could happen, but some of them are based on things we had to go through on the road and some of the personal struggles we had to overcome with each other and being in each other's pockets for so long.  Just the tension that happens, we were all ready for a big break after the last one as we toured the hell out of the last album, you know?  We just went on for so long with no family and stuff like that, but Matt locked himself away with Don Gilmore to do lyrics, too many cooks in the kitchen type scenario so Don went in by himself you know.  My take on it from what matt's been saying is that he's written about the past and the hardship on the road with the tension and some of the struggles we've gone through.
You've once again worked with Don Gilmore as producer, what is it that he brings to the table that works for the band?
Just his ideas, man, when we first got together and we were working with him for 'Fever' and him and Matt tended to clash and him and him went head to head and seemed to have a hard time getting along, but as soon as they overcome that and they got what each other was trying to do, they worked really well together lyrically and writing the songs as well.  So we thought we need to do a new album, why fix it if it's not broke, so we thought we'd stick to the same guys and do it as quick as possible as he knows us and we know him, and we'd already gelled on the last one and he gave us a big talk about what he could bring to the table and the big ideas he had for us for the next album, so we thought why not, let's roll with him again.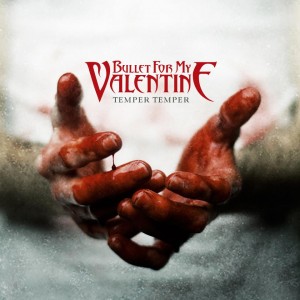 With comparisons or pre-emptive ideas that this could be your 'Black Album' do you feel there are some expectations on this release?
Well personally it's the same for us as a band you know?  The hunger's still there, could be the biggest band in the world and we'll show them, and we hope that we're going to get a number one album, because some songs have been released over here and the radio is going A list and things are popping up and going crazy.  I know it's just a couple of songs and just a couple of snippets from the whole album, but we are jamming the album in rehearsals and there are so many bigger songs on there and we're so psyched for when people get to hear the rest of the album.  I agree with you, it is going to be the game changer for us, that's what I'm hoping, so Grammy here we come I hope…
Now you are here for Soundwave again, a festival you've played before in 2011. What can we expect this time around?
Just a new shaped up Bullet, a fresher touch, just back and better, really.  Obviously you're only as good as your last album, so we've improved and adopted a little less is more on this album, the songs only have what the songs need and we've matured a lot, so there's a lot bigger and wider crowd and we're trying to bring in a bigger crowd by opening up your audience, you know what I mean?  So I'm hoping we'll be bigger and better than ever before, you can expect some new songs and just the usual bone crunching Bullet.
The bill is pretty damn huge this year, is there anyone you're excited to be able to see?
Metallica, so it would be cool to roll with those guys again, we've played with those guys before and they were standing side of stage nodding their heads to 'Tears Don't Fall' so that was pretty cool.
Now on that, it's eight years on since part 1 we now have… 'Tears Don't Fall (part 2)' on Temper Temper. Why now for this?
Like I said before, we always just write to what we think it right at the time, so the idea came up and we thought why not, we didn't think l of that at the time you know, it just felt right, matt had a great idea of how the lyrics could have a twist in there, so why not?
Other than the festival, you're heading up some Sidewave shows, do you have anything special planned for these shows?
We're still conferring about that, so I guess we'll surprise you all *laughs*
Other than your previous Soundwave visit, you are no stranger to Australia, coming here a few times, have you got a favourite memory of a previous tour you can share with us?
To be honest with you, I've been on the road so much over the last ten years and Australia is just my favourite place to be.  People are so welcoming, I can get drunk and mumble and they know exactly what I'm saying *laughs*, it's so welcoming every time we land there, everybody in the crowd, the people are just so fun and just happy.  I just love the whole thing about Australia and even contemplating one day going there and staying there, you know? *laughs*
Thanks for your time Jay, best of luck for the album.
Thanks brother, I'll just give my T-shirt company a plug, check it out at http://www.Amp-ink.co.uk and I'll see you soon!
Essential Information
From: Wales, UK
Band members: Matthew "Matt" Tuck – vocals, guitars, Michael "Padge" Paget – guitars, Michael "Moose" Thomas – drums, Jason "Jay" James – bass
Website: http://www.bulletformyvalentine.com
Latest release: Temper Temper (out today – Sony Music Australia)
Catch Bullet For My Valentine on tour in Australia:
Soundwave:
SATURDAY 23 FEB – BRISBANE, RNA SHOWGROUNDS – SOLD OUT!
SUNDAY 24 FEB – SYDNEY, OLYMPIC PARK – SOLD OUT!
FRIDAY 1 MARCH – MELBOURNE, FLEMINGTON RACECOURSE – SOLD OUT!
SATURDAY 2 MARCH – ADELAIDE, BONYTHON PARK – SOLD OUT!
MONDAY 4 MARCH– PERTH, CLAREMONT SHOWGROUNDS – SOLD OUT!
Sidewaves:
FRIDAY 22 FEB – Brisbane – The HiFi –  w/ Cancer Bats and Miss May I 18+
WEDNESDAY 27 FEB – Sydney – The Hi Fi –  /w Cancer Bats and Miss May I – All Ages
For more information head to www.soundwavefestival.com