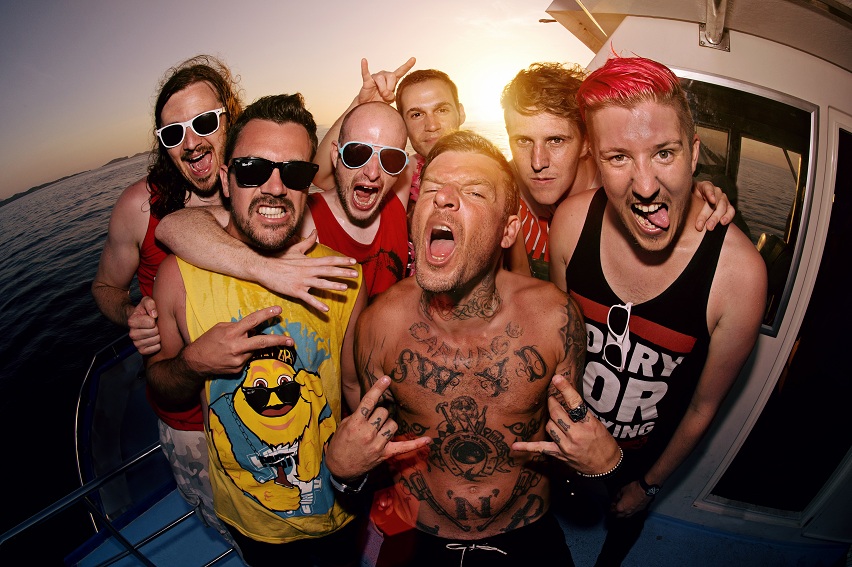 "We grew up and started as a live band and that's all we've ever wanted to do with music, writing and recording is awesome, but playing live is what we love doing.  Just expect six massive smiles on some stupid Welsh heads."
From Bio: Originally formed in South Wales in 2003, THE BLACKOUT have gone on to shift over 60,000 copies of their first three full-length albums worldwide, sold-out UK tours, including not one – but two – stints on the prestigious UK Kerrang! Tour, and have shared stage space with everyone from My Chemical Romance to Linkin Park, Limp Bizkit, All Time Low and Lostprophets. Now with their new album 'Start The Party', it features 11 new tracks of non-stop, high-energy, full-monty, balls-to-wall rock anthems, with the explosion of energy and unbridled enjoyment we've all been seeking.
We spoke to The Blackout's Gavin Butler about their new album, touring and heading back to Australia for Soundwave and why you should use toilets instead of peeing in bushes…
Your new album is out now, for those that haven't heard it, can you give us a little insight as to what we can expect to hear on it?
Basically a bunch of big party rock songs, the album is just about enjoying yourself and having a good time.
With a title like 'Start The Party', what, if anything inspired the new songs?
Several things really, we went in to write the new record as soon as we got back off tour, so we didn't really need to start writing then but came back off tour but instead of just sitting round getting fat in our pants playing 'Call of Duty' we thought we'd write some songs.  We were still in a tour mindset really, we were all still pumped from tour as this had been one of the best ones we'd ever done so that kind of came across in the songs I suppose, we just went in to write with a pretty positive attitude and fresh from all this partying from tour. The title comes from the first single which is obviously 'Start The Party', we went through a few ideas, there was one that was 'Everything's Fucked, let's just have a laugh' and a couple along those lines, but we thought we'd just keep it simple and printable *laughs* and we went with 'Start The Party'.
Being your fourth album, did you do anything differently this time around compared to your previous releases?
Not really, if anything we've stuck ourselves in a rut and recorded with the same person, obviously different studio, but we didn't really sit down and think we needed to shake things up or anything, it's just a natural progression, this is our fourth studio album together and we're all comfortable with each other and know when someone's bring a different idea or when to change something, so nothing's really changed I suppose…
You guys run off two vocals, how do you decide who gets what and how it all balances?
Me and Sean know each other's strengths to the point where if a part would benefit Sean or myself, we're not too egotistical to say 'I wrote this song, I need to sing all of the words', we're grand enough to take a step back and say you can do this better than I can, and obviously that works.  If there's any part we can both do, we just toss a coin.
You're heading over to play the completely sold out Soundwave festival, what can people expect if they come to check you out?
Just real high energy on stage, don't take us too seriously, we'll probably offend you in some way. Take us with a fist full of salt is the best way.  We grew up and started as a live band and that's all we've ever wanted to do with music, writing and recording is awesome, but playing live is what we love doing.  Just expect six massive smiles on some stupid Welsh heads.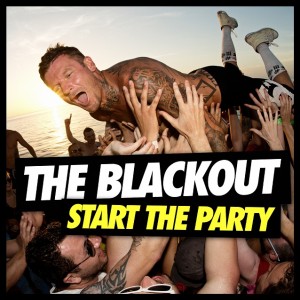 As you'd probably know, the bill is massive, is there anyone you're excited to catch?
Metallica, 'Snoz' our drummer is the biggest Metallica fan ever, last time we played Soundwave when you're backstage, everyone's backstage you always bump in to people so I'm just going to stand next to him to make sure I'm around when he meets James Hetfield because it's going to happen, that or he's just going to hunt him down.
For those in Australia that may not have heard of you, how would you describe The Blackout in say 5 words?
Rock and Roll Welsh idiots… There you go.
So, for a laugh, your new single 'Running Scared' is out, what's the one thing you are most scared of that you'd run away from?
Seems rather apt considering the continent you're in. I absolutely hate spiders… actually I'm not as bad these days , I used to be really bad. *laughs* last time I was there, I was taking a pee in a bush and a huntsman ran up my dick, I have never been more scared in my life, he was definitely in love with my penis, he must have been, but I was like "OH MY GOD!" that was the only time I ever saw a spider out there in the entire two weeks so it wasn't too bad, but yeah, spiders I'm not a big fan of.
You've toured with more bands than I can count, in working with and seeing a lot of these bands over the years have you felt you've been able to use some of what you've seen to mould The Blackout in to what you are now?
It would be a lie to say we haven't stolen stage moves before *laughs* just with touring ethics and all, like Lostprophets took us on our first big tour back in 2006 and we were chucked in the deep in, we'd never had the big production… we had stage managers and all that craziness going on, so we learned a lot.  Their crew were very generous in teaching us.  Then it goes from that from bands like Linkin Park who are just unbelievable and a great tour we played with them as well, you kind of watch these big massive arena bands who do it on a day to day basis and you take hints here and there but you just try and learn as much as you can.
You've been here before?  What are some memories you have of our fine country?
Oh there are no memories, I think I was drunk for the full four weeks *laughs* but its easily my favourite place I've ever toured, especially with the Soundwave tour as there are just so many bands… If you're in a band you're pretty much like minded like all the other bands so it's just a big melting pot of musicians and I don't think I've met a nasty Australian yet, that's amazing as well.  Everyone's so happy for you to come and play and it is a long way for us, twenty hours of travelling but totally worth it when we get there.
The band turns 10 next year, so Happy Birthday, are there any plans for the double digits?
Thank you very much. Probably not, just a quiet affair, there's no plans, the thing is you can't even remember the day the band was inaugurated or when we decided to call ourselves The Blackout, so maybe it will just be a yearly thing.
Essential Information
From: Merthyr Tydfil, Wales
Band members:  Sean Smith, Gavin Butler, Matthew Davies, James Davies, Rhys Lewis, Gareth Lawrence
Website: http://www.theblackout.net/
Latest release: Start The Party (Out Now – Shock Records)
SOUNDWAVE FESTIVAL – FEBRUARY/MARCH 2013
SOUNDWAVE FESTIVAL VENUES AND DATES
SATURDAY 23 FEB – BRISBANE, RNA SHOWGROUNDS – SOLD OUT!
SUNDAY 24 FEB – SYDNEY, OLYMPIC PARK – SOLD OUT!
FRIDAY 1 MARCH – MELBOURNE, FLEMINGTON RACECOURSE – SOLD OUT!
SATURDAY 2 MARCH– ADELAIDE, BONYTHON PARK – SOLD OUT!
MONDAY 4 MARCH – PERTH, CLAREMONT SHOWGROUNDS – SOLD OUT!
SIDEWAVE DATES:
Playing along with Mindless Self Indulgence and Cerebral Ballzy
TUESDAY 26 FEB – MELBOURNE, BILLBOARD
THURSDAY 28 FEB – SYDNEY, THE HI-FI
For more information head to www.soundwavefestival.com