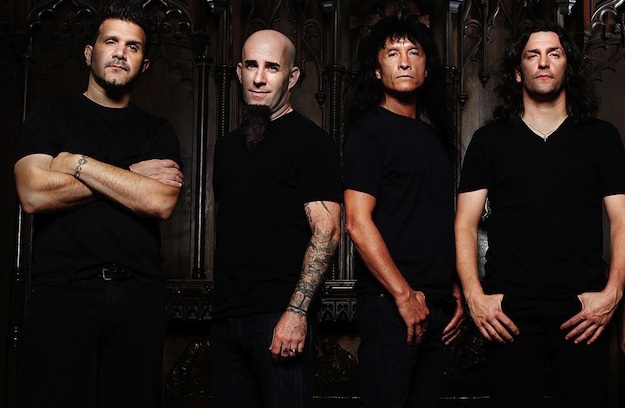 "So this is an absolute beast that's coming on the road and we couldn't be more proud, we feel like we're back with a vengeance and we're really hungry, this is a hungry animal and I'm really proud of the band, I couldn't be more excited, I'm so stoked to be coming over there."
From Press Release: If you have an inkling about heavy metal, you'll have heard of Anthrax and their meteoric rise in the 80s alongside the likes of Slayer, Megadeth, and a little band that once crashed on Anthrax's studio floor known as Metallica. You'll know all about their game-changing, crossover hit with Public Enemy in 1991, "Bring The Noise". You'll have listened to generations of bands that owe everything to their signature stomp and crushing riffs. And in more recent times, you'll have witnessed an almost irrational will to survive in defiance of monumental odds.  The road has not been easy but Anthrax were back to their glorious best in 2012 with their latest album, 'Worship Music' where the band have retraced their steps to a position of greatest strength, and aren't slowing down any time soon.
With glass of wine in hand, we had a great chat with Frank Bello all about Anthrax, the band, their new EP coming this March, touring and a heap more as well as just about being a fan…
Let's start if off with you were at Soundwave in 2010, in that time Joey has returned to the band and you've had the new album, how much of a different beast will the band be on this run now in 2013?
Well, I mean Anthrax is Anthrax but this anthrax, this is on fire *laughs*, this has been ever since the record came out, even before that we've been on tour pretty consistently and I know that because my son keeps saying 'Daddy when are you going to stay home for a while?'  So this is an absolute beast that's coming on the road and we couldn't be more proud, we feel like we're back with a vengeance and we're really hungry, this is a hungry animal and I'm really proud of the band, I couldn't be more excited, I'm so stoked to be coming over there.
With 3 of the Big 4 on the Soundwave bill, as well as a bazillion other bands, is there anyone that you're particularly pumped to be playing / touring with?
I'm excited to be with my friends again, I was just at the NAMM show in LA and I was hanging out with Kerry King he's a really good friend of mine, we were drinking together and it's going to be great just to hang out. The boys in Metallica, all of them, it's like a travelling road show, we have a good time together.  All the bands, it's just fun, from the Big 4, we had such a good time and I'm just excited to be with those guys again because it's a nice thing, it's a nice environment, Metallica creates this great vibe and Slayer, we just have a great time together all of us. I'm really looking forward to seeing my friends again and let's face it man, there's a lot of great bands and probably some new bands I don't know about that I always want learn I want to check out the new stuff and see who's coming out.  I'm all excited for it, it's totally worth the trip, the fans are great and just people in general are great there, it's just a really positive experience.
I see you'll be out playing 'Amongst The Living' in full in 2013, can we expect the same down here or if not, what have you got planned for the set on the OZ visit?
Well Australia we'll probably do some of 'Worship Music' as we haven't been down there with that, we're very proud of this record, a lot of people asking about it.  'Amongst The Living; is for the Metal Alliance tour here but believe me, we'll be hitting that record for sure.  I don't know how long our set is there but we'll definitely be hitting that record for sure.
It seems since 'Worship Music' you've been nonstop, what was it like getting back into a gruelling touring schedule?
Well I'll tell you, thank God for yoga. I've been studying yoga for four years, I don't know if my body can handle what it used to do back when in the 80's and stuff, but I'll be honest with you, this feels like the touring we did in the 80's.  I couldn't be more happier, than band is totally psyched, we're very thankful and very respectful of where we are, we feel like that we came back in a big way, people are saying in reviews that this is our best album to date and you couldn't be more happy, we feel like we're in a really good place right now.
Also with Worship Music taking the amount of time it did to be released, have you seen in essence a new generation of Anthrax fans who may have found you solely through the newest album?
Absolutely, well first off, you have to remember The Big 4 brought a whole new audience to bands like Anthrax, Slayer, Megadeth, you know the Metallica audience just came over and thankfully checked out these bands.  We see fathers and brothers out there passing it on and moms passing the torch saying go check out this band and I'll tell you I'm out there doing bass clinics and these 13, 14 and 15 year old kids learning bass and they tell me that they're learning to play bass through my records and that couldn't be a more complimentary thing to say and for me it's such a great thing to hear and I'm honoured to hear that.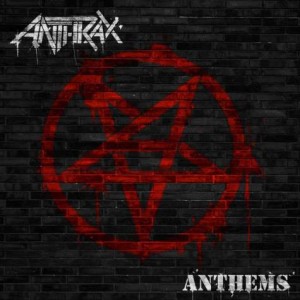 You're about to release 'Anthems' which is a great little collection of rockin' 70's covers.  How did you decide what songs to record for this EP?
I'll tell you with anthrax, all we do is jam stuff, this is the stuff we grew up on, this is the stuff that moulded the band.  If you hear an Anthrax song, these songs have something to do with the formation of Anthrax. Every one of the songs you hear on the Anthems EP, from the song 'Anthem' by RUSH, we're all, Charlie and I specifically and Joey for that matter, we grew up on RUSH, jamming to RUSH and Geddy lee was a big influence on me as a bass player. Boston, I mean, God, Boston how many hits did Boston have? You just have to love that band.  Thin Lizzy of course, Cheap Trick, I'll tell you right now, growing up Charlie and I jammed every Cheap Trick song possible.  These things all formulated the band Anthrax as you hear it now, so this is a big tip of the hat to them tosay thank you, and it's a great thing to just jam, and thankfully we're a band that can just jam songs at sound check, it's kind of what we do.  Oh I forgot to mention Journey, and I'm a big Journey fan but Joey Belladonna is one of the biggest Journey fans in the world and for him to actually get the opportunity to sing like he sang and I have to say, he freaked me out on the vocals he did a great job.
Can we expect to hear 'TNT' belted out when you're Down Under?
Oh dude, all I want is time… I don't know what our set list is mainly because we love nothing more than to just talk these things out and do them but when you have a certain amount of time for these shows there's a certain set thing we have to do you know?
Maybe at the sidewaves?
Yeah the sideshows! Let me tell you something… anything can happen at the side shows, we like to mix it up so you never know man.
Obviously with the departure of Rob recently causing a hole, Jon from Shadowsfall has jumped on board, have you played any shows with him yet?  How is he going?
Jon is great, and everyone should understand, we love Rob, it was very amicable, there was no ill intent or anything like that, no ill will, Rob wants to produce records, he's a great producer and he should do that.  If he's happy, we're happy. Jon he steps right in knowing the songs and what's great about Jon is he's an Anthrax fan too and not only is he a great player, he's a great guy to hang out with and it all fits.  The way Iook at Anthrax now is we've been through so much at this time that we'll just move on to the next step.  We're happy for Rob and good luck with whatever he does in the future, honestly, all you can do is be honest at this point, everyone's got their thing, you have to happy in the band and if you're feeling you want to do producing then you should do producing and that's really it, man, it's not a crazy thing, I understand it and I respect Rob for his decision.
Do you have anyone in mind to replace Rob on a permanent basis?
Well right now we're going to take it tour by tour, he's going to do these shows and then the Metal Alliance tour and then we'll see. The boys and I need to write a record this year too so there's a lot on the plate for us, we're going to take it step by step.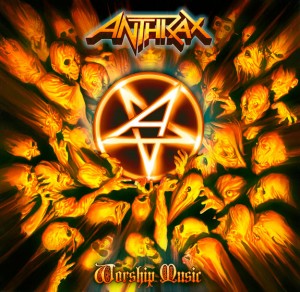 Leads me to my nest question 'Worship Music' has been out for about eighteen months now, obviously there are plans in the works for a new album?
Yeah I can't believe you said that, eighteen months, I swear man I just remember Yankee Stadium and releasing the record and it feels like yesterday, that just goes to show how fast time goes and when you're touring a lot of the two years you just don't realise where the time went. We're hitting our fourth tour in America and thankfully this Metal Alliance tour starting in March they're selling out shows which is great and it's going really well and we're really excited about it.  We didn't realise it would do this well but we couldn't be more happy.
The album was given so much praise and even called your best work to date, do you feel now there's big expectations to top that this time around?
Well just from ourselves, the thing is man, we're our best critics and we're our worst critics also, we're not going to let anything out that we don't think is right, just like we did with 'Worship' if you look at it, we edited the hell out of that thing as we wanted to make sure it was the right record and we'll do the same thing with the next record whatever it may be, it's just the way we work.  I think we know what we have to do, I don't think we should judge it too much, it should come out organically, the music's gonna be there, the riffs will be there, we'll know, it's a nod. Like I said we'll know when it's right and I'm happy to say that after all these years of song writing I think we know what we're doing, cause we're fans, we just want what the fans want and hopefully it will come out as we're in a good place with the writing department.  For me man, life is short I just want to live and be honest and just get to the point, it really is just getting to the point, I'm not going to bullshit anybody, I've never done that I don't live my life like that. I'm just a fan, man, I think people understand that, I'm not trying to get over anybody, I'm lucky enough to play music, I know that, I'm very fortunate, I'm in a band that makes a living playing music and that's a really great thing, I'm really happy about that and I'm very fortunate and I would never take that for granted and I think it's great that we're still around after thirty years *laughs* and I want to keep it going because I'm having a blast, the push behind Anthrax, I'm amazed, it freaks me out and thank God for it.
You talk about being a fan, so let's 'nerd up' a little – Did you see the new Dredd movie?
I have, I thought it was really violent, good violent you know, but in the back of my mind I said, I don't know if you did this, and I don't know if I did this because it's one of our songs but I said 'man, I Am The Law could be right here' I kept picking different bits and I hear this from all people tweeting me and stuff and just the fanbase talking to me and I get it, it would be great and I kept saying it could go right here or right there, here's a heavy part, but no, I get it… at this point there would be nothing better to see it as it just works but at this point there are people with suits on that just don't agree *laughs*
Are you excited to check out Battlestar Galactica 'Blood & Chrome' in the next few weeks?
I'm excited, I went through on the last tour, you know Aaron Douglas, we went to a game together in Toronto, we went to a Yankee's game, he's a great dude, he's an Anthrax fan, he's a friend of ours and the Battlestar Galactica people couldn't have been cooler.  We went on that set, they took us around on a tour they were so great, they came to our show, I'm just totally looking forward to that.
Are you going to continue to work with Alex Ross on your album covers?
On the record, sure, I have to credit our drummer Charlie, I grew up with Charlie and I know how good of an artist Charlie is and he's got some great ideas and he works with Alex really, really well. It's always something that freaks me out because it's something that really fits.  We trust Charlie and Alex to make it come to life and I really think they do a great job.  You know what's great? And here comes my fan part again, I look forward to the next Anthrax, when it all comes together and you get that package, I buy vinyl and when you open it I just love that part, as a fan it's just something cool, then you can hear that first song going in to the next song it's still really special to me as a fan.  No matter what record it is but as an Anthrax fan also, I say I can't wait to the next thing, I remember the first time I played 'Worship' the first time all through, I was so fuckin' proud and psyched about it.
We're out of time man, thanks for your time.
Hey when am I going to see you?
I'll be in Sydney.
Alright, I think I have a couple of days off let's hit one of those pubs woo hoo, hey great questions, thank you so much brother.
Thank you, see you then.
Essential Information
From: New York, USA
Band members:  Joey Belladonna – Vocals, Frank Bello – Bass, Charlie Benante – Drums, Scott Ian – Guitar
Website:  http://anthrax.com
Latest release: Worship Music (Out Now – Megaforce / Riot! Entertainment) – Anthems EP (coming March 19)
SOUNDWAVE FESTIVAL – FEBRUARY/MARCH 2013
SOUNDWAVE FESTIVAL VENUES AND DATES
SATURDAY 23 FEBRUARY – BRISBANE, RNA SHOWGROUNDS – SOLD OUT!
SUNDAY 24 FEBRUARY – SYDNEY, OLYMPIC PARK – SOLD OUT!
FRIDAY 1 MARCH – MELBOURNE, FLEMINGTON RACECOURSE – SOLD OUT!
SATURDAY 2 MARCH – ADELAIDE, BONYTHON PARK – SOLD OUT!
MONDAY 4 MARCH – PERTH, CLAREMONT SHOWGROUNDS – SOLD OUT!
SIDEWAVE VENUES AND DATES
THURSDAY 21 FEBRUARY – BRISBANE, THE HI-FI – 18+ (Anthrax only)
MONDAY 25 FEBRUARY – SYDNEY, BIG TOP LUNA PARK – 18+ (Slayer, Anthrax + Kingdom Of Sorrow)
THURSDAY 28 FEBRUARY – MELBOURNE, THE HI-FI – 18+ (Anthrax, Fozzy + This Is Hell)
For more information head to www.soundwavefestival.com