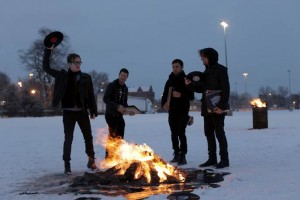 FALL OUT BOY RETURNS – SAVE ROCK AND ROLL OUT MAY 3 IN AUSTRALIA
"MY SONGS KNOW WHAT YOU DID IN THE DARK (LIGHT EM UP)" – NEW SINGLE LAUNCHED GLOBALLY TODAY AT iTUNES
Intimate shows in Chicago TONIGHT! (Feb 4), NY Feb 5, LA Feb 7
Intimate shows in London, Paris, Berlin, Sydney and Melbourne to follow.
Multi-platinum Grammy-nominated Island Records group Fall Out Boy finally puts an end to years of rumors and speculation, with the official announcement today from their hometown of Chicago that the band has returned and will globally launch their new single – "My Songs Know What You Did in the Dark (Light Em Up)"- today at iTunes HERE.  They commemorated the occasion at the site of the original Comiskey Park, the location of Disco Demolition Night in 1979, as they were burning albums.
"My Songs Know What You Did in the Dark (Light Em Up)" is the first single from Fall Out Boy's new album, SAVE ROCK AND ROLL, which will be released in Australia on May 3. Australia will be releasing 4 days ahead of the rest of the world, who will be releasing on May 6th/7th, the 10th anniversary of Fall Out Boy's first full length studio album in 2003, Take This To Your Grave.
Pre-orders for the album are at www.falloutboy.com. In conjunction with today's news, Fall Out Boy will play three intimate one-night-only club dates for their fans this week, starting tonight in Chicago (Subterranean), tomorrow night in New York City (Webster Hall Studio), and Los Angeles (Roxy) on Thursday night (February 7th). The band will be touring the US in May.
SAVE ROCK AND ROLL is Fall Out Boy's fifth studio album, and is their first new studio album since Folie Á Deux in December 2008.
Hailing from the Chicago, Fall Out Boy – Patrick Stump (vocals/guitar), Pete Wentz (bass), Joe Trohman (guitar), and Andy Hurley (drums) – have appeared on the covers of Rolling Stone, Spin, Blender, and Alternative Press, among others.  They have performed on NBC's Saturday Night Live, The Tonight Show with Jay Leno, Late Night with Conan O'Brien, CBS's The Late Show with David Letterman, ABC's Jimmy Kimmel Live, and many more.  In addition to their Grammy nod, they have won three MTV Video Music Awards.
Check out the 2Chainz viral video HERE!
Fall Out Boy:
Single – My Songs Know What You Did in the Dark – out now
Album – Save Rock and Roll – May 3