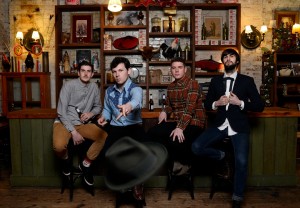 COUNTING CROWS ANNOUNCING SPECIAL GUEST JACKSON McLAREN
TUESDAY FEBRUARY 12, 2013 – Multi-platinum American rock band  COUNTING CROWS head Down Under for a national tour this autumn, following the 2012 release of their first album in more than four years, 'Underwater Sunshine (Or What We Did On Our Summer Vacation)'.
Joining Counting Crows on all Australian dates will be Melbourne's own  JACKSON McLAREN.  Jackson McLaren will be performing solo in Adelaide and Perth, and will be joined by his band, The Triple Threat, in Brisbane, Melbourne and Sydney.  The release of Jackson McLaren's new five track EP 'Walk Along The Wire' sees the 21-year-old emerging as a rare talent.  His songwriting is often deeply contemplative and at other times is simply celebrating the beauty found in everyday life.
There is an honesty and depth in his lyrics and in his performance that makes Jason McLaren the natural choice to open for the Counting Crows across Australia.
Tickets for all shows are on sale now.
With five studio albums, multiple live albums, a 'best of' album and soundtrack appearances, plus Grammy and Oscar nominations already under their collective belt, the Crows' sixth studio album 'Underwater Sunshine' offers something of a different depth and inspired direction.
The album delivers 15 beautifully interpreted songs from the early 1960s up to 2012, honouring lesser-known tracks from a varied range of artists including: Gram Parsons, Bob Dylan, Big Star, The Faces, Teenage Fanclub, Travis and Kasey Anderson.
Formed in 1991 and hailing from the San Francisco Bay area, Counting Crows – Adam Duritz (vocals), Jim Bogios (drums), David Bryson (guitar), Charlie Gillingham (keyboards), David Immergluck (guitar), Millard Powers (bass) and Dan Vickrey (guitar) – burst into life with their 1993, seven-times platinum classic debut album 'August and Everything After', featuring the massive hit single 'Mr Jones'.  Still thriving critically and commercially after 20 years, Counting Crows have sold more than 20 million albums worldwide.
Don't miss an evening with one of America's finest bands, Counting Crows, with special guest Jackson McLaren.
BRISBANE QPAC CONCERT HALL WEDNESDAY MARCH 27
MELBOURNE ARTS CENTRE MELBOURNE, HAMER HALL SATURDAY MARCH 30 sold out!
MELBOURNE ARTS CENTRE MELBOURNE, HAMER HALL SUNDAY MARCH 31 2nd show!
PERTH CONCERT HALL WEDNESDAY APRIL 3
ADELAIDE HER MAJESTY'S THEATRE SATURDAY APRIL 6
SYDNEY SYDNEY OPERA HOUSE TUESDAY APRIL 9 sold out!
SYDNEY SYDNEY OPERA HOUSE WEDNESDAY APRIL 10 2nd show!
Also appearing at Bluesfest, Byron Bay, on Thursday March 28
TICKETS ON SALE NOW
For complete tour and ticket information, visit: www.countingcrows.com or www.livenation.com.au
About Live Nation Entertainment: Live Nation Entertainment is the world's leading live entertainment and eCommerce company, comprised of four market leaders: Ticketmaster.com, Live Nation Concerts, Front Line Management Group and Live Nation Network. Ticketmaster.com is the global event ticketing leader and one of the world's top five eCommerce sites, with over 26 million monthly unique visitors. Live Nation Concerts produces over 20,000 shows annually for more than 2,000 artists globally. Front Line is the world's top artist management company, representing over 250 artists. These businesses power Live Nation Network, the leading provider of entertainment marketing solutions, enabling over 800 advertisers to tap into the 200 million consumers Live Nation