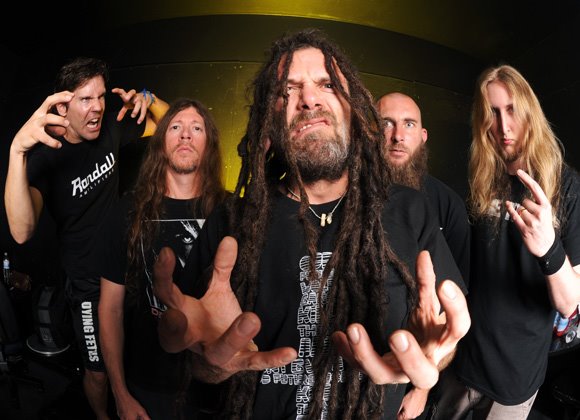 "I know we haven't been down there before and it's going to be awesome for everybody, man, for us, for the fans that haven't seen the band ever down there. We're just looking forward to it; we're going to be at the top of our game so we hope everyone can stand the brutality."
When you're given the title of the godfather of Death Metal, you surely know you must be doing something right. Chris Barnes formerly of Cannibal Corpse has been delivering their brand of unapologetic death metal with Six Feet Under since 1993 and with their latest release 'Undead' released in 2012, it proves that he's still got it and with a lot more to come. Now they're on the heels of their first trip to Australia and we're ready.
In the midst of writing a new verse for a song (which sounded great by the way), we chatted with Chris about their upcoming trip to Australia for Soundwave as well as their newest album 'Undead' and just how Chris plans on celebrating the twentieth anniversary of the band.
You're FINALLY heading to Australia with Six Feet Under to play the completely sold out Soundwave festival, what can people expect if they come to see your set?
Well I mean you're going to see some really good Death metal and I know we haven't been down there before and it's going to be awesome for everybody, man, for us, for the fans that haven't seen the band ever down there. We're just looking forward to it; we're going to be at the top of our game so we hope everyone can stand the brutality.
You were the first band announced on the Soundwave bill for 2013, to much pleasure from fans, how does it make you feel as an artist to know people have been waiting this long to see the band down here?
Well it's really cool man, I just really like it, the idea of coming back down, I haven't been there since '95 when I was in Cannibal Corpse, that was my last tour with those guys and you know it's just going to be a lot of fun.  We had a couple of hic ups last year we tried to get down there with Devil Driver but some things happened and it got cancelled, so it's just got to be a really long wait for us and fans and we're looking forward to it. I had a really great time when I was there in '95 and I felt right at home so I'm ready to go.
You were of course due to tour here last year but that was unfortunately cancelled, were you fearful that maybe you weren't ever supposed to come back to Australia? Ha ha
No, when the booking agency that was bringing us down had to cancel that tour they made a point to tell us that we were going to reschedule and we were going to find out about something real soon and we kind of had a feeling about it and that's a good thing. It's going to be a huge tour and there's such amazing bands on this bill and I mean it's great, we get to see our favourite bands Metallica and Slayer play every night and we're on the same festival touring with them, so it's just really cool, it's going to be fun.
Let's talk about your newest album 'Undead' which was released mid last year, how has the last seven months been with it now under your belt?
Oh it's been awesome, it was accepted really well by our fans and most of the press, we finally got on the Billboard charts with this release which is something that has been kind of alluding me for a while *laughs* so it's definitely been a good ride on this album.  We got to play some big festivals in Europe this past summer and just got done with a tour in December where we did a tour in the States. We've had a really good run on the 'Undead' cycle, now we'll be ready to release a new album in the spring, probably around the same time as we're coming down there or a little after that, so we're just keeping it moving.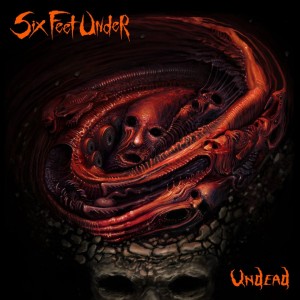 It was four years between releases, do you think that time helped you to make the monster of an album that 'Undead' became?
Things kind of fall in to place for a reason and I was lucky enough to hook up with some great musicians and writing partners to write 'Undead' and get that all together.  We did a lot of touring for 'Death Rituals' so that was a lot of us not being in the studio as far as writing new aterial, we did a lot of touring for 'Death Rituals' we did a live DVD, so that took up a year and a half / two years as far as that touring cycle for 'Death Rituals' and it took another year and a half plus to get the writers and recording done for 'Undead'.
With a new album coming, can we expect maybe some new tracks down here?
I don't think so, we've got a limited set time so we're going to cram in all the fans favourites from previous albums and since we haven't been there and just give everyone a sample of everything.  I don't think we're going to play anything new cause time could be wasted playing something the crowd hasn't heard before, may be a little strange.  Probably next time around…
With a couple of changes in line-up over the last year or so, have the new guys fit straight in with the band?
Yeah, actually better than I expected, like a smoother transition for everybody.  Everyone's really comfortable together, I think our personalities gel well together, I'm just lucky I have good friends that are really, really talented musicians that I have to work hard to look good next to *laughs*, so they definitely push me and I love the challenge.
The Death Metal scene has seemed to almost grow in popularity over the years, what do you think it is about this style of music that people attach to?
It's just very real and sincere I think and it's also very artistic as well, it's stripped down and aggressive and sets a tone that is missing from people's lives and they need it.
How have you personally seen it change over the last twenty years?
Maybe more people accept it and are familiar with this sound now, so maybe that's a little bit different, the people that our show if they're new faces or young kids they react to the music the same way in the live arena so it's done that well.
The band is twenty years old this year, well you've been there for all twenty of them, can we expect a celebration in honour of that?
I might smoke a big joint by myself in a dark room and say 'Thank God I'm not dead yet after doing twenty years of this' *laughs* but that's about the only celebration I'll be having for it you know *laughs*
Do you have a message for your eager Australian fans?
Just can't wait to get down there and see you guys and have some fun, we'll be there real soon and we'll have a good time when we get there.
Essential Information
From: Tampa, FL, USA
Band members:  Chris Barnes – vocals, ola englund- guitar, Kevin Talley – drums, Steve Swanson – guitar, jeff hughell – bass
Website: https://www.facebook.com/sixfeetunder
Latest release: Undead (Out Now – Metal Blade Records)
SOUNDWAVE FESTIVAL – FEBRUARY/MARCH 2013
SOUNDWAVE FESTIVAL VENUES AND DATES
SATURDAY 23 FEBRUARY – BRISBANE, RNA SHOWGROUNDS – SOLD OUT!
SUNDAY 24 FEBRUARY – SYDNEY, OLYMPIC PARK – SOLD OUT!
FRIDAY 1 MARCH – MELBOURNE, FLEMINGTON RACECOURSE – SOLD OUT!
SATURDAY 2 MARCH – ADELAIDE, BONYTHON PARK – SOLD OUT!
MONDAY 4 MARCH – PERTH, CLAREMONT SHOWGROUNDS – SOLD OUT!
SIDEWAVE VENUES AND DATES
TUESDAY 26 FEBRUARY – SYDNEY, The Annandale Hotel w/ Sylosis
WEDNESDAY 27 FEBRUARY – MELBOURNE, Corner Hotel w/ Sylosis
For more information head to www.soundwavefestival.com