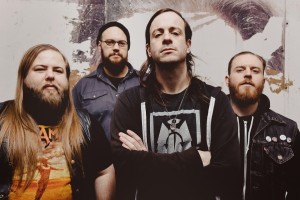 Fuelled by a burning desire to rage harder, play louder, and have more fun than any other band, CANCER BATS are used to turning venues into rolling pits of punk rock hell and will no doubt "have the pit moving, and long-time fans thanking the musical gods that a band of this design continues to exist." – Killyourstereo. Ferocious front man Liam Cormier cannot wait, exclaiming "Australia is one of our favourite continents to RAGE! We can't wait to come back and go fuckin nuts!"
Boasting a line-up that includes members of such influential metal bands as Hatebreed, Down, Crowbar, and more, KINGDOM OF SORROW has arrived to stake its claim as the band that lives up to its super group status.
Jamey Jasta (Hatebreed) and Kirk Winstein (Down/ Crowbar) are often-copied, yet never duplicated metal luminaries. KINGDOM OF SORROW is the incredible next step in the illustrious careers of two of metal's most-celebrated heavyweights. Their latest album 'Behind The Blackest Tears' more than lives up to the super group's status and "is all riff, power and thunder. Brilliant." – Rock Sound
Long Island's THIS IS HELL are the new wave of American thrash metal.  With four albums and countless tours under their belt, THIS IS HELL deliver a blistering fast, loud, fierce knockout punch of metal at their high-energy live shows.  Set to release 4 track EP 'The Enforcer' via 3Wise Records right in time for Soundwave, be sure not to miss what Punknews describes as "unrelentingly dissonant yet throat-punchingly direct, THIS IS HELL is a prime band to watch."
Loyal Melbourne CANCER BATS fans who have held on to their tickets for the previously postponed July 2012 tour have been rewarded! CANCER BATS have come to the party bringing in tow KINGDOM OF SORROW and THIS IS HELL!
TICKETS ON SALE WEDNESDAY 13 FEBRUARY 9AM
THURSDAY 28 FEBRUARY
MELBOURNE, REVERENCE HOTEL– 18+
www.oztix.com.au
Presented by Soundwave Touring.