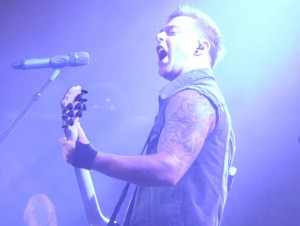 Tonight, it's time to get a little heavy in my Sidewave week, so it seemed like the right thing to do to go and check out the perfectly matched trio of Miss May I, Cancer Bats and Bullet For My Valentine for a night of loud, just loud…
Miss May I make their way to the stage and ambitiously call for a circle pit in the first song. Oh, they got it. I honestly had no idea how heavy this band was, I mean they have a pussy cat on their merch, how heavy could they be? Very is the answer. They are doing a great job of warming this crowd up for what will be a kick ass night of rock and metal. The mix of dirty and clean vocals tonight works so well, as the balance of the mix tonight is really well done. On this their second trip to Australia they are pumped to be back and it shows, throwing in the absolute monster 'Forgive and Forget' with a time signature that I'm pretty sure they invented, this is the band at their heaviest and wow it is truly intense. Look, I'm not going to lie, I just don't get circle pits… although what I actually enjoy though is the awkward moment when it stops and people just make their way back to their spot. That I like.  Overall these guys were actually pretty damn good! A perfect opener for the night and if the reaction from this crowd early on is anything to go by then I fear for my life during the next two bands.
Cancer Bats!!!!  This four piece out of Canada have blasted on to the stage with 'Bricks and Mortar' with front man Liam an absolute maniac, commanding the stage like it was his house and he can do whatever he wants. I have to say, for one guitar, one bass, one set of drums and one singer, holy shit this is a massive wall of sound. This is frantic, and one step away from insane. It's brutal. Ha ha these guys are probably the most gracious band ever in fact blaming themselves for their lack of touring here and asking for a middle finger salute from everyone and taking it as that's "what they deserve" for not being here sooner. Genius. 'Sorceress' is so manic and sees the biggest circle of the night, thankfully I'm safe from it at this stage. 'Darkness Lives' is so fuckin heavy that it's ridiculous, then in the coolest move they bust out their cover of The Beastie Boys' 'Sabotage' and the place goes mental. A sea of crowd surfers decide to semi riot during the bands last song and as Liam jumps down to the crowd avoiding flailing arms and legs left, right and centre, they have won over many here right now as the band leaves the stage to a chant of 'Cancer Bats…' they've done well. Mad respect too as Liam has jumped straight off stage and is straight down to the merch booth. Awesome stuff from a band that truly love their fans and love what they do.
The amplifier stacks are up and the stage is set and it's time to get our 'Temper Temper' up and raging with Bullet For My Valentine. Entering to 'O Fortuna' and no not the Carlton Draught version, the band emerges and waste no time whatsoever diving straight in to 'Breaking Point' from their newest album and the bar is set as a sea of horns are raised but whoa 'Pleasure and Pain' and that bar just went a little higher… These guys are tight. Wow. Pulling out 'Suffocating Under the Words of Sorrow' off of 'Poison' gives us a kick ass harmony guitar solo and I'm sure that'll be the first of many tonight. It is now time for another new one with 'Riot' from Temper Temper and those here down the front tonight are loving it. 'Scream Aim Fire' is mental and with its heavy as fuck breakdown, wow. OK, there's just something about watching a band start a song with a single strum of a guitar and watching the audience react, tonight that moment came early when 'Pow' started and just wow, this is why I love fans of live music. As a short haired Matt Tuck now emerges on stage solo for a cool version 'Last Fight' the band re-joins mid-way through and absolutely slays the rest of the song. Playing 'Leech' from the new album for the first time ever it's cool to see that people know it and dig it also thanks to the two guys right in front of me who need to capture the moment on video on their phones for memories that will last a lifetime…
'4 Words (To Choke Upon)' sets the place on fire and musically is as heavy as it can get. This night tonight is more intense than a camp site. Bringing out another newie in 'Saints and Sinners' I have to say that I really don't get the negative feedback the band has been getting in relation to the new album, this shit is rockin' and this song tells me that. The ferocity of 'Hand of Blood' is outstanding as is the playing on this one, can't fault it, and in fact I can't fault these guys at all. Uh oh. Wall of death, that is crazy shit, that was a long time coming tonight. The band leaves the stage…
As the 'mother fucking bullet' chant begins ha ha I like that one, a subdued crowd awaits the bands return and here they are and waste no time getting straight back in to it and what better song to do that with than with 'Waking The Demon' followed by 'Tears Don't Fall' to almost the biggest reception yet. Then as the night was supposed to finish there, we are treated to a couple more with an added extra of 'Alone' and the love this one got was crazy. Ooh an extra gotta love that, here we have 'Begging For Mercy' and what a perfect way to wrap things up!
Overall, tonight was loud, it was frantic and it was awesome. I loved the show and the balance of the bands, I'm actually sorry for anyone that wasn't here. My only complaint was that Bullet didn't play the song I wanted to hear, but hey, I don't write the setlists, so I can't be mad about that ha ha. Overall, this was one of the best nights I've been to in this amazing week of live music.
Check out our interview with Jay from Bullet For My Valentine HERE…
Essential Information
Venue: The Hi Fi – Sydney
Date: February 27, 2013
Supports: Miss May I, Cancer Bats
Website: www.bulletformyvalentine.com
Setlist:
Breaking Point
Please and Pain
Suffocating Under The Words of Sorrow
Riot
Scream Aim Fire
Pow
Last Fight
Leech
4 Words (To Choke Upon)
Saints and Sinners
Hand of Blood
Waking The Demon
Tears Don't Fall
Alone
Begging For Mercy
Photo's by: Inside Edge Photography
www.facebook.com/InsideEdgePhotography