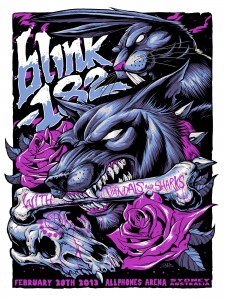 As I walk through Sydney Olympic Park tonight there are many a barrier, food van and ride sitting there in preparation, readiness for Soundwave on Sunday, but as we keep walking and the crowd start making their way in to Allphones Arena tonight they are off to see a show nine years in the making. Yes, it has been nine years since Blink-182 toured Australia, and although they're without drummer Travis Barker tonight I'm sure it will still be one heck of a show.
The lights dim and a dull roar fills the arena as Sharks take the stage cloaked in red lighting and waste no time churning out some pop punk rock to the crowd here and those making their way in like ants down the stairs to the arena floor. Oh and awesome a giant banana man just walked past me. That's dedication. These guys from England truly do have that traditional Brit punk sound and it's really quite good. It's friendly, non-threatening and enjoyable. They are a great fit for tonight to open the show and well worth checking out at Soundwave should you get the chance. I spoke to Sam from Sharks late last year about coming to Australia and when he said "Yeah, we've got pretty lucky really haven't we?" I can imagine how exciting it would be to be up there playing for the Aussie crowds.
A much bigger roar fills the arena as The Vandals step up to the plate. Well these guys sure do seem like fun. The last time I saw The Vandals was with Bowling For Soup, Sum 41 and Pennywise here in 2008 so it's cool to catch them again. This frantic punk and comedic style of the band really works for them and it's great to watch. The mosh has begun as the ever growing crowd take their place and seem to be enjoying these big rock moves and guitar solos as well as some great microphone cord whipping. It's truly a talent. These songs are short, sharp and deliver. I'm enjoying as each song is introduced it's always "This is 'Oi to the world' by The Vandals" ha ha the band introduction after each song title is awesome. To finish off their set with a very interesting cover of 'Don't Stop Me Now' by Queen with lead vocals taken on by guitarist Warren was great and just something you need to see to believe ha ha oh wait they've just mashed it up with 'Waltzing Matilda' ha ha. A cartwheel from Warren and they're out…
So… This is Blink-182's first show back in Australia as well as their first show in nine years here. Sure Mark and Tom have been to Australia with their various projects over the years but many think Blink is where they belong, where they work best together so let's see what all the fuss is about tonight. The stage is set up and ten minutes before show time a black curtain drops, covering the stage and from the absolute roar of the crowd just now you'd think that it was the best thing that had ever happened. Ever. This crowd is excited, I'm starting to get excited which is weird, just don't tell anyone.
OK, deafening. Seriously, guess the show has begun. Thousands of phones are held aloft to capture the opening song 'Feeling This' as Mark, Tom and fill in drummer Brooks Wackerman waste no time. The crowd are in love, there are fists pumping, fingers pointing and it's awesome to see. More cheers as the back drop videos turn on, this is a crowd that is very easy to please ha ha. 'Up All Night' kicks it musically and here comes the banter with promise of making us all orgasm. 'Rock Show' is dedicated to the ladies and always makes me happy as it includes the line 'she took my hand and we made it I swear…' Nice work there. The band is sounding great, for a three piece they really kick out a pretty good sound. Well… this one just got the floor jumping, here we have 'What's My Age Again?' and very obviously a favourite here for many if not all… Including me. Brooks is introduced to the crowd (although Mark may need to work on the pronunciation) to a rousing applause which is great to hear and I was hoping it would be a nice reaction. Three cheers for Brooks!
A newer song in the way of 'Dogs Eating Dogs' and yes, obviously newer as a somewhat now subdued crowd have just come down from the high of the previous track. We'll call this one a breather. With their best '30 seconds to Mars' musical break this song builds and is actually quite good. Some 'X rated' banter about hotel porn and masturbation proceeds and probably not fit for this timeslot, nor do I want to ruin their bit if you're off to see them on this tour. I'm good like that. 'Down' with some killer lighting followed by the excellently placed "Australia we missed you" amazingly leading in to 'I Miss You' I see what you did there Blink-182, well played and much loved. Through another couple of newies which were great but as you can imagine the crowd reaction is minimal. A cheeky half cover of one of The Vandals tracks precedes the craziness returning and staying there for 'Always' and I really have to give it to Brooks, man this cat can play!! Watching him he has a somewhat similar style to Travis but wow he knows what he's doing. Great choice Blink. Ha ha as I type this he gets a drum solo and ladies and gentlemen we have a winner!
Even though I don't know some of these tracks, I'm really enjoying this show tonight. Case and point this one 'After Midnight', that is outstanding, I love this song! 'First Date' is obviously very well received and I'm sure if they actually make this last forever and ever that everyone here wouldn't be complaining. Belting out a couple more and the first appearance of "Boobies" much to the enjoyment of Tom, a track like 'Man Overboard' is a great choice as we start to get to the pointy end of the show.  'All The Small Things' has the floor bouncing in unison and you can tell this is a song many have been waiting to hear with many an on and on and on and claps akimbo then 'Josie' tells us that everything's gonna be fine as it has been for the best part of fourteen years.
As they leave the stage for a quick rest only to return for a little acoustic session… A story of the band being 20 or 21 years old which is quite lovely and lovely renditions of 'Reckless Abandon' and 'All Of This' are good but bring the mood down a bit. As a third acoustic track comes along in 'Boxing Day' and my one hope is that this isn't how they'll leave us tonight.
Oh joy. I see electric guitars! 'Carousel' is quickly followed by 'Dammit' to a massive sigh of relief (well, you never know if bands will play certain songs…) and about time too, as it blows the entire arena up, besides those who stupidly decided to leave during the acoustic section!! Confetti cannons (always a favourite) and a lovely little ditty called 'Family Reunion' covering off what I was unsure of on a number of the new T-shirts I saw for sale being worn today, it actually reminded me a lot of Warrant's 'Ode To Tipper Gore', and was a very fun way to end the evening.
Are Blink-182 the best band you'll ever see live, no, but I can tell you this, they're damn good at what they do and that's entertain and have fun while up on stage and I can guarantee not one person walked out tonight without a smile on their face. Welcome back to Australia boys. Hopefully in the next nine years they'll have invented teleportation and we'll see Travis here.
Essential Information
Venue: Allphones Arena – Sydney
Date: February 20, 2013
Supports: Sharks, The Vandals
Website: www.blink182.com
Setlist:
Feeling This
Up All Night
The Rock Show
What's My Age Again?
Dogs Eating Dogs
Down
I Miss You
Wishing Well
Disaster
Dumpweed
The Legend of Pat Brown (The Vandals cover)
Always
Violence
After Midnight
First Date
Heart's All Gone
Man Overboard
Ghost on the Dancefloor
All the Small Things
Josie
Reckless Abandon
All of This
Boxing Day
Carousel
Dammit
Family Reunion
Catch Blink-182 on their remaining tour dates:
SOUNDWAVE FESTIVAL – FEBRUARY/MARCH 2013
SOUNDWAVE FESTIVAL VENUES AND DATES:
SATURDAY 23 FEBRUARY – BRISBANE, RNA SHOWGROUNDS – SOLD OUT!
SUNDAY 24 FEBRUARY – SYDNEY, OLYMPIC PARK – SOLD OUT!
FRIDAY 1 MARCH – MELBOURNE, FLEMINGTON RACECOURSE – SOLD OUT!
SATURDAY 2 MARCH – ADELAIDE, BONYTHON PARK – SOLD OUT!
MONDAY 4 MARCH – PERTH, CLAREMONT SHOWGROUNDS – SOLD OUT!
SIDEWAVE VENUES AND DATES:
FRIDAY 22 FEBRUARY – BRISBANE, RNA SHOWGROUNDS – Licensed All Ages
TUESDAY 26 FEBRUARY -MELBOURNE, SIDNEY MYER MUSIC BOWL – Licensed All Ages – SOLD OUT!
WEDNESDAY 27 FEBRUARY- MELBOURNE, SIDNEY MYER MUSIC BOWL – Licensed All Ages