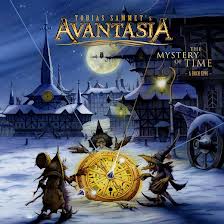 Highly-acclaimed British fantasy artist Rodney Matthews (Thin Lizzy, Asia, Nazareth, Magnum) is the talent behind AVANTASIA's album artwork for The Mystery Of Time.
States AVANTASIA mastermind Tobias Sammet: "It is a great honor for me to have Rodney create the artwork . . . Since the new album is a conceptual album and its story has a magical and enchanting atmosphere, there was no other painter I could think of to create the artwork. I've had several creative conversations with Rodney during the process and I had the feeling that the concept was inspiring to him right from the start.
I put a lot of energy into producing a very detailed and fascinating album, and Rodney had that same enthusiasm to create an artwork just as detailed and fascinating. This is a new chapter in AVANTASIA's history and I think it didn't deserve less than a magical painting by my favorite painter and childhood hero: The one and only Rodney Matthews!"
The Mystery Of Time will be released this spring. Track listing for the new album is:
01. Spectres
02. The Watchmaker's Dream
03. Black Orchid
04. Where Clock Hands Freeze
05. Sleepwalking
06. Savior In The Clockwork
07. Invoke The Machine
08. What's Left Of Me
09. Dweller In A Dream
10. The Great Mystery
Guests on The Mystery Of Time rock opera include: Joe Lynn Turner (ex-Rainbow, ex-Deep Purple), Eric Martin (Mr. Big), Ronnie Atkins (Pretty Maids), Biff Byford (Saxon), Michael Kiske (ex-Helloween, Unisonic), Arjen Lucassen (Ayreon, ex-Vengeance), Bruce Kulick (Grand Funk Railroad, ex-KISS, ex-Meat Loaf), Russell Gilbrook (URIAH HEEP), guitarist/producer Sascha Paeth, and the German Film Orchestra Babelsberg.
AVANTASIA studio updates are available at: http://www.youtube.com/AVANTASIAOFFICIAL.
AVANTASIA's last two albums, The Wicked Symphony and Angel Of Babylon, were released in 2010 and included guest appearances by Klaus Meine (SCORPIONS), Michael Kiske (HELLOWEEN), Tim "Ripper" Owens (ex-JUDAS PRIEST, ex-YNGWIE MALMSTEEN, ex-ICED EARTH), Russell Allen (SYMPHONY X), and Jon Oliva (JON OLIVA'S PAIN, TRANS-SIBERIAN ORCHESTRA, SAVATAGE) among others.
"Dying For An Angel" (featuring SCORPIONS' Klaus Meine), "Carry Me Over," and "Lost In Space" are samplings of what AVANTASIA offers.
When not crafting epic music for AVANTASIA, Tobias Sammet fronts the high humor/high energy heavy metal band EDGUY.
AVANTASIA Live:
12.04. B Moens – PPM Festival
THE MYSTERY WORLD TOUR 2013
13.04. CH Pratteln – Z7
14.04. CH Pratteln – Z7
16.04. I Mailand – Alcatraz
18.04. D Ludwigsburg – MPH Arena
19.04. D Kaufbeuren – All-Karthalle
20.04. D Fulda – Esperanto Halle
22.04. D Berlin – Tempodrom
23.04. D Hamburg – Große Freiheit
25.04. D Oberhausen – Turbinenhalle
26.04. D Lichtenfels – Stadthalle
10.05. D Amsterdam – Melkweg
31.05. ES Madrid – Sonisphere
01.06. ES Barcelona – Sonisphere
08.06. S Sölvesborg – Sweden Rock Festival
21.06. F Clisson – Hellfest
23.06. RU Moscow – Milk
25.06. ARG Buenos Aires – El Teatro
27.06. CHI Santiago de Chile – Teatro Caupolican
29.06. BR Sao Paolo – HCBC Hall
13.07. D Ballenstedt – Rock Harz
14.07. CZ Zlin – Masters Of Rock
10.08. UK Derbyshire / Catton Park – Bloodstock Festiv