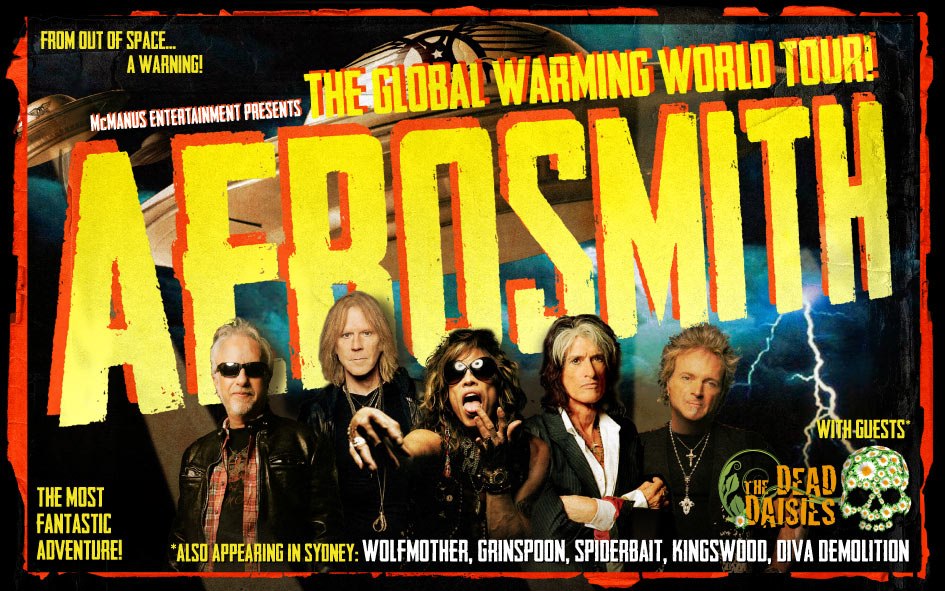 April's about to get a whole lot louder with the news that Aerosmith are returning to Australia for the first time in 24 years! McManus Entertainment is excited to announce that legendary rockers Aerosmith will play shows in Sydney, Brisbane and Melbourne in April and May.
A stellar line-up of special guests, including Wolfmother, Grinspoon, Spiderbait, The Dead Daisies, Kingswood and Diva Demolition will join the line-up in Sydney to celebrate the first tour date, with The Dead Daisies also joining Aerosmith in Brisbane and Melbourne.
Promoter Andrew McManus says; "I'm thrilled to bring Aerosmith back to Australia. They are one of the greatest rock and roll bands in the world and I can't wait for them to rock out with their loyal Aussie fans. We have created a super show in Sydney to celebrate their first gig, with a cracking line-up of Australian bands joining Aerosmith on stage! You really don't wanna miss a thing! "
Legends. Icons. Idols. These are the words used to describe those rare bands that have been adored for a lifetime and immortalised as distinct creators of rock and roll. The band members are legends, icons and idols, dynamic in the present; as cool and innovative now as they were thirty years ago. They are a phenomenon, a force of nature, trail-blazing, unstoppable and show no signs of slowing down.
With Steven Tyler on vocals, Joe Perry and Brad Whitford on guitars, Tom Hamilton on bass, and Joey Kramer on drums, they've outdone the trends and fads of rock and roll to become one of the most powerful and electrifying forces in popular music.
Aerosmith emerged in the early '70s with a sexy swagger and thrusts of metal and glam, creating quintessential power
ballads such as Dream On. A string of gold and platinum albums followed including Get Your Wings, Toys In The Attic and Rocks.
In 1986 Steven Tyler and Joe Perry appeared on Run DMC's cover of Walk This Way introducing the band to a new
generation of fans. Aerosmith returned to the charts in the late '80s with smash hits like Dude Looks Like a Lady, Rag Doll, Angel, Love In An Elevator and Grammy Award-winning Janie's Got a Gun. The band were a driving force of the video medium, leading the look, style and attitude of the '80s MTV generation. Their videos are classics and Aerosmith continued to make cutting edge videos throughout their career.
1993's Get a Grip was the band's first album to debut at number one on the Billboard charts and reached number three on the Australian album chart. The album featured two Grammy Award-winning singles, Livin' On The Edge and Crazy. This was followed up by another number one album in 1997, Nine Lives, featuring the hit single Pink which saw them win their fourth Grammy Award. In 1998 Aerosmith released the huge worldwide smash hit I Don't Want to Miss a Thing from the film Armageddon starring Steven Tyler's daughter, Liv. This reached number one all over the world including the US and Australia. The song was nominated for an Academy Award and opened the band up to another new generation of fans.
In 2001 Aerosmith were inducted into the "Rock and Roll Hall of Fame" and were included in both Rolling Stone's and VH1's lists of the "100 Greatest Artists of All Time". The band continued to release albums and tour throughout the 2000's as well as release solo albums and pursue solo projects. In 2012, Aerosmith released their 15th studio album, Music From Another Dimension! and kicked off their "Global Warming" tour which will see them play to Australian fans in April and May.
Aerosmith have sold more than 150 million albums worldwide, won more than 30 awards including four Grammy Awards and are the best-selling American rock band of all time. They also hold the record for the most gold and multi-platinum albums by an American group. With such an unstoppable passion for creating great music, a unique creative vision and an unyielding appreciation for their fans, there are no limits to what the future holds for Aerosmith.
Joining Aerosmith in Sydney is Grammy, ARIA, APRA & Triple J album of the year award winners, Wolfmother. They are
coming out of recording hiatus to perform exclusively with Aerosmith. Forming in the early noughties, Wolfmother released their self-titled debut album in October 2005 resulting in close to two million sales worldwide, shows all over the world, multiple ARIA Awards and a Grammy including numerous performance accolades with icons including Jimmy Page & AC/DC to Lenny Kravitz requesting Wolfmother as guests. Following a brief hiatus, the band returned in 2009 with a fresh line-up and the band's sophomore album "Cosmic Egg" debuting in the upper echelons of charts in over 13 countries including Australia, USA, UK, Canada and Denmark. "Cosmic Egg" also saw the inclusion of many of its songs included within a variety of major films. Wolfmother recently completed a sold out headline and festival tour across Europe and the UK and have since been hard at work writing and recording their third album due for release in 2013.
Grinspoon join the line up for the Sydney show. Following a massively successful Big Day Out run, the Aussie rockers are heading off on their own national "Black Rabbits" tour. Grinspoon's latest singles Passerby and Branded from current album "Black Rabbits" have now joined classics like Chemical Heart, Ready One and Champion, a set described as 'all killer no filler'.
Spiderbait also feature in Sydney. With three talented songwriters, Spiderbait have never been confined by genre or the
expectations of others. Combining their punk rock roots with an appreciation of pop song craftsmanship, Spiderbait have put together Greatest Hits, featuring 22 of the greatest tunes such as Buy Me A Pony, Black Betty and new single On My Way.
Australian rock band The Dead Daisies will also join Aerosmith on tour in Sydney, Brisbane and Melbourne. The Dead Daisies feature Jon Stevens, Charley Drayton, Richard Fortus, Jim Hilbun and David Lowy. Jon and David first met in 2006 but it wasn't until 2012 that they started writing songs together. With a mutual love of classic late '70s and early '80s rock and soul, The Dead Daisies were born. Jon Stevens is one of Australia's most popular and respected singers. He has had a remarkable career; from lead singer of rock bands Noiseworks and INXS to successful solo artist. Charley Drayton, an American multi-instrumentalist, musician and producer, has played as a drummer and bass guitarist for many bands including Keith Richards project X-pensive Winos, The Cult and Australian bands The Divinyls and Cold Chisel. Guitarist Richard Fortus is currently touring with legendary band Guns N' Roses, and previously with Thin Lizzy. David Lowy on guitar is best known in Mink, Red Phoenix and The Angels and Jim Hilbun as bassist, saxophone player and melodic vocalist for The Angels and the Divinyls.
Kingswood and Diva Demolition complete the super Sydney line-up.
Get in quick, coz you don't want to miss a thing …
TOUR DATES:
April 28th – Sydney ANZ Stadium
May 1st – Brisbane Entertainment Centre
May 4th – Melbourne, Rod Laver Arena
Go to mcmanusentertainment.com.au for more info…
Details of the McManus VIP pre sale will come soon.