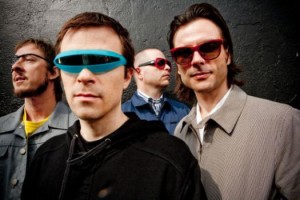 It's been 16 long years since Weezer have graced Australian shores, so tonight already has its first win as there are many eager fans who I know have been waiting since 1996 to see the band again or in some aspects for the first time, and tonight will see the band perform not only a greatest hits / B-sides set but their 1994 debut 'Blue' album in its entirety, so let's see what this wait has been all about and also if my first Weezer live experience will live up to the hype.
It's an early start as Ball Park Music take the stage at 7 to a small yet attentive crowd. I've never seen them before and have to say that they truly are enjoyable. The at times David Gray-esque vocal stylings are evident and the songs lend itself to that perfectly. It's only a shame that more weren't here this early to catch this opening set. Extra special mention to my new favourite song for the evening so far 'I Fucking Love You' or 'iFly' as it's known, it's genius.
Cloud Control are up now and doing their best to entertain the now bigger crowd. The Sydney band are happy to be back and as a treat are playing a few new tracks from their forthcoming album for us to give is a bit of a taste. A cool cover of the Butthole Surfers 'Pepper' was a nice addition to the set and to be honest it took me a second to realize what it was. Well played Cloud Control.
So, the now full arena are waiting in anticipation for Weezer, and you know when you're at a show and you get the feeling that you're about to see something special. I'm thinking tonight is going to be that night; there's just that vibe in the air.
Entering to The A-Team theme which is cool in itself, 'Memories' from Hurley is the choice for the opener to the greatest hits set and is met with rousing applause, from there they then waste no time jumping straight '(If You're Wondering If I Want You To) I Want You To' from Raditude which is a favourite of mine purely for the Butch Walker connection but the song was well received, and basically at this point the band could be playing anything and the same reaction would be felt. Geez, side note, I have to say that I haven't seen the floor of the Entertainment Centre this full for a long time, it looks great! Oh yes! 'Pork and Beans' now this is too good, it also started the first mosh of the night and gave us the best band introductions I've ever heard at a show which included each member singing a line of the song prior to name being announced. Classic.
'Troublemaker' from the Red album was a great choice, then heading back to 2005 album Make Believe with 'Perfect Situation' and so many 'oh oh's' that it's not even funny and some excellent crowd participation in the oh oh's, while 'Beverly Hills' was met with so much love and even more love from me with use of the talk box, always a winner in my books. Now it's back to 2002 as bass player Scott takes lead vocals on 'Dope Nose' and Rivers helps by kicking in a bitchin' guitar solo in this one, it really was dope (yeah I know, that was bad, but it had to be said.)
After a heartfelt dedication to the crowd for being with them for so long 'Hash Pipe' is a song I know many here have been waiting to hear and fair to say it's the best reaction of the night at this point. I have to mention the musicianship of this band as I've neglected that so far, they are so good, they are one tight machine and they all can sing and play, for these four guys up there this sound is killer. So it was 1996 that gave us the album Pinkerton and from that 'El Scorcho' as you'd imagine we had an entire arena singing it back to the stage including the guitar solo which was pretty amazing stuff. Leaving this part of the show with a B-side called 'You Gave Your Love To Me Softly' which rocked and with that sent us to intermission before the band are due to return to perform the Blue Album in full.
A slide show during the twenty minute intermission thanks to Karl, who has worked with the band for 21 years gave us a great throw back, some laughs and insight to the band and how it all happened back then, but now it was time for the Blue Album in full… At almost 20 years old these songs are still fun and judging by the way the people here are already reacting, these songs still mean a lot to them.
A simple blue backdrop with Weezer written top right helps to somewhat recreate the album cover well except the band is playing, not standing, but it's effective in this moment and quite clever.
'My Name Is Jonas' is the album opener and it was truly like it was the first time they'd ever played it, and actually for many here tonight it was like the first time they'd ever heard it and it set the scene. 'No One Else' has always been a great song and hearing it live tonight was killer as was 'The World Has Turned and Left Me Here' which sounded great with some great backing vocals but it's the next couple I'm tipping that will get somewhat of a good reaction… 'Buddy Holly' is the clear winner of the night so far with so many ooh ooh's and ooh wee ooh's and just looking around this is one bunch of loyal loving fans. This is probably the bands best known song, well video anyway but getting to hear it tonight was so good and guaranteed this is the one that will be stuck in my head after! 'Undone – The Sweater Song' was always a weird song for mine in the verses but man what a chorus and I'm pretty sure every single person here sang 'if you want to destroy my sweater…' in the chorus. It was too good to not be a part of and the smiles seen around the arena as it lit up makes you feel pretty good. 'Surf Wax America' showcased some harmony work and seamless musicianship once again proving how good this band is then with 'Say It Ain't So' that received another huge reaction for a single taken from the album and is another sing along favourite. 'In the Garage' sees the harmonica get a run early and this is such a cool song, a simple story of the garage and what's in it, it's just lovely and innocent. 'Holiday' starts a clap and click along and sees some huge rock moves from bass player Scott and some shared vocals all round in this one. It's actually now quite annoying that there's only one song to go… Albeit an eight minute doozy but still, it's come too fast… We already want more. Yet another stand out moment was Rivers singing their goodbyes during the intro of 'Only in Dreams' a song that starts so sweet and evolves to full blown rock song chorus and kick ass outro.  This is such a cool way to round out this amazing show and I personally love it when bands do the front to back album things and tonight this is probably the best one I've seen yet.
What's that? An encore!!! Much to the pleasure of both crowd and band as Rivers reappears with a sincere triumphant fist pump the band wastes no time launching in to 'Island In The Sun' which I was upset missed the first set, so phew… and trust me, the relief was felt around the arena also, this was a nice unexpected surprise.  Now, in a contender for coolest band outro ever they all jumped on the drum kit at the same time to play us out and then as Weezer took their final bow the house lights came up and we all leave the arena happy and listening to 'The Way We Were' by Barbra Streisand…
So it's obvious that this band and this album mean a lot to those here tonight, and this is a bunch of loyal fans, it was evident that no one here was an onlooker; this was dedication tonight and a long time of waiting for all here. This show was a pleasure to be at and it goes without saying that it better not be another 16 years before their next visit. Ooh wee ooh…
Essential Information
Venue: Sydney Entertainment Centre
Promoter: Chugg Entertainment
Date: January 19 2013
Supports: Ball Park Music and Cloud Control
Website: www.weezer.com
Set List:
Memories
(If You're Wondering If I Want You To) I Want You To
Pork and Beans
Troublemaker
Perfect Situation
Beverly Hills
Dope Nose
Hash Pipe
El Scorcho
You Gave Your Love To Me Softly
My Name Is Jonas
No One Else
The World Has Turned and Left Me Here
Buddy Holly
Undone – The Sweater Song
Surf Wax America
Say It Ain't So
In the Garage
Holiday
Only in Dreams
Island In The Sun