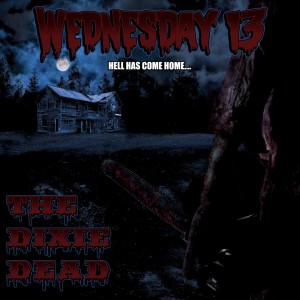 A grimly glamorous ghoul who first slithered from the cobwebbed shadows of Charlotte, North Carolina, in the early 90s, WEDNESDAY 13 has firmly established himself as the world's premier purveyor of balls-out horror punk insanity.  With a vivid and vile imagination that has endeared him to countless fans of riff-driven macabre over the last two decades, he has been one of rock's most prolific protagonists, spreading his credo of grave-robbing rock 'n' roll and Hallowe'en debauchery around the globe and unleashing a seemingly endless stream of blood-spattered albums and EPs.
WEDNESDAY 13 is more passionate and unstoppable than ever right now.  And, naturally enough, he is extremely enthusiastic about his plans for 2013: a year that could hardly be more suitable for another onslaught of black-hearted horror punk mischief.  If Wednesday has his way, 'The Dixie Dead' promises to usher in a whole new era of fame, fortune and gruesome glory for this unstoppable malevolent force.
"The year 2013 is kinda close to my heart! That's my year to shine," he proclaims. "It seems like over the last couple of years, with True Blood and Twilight and Walking Dead and all these TV shows, entertainment is all about horror movies now, so it's finally caught up with what I've been doing since I was 15 years old!  When someone thinks about horror punk I want them to always think about WEDNESDAY 13.  I want to be that infamous household name!  I want to keep putting out music and as long as I'm having fun, that's it.  I hope the fans keep enjoying it too!"
2013 is the year of 13!  The Dixie Dead is out February 22nd on 3Wise Records.
THE DIXIE DEAD
Tracklist
1.   Death Arise – Intro
2.   Blood Sucker
3.   Get Your Grave On
4.   Curse the Living
5.   Too Fast for Blood
6.   Hail Ming
7.   Coming Attractions
8.   The Dixie Dead
9.   Ghost Stories
10.  Fuck You (in memory of…)
11.  Carol Anne… They're Here
12.  Hands of the Ripper
13.  Death Arise – Overture