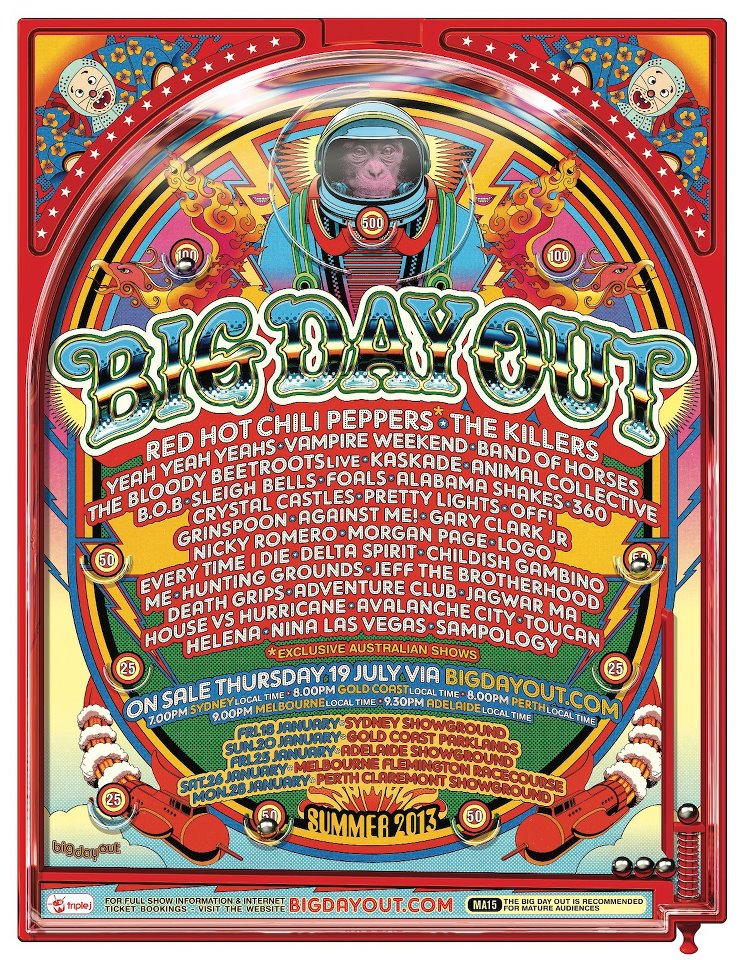 Today, the word isn't bird, it isn't even Grease, it's HEAT. It is a scorcher in Sydney today and as I sit here on this magnificent air conditioned train on my journey towards Olympic Park I sit and wonder how I'm going to make it through this tipped to be 40+ degree day? Will I ever get to see the Red Hot Chili Peppers? Or will I die from some form of heatstroke at around 11:30am? My theory is, if not for the love of music, then what for?
This the 21st Big Day Out since its inception in 1992 and this line up is pretty solid when you look at it, with a guess at about 90% of the concert goers there to see the Red Hot Chili Peppers you can expect a very full main stage come 9pm tonight. I'm on my way in early to ensure I catch the early bands as you never know who you'll see or be impressed by, so fingers crossed for an amazing, well hydrated Big Day Out today…
"Hello early birds, we're Royal Headache… " is heard as I sit in the stands, in the shade with my $4.50 bottle of water, my plan is to simply enjoy it while I can, both shade and water. The small early crowd are heading in to the D barrier to see the first band of the day and I wonder if some of them to cement a front row spot for later on. This is a good one to start too, a nice blend of rock and punk is being played as I watch more and more head in to the main stage. As the heat starts to get to the band we see a now pant less lead singer do his best Henry Rollins impression and rock out in his boxer shorts. Looking around, it scares me to think how full this will be by around 7pm… Royal Headache are gathering more and more onlookers which is great to see that so many have come out so early to see some live music. I like these guys, note to self, self, check them out later.
There is now a nice crowd gathered in front of the orange stage getting ready for House vs Hurricane who I'm also ready for next. Ok now I have no idea what's happening now but there seems to be some sort of robot band that is playing between sets… Right now they're rockin a Helmet riff. This is too funny. I feel I need to comment on their musicianship and tightness as a band. They're great at what they do and I look forward to hearing what they get up to for the rest of the day.  NB: The robot band is called Compressorhead and they're too cool for words!
Bang on time House vs Hurricane take to the stage and proceed to turn things up. If you weren't awake or aware of what was happening, well you are now as people come running from all angles to catch these guys. Loud, and with the balance of the clean and dirty vocals working perfectly, these guys are killing it early and don't look like slowing down. Man, if these guys were on later in the day, this crowd would've been absolutely insane.  To optimize my day I've opted to run out and catch The Medics set before coming back to see the end of ME.
So as I stood in the sun waiting for The Medics… at the wrong stage… I managed to see some of Avalanche City, who were actually quite good but I have now found the right stage and am ready for The Medics. I've been told these guys are good and to watch the last 3 songs in particular. Let's see… OK, so these guys are great. Super tight, very easy to listen to songs and a vibe that draws you in instantly. Musically at times they can feel somewhat psychedelic and it suits them perfectly and although it's still early on in the day it's nice to see this many people here to support the band. Could it be the fact that this stage is undercover? Maybe, but judging by crowd reaction, I highly doubt that. They are loving this band and I think I'm sold too. Glad I decided to catch their whole set. Quite enjoying watching the bass player who at times likes to play his bass Toto circa 1982 'Africa' clip style (youtube it). An amazing musical interlude rounded out their set with their musicianship shining through.
I ran, well, walked briskly back to the main stage to catch ME and find my spot for the next little while as all the bands I need to check out are in the main arena. ME have got quite a crowd and are doing the main stage proud. Their theatrical almost operatic at times music is captivating. I'm glad I got to see half of their set. Showcasing tracks from their debut album coming soon as well as some from previous EPs, they seem to be loving it up there as they power through their set. Their album is great so if you get a chance, make sure you check ME out. The band too.
Hooray, the robots are back! Ha ha now they're playing 'Should I Stay Or Should I Go' too funny.
It's time to turn that volume back up to 11 with Every Time I Die. These guys are heavy!! I did duck out (literally) for a few minutes to go and grab a duck salad from Chow Town. Awesome idea and fried chicken would've been amazing alas the weather squashed that idea for me. I do recommend the duck though, as it was quite refreshing on this apocalyptic day. Ok so back to the band. This is some tight hardcore shit. They acknowledged the robot band which was lovely. Inciting a circle pit it just got messy… That is nuts ha ha. If they didn't get the crowd going I don't know what will…
Against Me are up next and did not stuff around in getting straight in to their set.  This of course is the first time the band has graced the stage in Australia after the widely-publicised sex change operation of vocalist Tom Gabel, now Laura Jane Grace, but I have to say, they sounded unbelievable.  This was a fast, infectious and rockin set full of short punk rock tracks that get to the point and leave you wanting more. I can't recall ever seeing Against Me before, I may have but I'm sure I'd remember as they're great! This song 'True Trans Soul Rebel' is awesome! Easily the catchiest track I've heard all day! They are up there as my favourite of the day so far. I must say that I'm watching though as people are coming from everywhere in preparation for the mighty Grinspoon. These guys I've been waiting all day to check out.
These simple words 'You're a hard act to follow…' sent the crowd nuts and with that we may have found one of the biggest draw cards of the day. No stranger at all to a Big Day Out, the 'Grinners' sure do know how to work it. 'Passerby' from their newest album Black Rabbits sounds great and is well received. As Phil sings 'Are you ready for a change to come?' yes we all are Phil as it just hit 46 degrees, the hottest day in Sydney history, so any time you want to send that change over we'd much appreciate it! Oh sweet!! They're playing my favourite off the new album, 'Branded' is killer and sounds great live, wasn't expecting that one so that was a pleasant surprise. Through 'Rock Show' and 'Bleed You Dry' and crowd favourite 'Lost Control' they held everyone's attention and continued to deliver a perfect set. The old stuff keeps coming with 'More Than You Are' and obvious favourite 'Chemical Heart' and going way way way back with 'Champion' and I'll be stuffed, it's raining, thanks Phil. Ending the set with 'Post Enebriated', wishing us a merry Christmas and taking a bow, Grinspoon have showed us how it's done.
Band of Horses are up next… And I'm going to use 1 word to describe them. Sobloodyimpressivethatitsridiculous, cheating yes but it's true. I'd heard these guys were a great live band and they didn't fail to confirm that. I'm off to see them again on Tuesday night and look forward to catching them in their own headlining show and seeing if they sound just as good if not better in that environment.  Their newest album was a highlight for me recently and hearing these songs performed today was a major win. So again with the time thing I'm going to run off to see Jeff the Brotherhood knowing that Band of Horses killed it and will continue to do so for the remainder of their set.
Over at the green stage, Jeff the Brotherhood are chunking it out as the two piece they are. The sound mix sounds a bit out to me as they guitar is very over the top but that may just be what they're about but what I did see was pretty cool, I just wish more bands would be bands…  I'm going to go for a wander and see what's happening around the traps… Opting for the media area and air conditioning and a well needed cooling down, but I am back out now as I wanted to check out OFF! For a little bit, and after the introductions the frantic punk stylings begin! Most definitely glad I stopped by here! Keith loves a chat, but is a cool story teller, loves a good intro and proceeds to nail the song to a tea. Plus when you have a bass player rocking a pink shirt, you are so punk rock!!  My weary legs needed to work again, via the dagwood dogs and back to the main stage to catch the Yeah Yeah Yeahs and I don't know what just happened but they started a song and everyone went nuts, I need to listen up on my Yeah Yeah Yeahs! It's 6:45pm and this stadium is full and going berserk, it's a pleasure to witness! These guys are pretty cool! They have an awesome electro rock style and are really enjoyable and putting on one hell of a show.  So, I now have a seat, I'm dead centre between the 2 main stages and settled for the night. With The Killers up next followed by RHCP I'm pretty content right now.
Ok, the last time I saw The Killers was at the BDO in 2007 so I can't wait to see how they get on this time around. With new album 'Battle Born' a favourite for me last year I hope to hear a bit from it. What a better opening than with 'Mr Brightside' to a cheer that just gave me chills, I've always loved this song and to hear it open the set is a treat. 'Smile Like You Mean It' followed by 'Spaceman' were perfectly placed and watching the pace of the crowd jumping is having me wonder if they can keep it up. The bass in 'Jenny Was A Friend Of Mine' sounds so good, I suppose after being a band for this long now you'd have it down pat and they sure as hell do. Reverting back to a piano outro version of 'Spaceman', even though just played, was a good lead in to 'Bling (Confessions of a King)' Then to 'Miss Atomic Bomb' from the new album and damn impressive and wow this song is amazing live. This set is slaying or should I say killing (pun intended) tonight then with 'Human' and it's just wow. Oh and the place just literally exploded as the opening note of 'Somebody Told Me' was hit. This is much earlier than I expected too, what a song this is as it's the one that launched their career and an obvious favourite right at this second.
Now you want to talk magic moments, well The Killers playing the Crowded House classic 'Don't Dream It's Over' was something pretty amazing and will be remembered for a long time, definitely another chill moment, this lead in to 'Read My Mind' and I have to say that I haven't heard a bad song yet. This is a great set! First single from battle born 'Runaways' was one of my fave songs of last year, and Brandon Flowers is putting so much love into not only this but the whole set, he is a great front man. Pulling out 'All These Things That I've Done' and I can tell you now this band has soul that's for sure… if you get my drift. As the crowd takes over lead vocal duties in the breakdown I can honestly say I'd be surprised if one person in here was disappointed in this set. Ooh glitter cannons! One last song… 'When You Were Young' Hands down my favourite Killers track, what a way to close a fucking amazing set!! THERE'S PYRO??!! Ok Killers you just won everything!!!
Top that Red Hot Chili Peppers… Ok so, let's see what this is about… as I've never seen the Chili Peppers before so this will hopefully be a highlight.
After a lengthy funk ridden musical intro Anthony Kiedis sporting an OFF! hat and a shirt (much to the displeasure of many of the females here) tears in to 'Monarchy Of The Roses' from newest album 'I'm With You' and I won't lie when I feel like it's an underwhelming beginning, I hope a set of hits soon follows but to hear a bass solo from Flea this early in is pretty damn cool. Right, here's one we know, 'Around the world' is met with a roar and about 50,000 all head banging in unison. OK ladies, the shirt is off and 'Scar Tissue' now has everyone swaying ha ha this is fun to see from my vantage point. Another slower one with 'Snow (hey oh)' and looking around I'd actually be surprised if anyone is not in this stadium watching RHCP. They sure are a tight band and with guitarist Josh Klinghoffer who with a few years under his belt in the band fits in well and hopefully he'll stick around for longer than 5 minutes. This being the Chili Peppers first time back in Australia since 2007 and their first time back on the BDO bill since 2000 (crazy to think) and here with their newest album 'I'm With You' to push I'm sure we'll get a few from it tonight, oh look we just got one, as 'Factory Of Faith' is played. Huh… Flea is reciting a poem which is interesting… oh good that stopped… Another extended musical intro is awesome, man these guys are such good players and that awesome intro is for 'Can't Stop' and everyone knows it too, that was a standout so far and so funky that it was ridiculous. A couple I wasn't sure of including a David Bowie cover of 'What In The World' were odd inclusions as is the once again musical interlude… Don't get me wrong, they're cool, but every song?! 'The Adventures of Rain Dance Maggie' was welcomed and as it was the first single from 'I'm With You' was more known than others played tonight. I do really hope we get some more hits soon though.
Oh thank fuck. EVERYONE here knows this one and I mean literally… 'Under The Bridge' could easily be known as the song that many if not most here found the Chili Peppers through and it shows. As a sea of mobile phones appear to capture this song and I'm sure many could go home happy after hearing this one and to be honest I didn't think we'd hear it. Another newie 'Look Around' ooh guess what is happening now? That's right… another musical interlude… which was the intro into 'Californication' which is one of my fave Chili Peppers tracks if I had to choose one. I dig this lyrically, I mean 'Space may be the final frontier, but it's made in a Hollywood basement' I love that and so many here tonight roared when this was played, so I'm guessing they kinda dig it too! Ok here we go, hopefully going to close out the set with some hits. 'By The Way' is up, it's frantic and played to perfection and the crowd are happy as the band then leaves the stage only to return for an encore. How many more will we get and what will they be? Let's see… We want chili willie!!
So, of course… this musical intro better lead into what I think it will… I want either 'Suck my Kiss' or 'Give It Away'… Will we get one and or both? Holy shit, even better, 'Higher Ground' Wow!! This has pretty much made the set for me with this one song, I didn't even know they still played this, this is what the band does best in my opinion, sure it's a cover but they made it their own many moons ago and it still sounds as good now. Another one, let's go with 'Soul To Squeeze' and why they've slowed it down at this point of the show beats me… I just have to hope there's one more after this to finish on a high. Ok thank you. 'Give It Away' is next and just what was needed to finish the set, and one of only two played from 'Blood Sugar Sex Magik' which is a shame in my books! A musical outro is played this time and it's goodnight from the band for real this time.  I have to say that I was slightly underwhelmed with the Peppers set tonight, maybe that's because I'm not a huge fan and didn't know some of the material, but I must say that seeing them tonight was pretty amazing, they've lasted a long time in this industry, now in my opinion if they'd only cut the 47 musical intros and threw in a few extra old school songs I may have walked away praising everything they did.
So, after a twelve hour stint today out at Olympic Park the cool change had come through and myself and many relived punters made their ways to the station to head on home after a truly Big Day Out.  If I was picking winners today, you can award The Killers, Grinspoon, Band Of Horses and Against Me with best on (show) ground.  I had a great day, I'm not sunburnt, saw some awesome bands and can't wait to see what happens next year.  The festival ran smooth, it was a bloody good day and I'm sure everyone would agree.
Essential Information
Date: 18th January 2013
Venue: Sydney Olympic Park
Website: http://www.bigdayout.com
Remaining BDO dates:
Sunday 20 Jan – GOLD COAST – Parklands
Friday 25 Jan – ADELAIDE – Showground
Saturday 26 Jan – MELBOURNE – Flemington Racecourse
Monday 28 Jan – PERTH