Headed to Australia for the very first time, Swedish rockers Sabaton are set to blast their way through Melbourne and Sydney in support of Nightwish, as well as their very own headline show in Melbourne at The Corner.  Having forged a reputation throughout Europe as one of the premier festival and live acts, the band will be touring in support of their new album Carolus Rex, released during 2012.  Whilst historical lyrics have always dominated the songs of Sabaton, Carolus Rex sees them for the first time tackling the history of their own country, Sweden.
Fans of epic, explosive and symphonic metal, these are shows you don't want to miss.  Tickets may still be available via www.metalmassacre.com.au if you are lucky…
Hey Par thanks for chatting today!  So the Swedish Empire tour is coming to a close…how has it all gone, you must have done well over 100 shows now?
It's been a pretty exciting year and a very, very good tour, it's been our biggest tour so far with a lot of sold out shows all across of Europe.  There's not really much more I could have asked for, it's been a great success, including the Swedish tour, which we believe might have been the most successful Swedish heavy metal tour ever, so that's pretty cool.
Back in March around the time of Carolus Rex being released you had some massive lineup changes which obviously had been brewing for a while, how is the new lineup settling?
Of course when we started out the tour back then we were a little afraid about how it's going to be and how fans would react. We had some things to live up to that's for sure, because we are a really good live band and recognised for that with some awards before, so we knew that we had to really step it up and that the new guys had to be absolutely really world class.  We found those guys and after those first few shows, we found ourselves really connecting and having lots of fun on stage, so it's really, really great now.
On your latest album Carolus Rex you based the album lyrically on Swedish history, how different was the writing process this time around, for example I believe you had a Swedish historian assisting with writing the lyrics?
Not really that different I have to say.  Yes this was the first time we dealt with the history of our own country and that came from our fans.  A lot of people ask why do you always write songs about other countries and not about your own.  So we thought ok, maybe we should do that.  We realised also it's not that easy to find sources of information from hundreds of years ago, so instead of having to read through all these old history books, we had an historian to help point us in the right direction to then read about the specific events we wanted to write about.  He was a great help and obviously it would have been far more exhausting if we had to do all that background research ourselves.
You recorded the album in both Swedish and English how do you think that has worked out?
That has worked out really great.  It was exhausting to write and it also wasn't in our initial plan so when we came to the studio, we didn't know we were going to be recording it in two languages and we only booked studio time for one.  So we had to really work around the clock to make this happen.  Suddenly we had double the amount of work almost.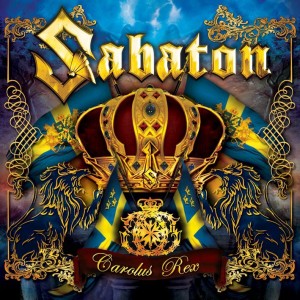 Do you find non-Swedish people have been enjoying the Swedish version of the album more than the English?
Actually, a lot of people from abroad have commented that it sounds more natural and sounds more honest when we are singing like that.
Going to different countries and as your music gets further and further known around the world outside of Sweden and also Europe, how much controversy have you encountered from those who may consider you to be a political band, rather than the historical band you largely are?
We've definitely found that to be the case in many countries where people misunderstood Sabaton completely.  Some people say we are Nazis others have said we are communists and all that kind of stuff, but Sabaton is a non-political band, that's always what we've been.  If people listen closely to the lyrics you would realise if we were a political band, we would be standing on all sides shooting at each other, which kind of makes absolutely no sense at all.
When you look at the evolution of the band, it must be great to have little pockets of the world still with much growth potential such as here in Australia, where you are obviously soon visiting…
It's going to be something really exciting.  On a personal level, I've always been looking forward to the chance to go to Australia but now I have the chance to go there and play as well which is combining two great things for me.  We haven't really had the time and the right opportunity to tour there in the past, but now that opportunity has arrived and we get to do it with Nightwish and I'm sure it will be a great, great time.  We've never toured with Nightwish before but we've met a lot of times before at Festivals and the like and we get along very well together.
Talking about the growth and history of the band, the continual rise in popularity each year of the Sabaton Cruise and Rockstad Falun, you're very own festival, much be a couple of things you must be pretty proud of?
They are both something that is very interesting for sure.  We started with the Cruise because we needed to cross the Baltic Sea from Sweden to Finland and the best way to go is by boat and they're pretty expensive to hire space on.  So instead of hiring space we just hired the entire boat and invited 2,000 of our fans and it turned out to be a great success.  Now with each year, it's kind of turned into a winter meeting for our fans and it's a really great atmosphere on the boat.  We played two shows in the same night on this last one with a short break and we get to play a lot of songs we might not normally get the time to play.
When it comes to the Festival, Rockstad Falun well that initially started when we needed to do something in our own town for a release party….  Now each year it gets bigger and bigger and has turned into a 3 day open-air festival with International bands.  But it's still based heavily around Sabaton and we get our fans coming in from all over the world, our last one we had people from over 25 countries attending.  It's a really special thing.
I see you've got most of 2013 already booked up – has there been any planning for the new album yet?
Well we always have a bit of a plan in terms of what we want to do with the new album, but we haven't had a chance to specifically write songs for our next album yet.  But in the back of our heads we've been growing the ideas for the next album and we have a pretty clear idea of what that will be, but it will take a long time before we start as we've still got a lot of shows to do next year.
Essential Information
From: Sweden
Band members: Joakim Brodén – Vocals, Pär Sundström – Bass, Chris Rörland – Guitars, Thobbe Englund – Guitars, Robban Bäck – Drums
Website: www.sabaton.net
Latest release: Carolus Rex (2012, Nuclear Blast/Riot! Entertainment)
Tour Dates:
Sydney – 10th January – Utopia Records
Sydney – 11th January – The Enmore Theatre w/Nightwish
Melbourne – 13th January – The Corner w/Black Majesty & Eyefear
Melbourne – 14th January – The Palace Theatre w/Nightwish
Melbourne – 15th January – The Palace Theatre w/Nightwish