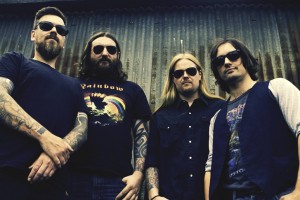 The UK's reigning champions of balls-out, party-starting, booze-fuelled metal and one of the very best live rock bands of all time, the mighty ORANGE GOBLIN are joining the mighty bill of Kyuss Lives! and Red Fang.
ORANGE GOBLIN have been a permanent and universally admired fixture on the world metal circuit for the past 17 years.  They're now back, with 'A Eulogy for the Damned', their seventh and best studio album. A thunderous tour-de-force of gargantuan riffs, subterranean rumble and electrifying energy, it is the album the band have been threatening to make since they first crawled, with crumpled beer cans in hand, from the grubby Soho shadows back in the mid-90s. They're back and the party is starting all over again. Whose round is it??
————————————————————————————————————————————–
Fans had been lamenting the loss of Kyuss since the minute they broke up. When KYUSS LIVES last toured Australia fans spoke with resounding voice as we saw venues across the country whipping out the sold out sign in mere minutes.
In what is sure to be a stunning send-off, KYUSS LIVES will perform under that name for the final time ever during their Soundwave performances in 2013. They are coming back to Australia giving thousands of grieving fans a chance to see them on two very special Sidewaves. Get ready as KYUSS LIVES will be here to fuck shit up and fuck you up.  Consider the rest history.
To make the night even more unforgettable RED FANG are joining the party. They are determined to trample the feeble rock world with the force of an ill-tempered wooly mammoth. Their unique brand of humour, catchy song writing and independent attitude are sure to turn a few heads in 2013 and beyond.
TICKETS ON SALE NOW
TUESDAY 26 FEBRUARY
MELBOURNE, THE PALACE – 18+
www.ticketek.com.au & www.oztix.com.au
WEDNESDAY 27 FEBRUARY
SYDNEY, THE METRO – Licensed All Ages
www.ticketek.com.au
Presented by Soundwave Touring.