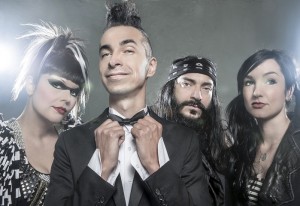 The four-headed and many-limbed beast that is MINDLESS SELF INDULGENCE has woken up after a three year slumber to fuck up Australia with their ever unique brand of musical mayhem and stage-destroying live performances.
Sweeping away fans and critics like a class of Satan High School kids on a field trip, and with parents across the globe absolutely hating them, MINDLESS SELF INDULGENCE have truly "developed a cult following of massive proportions" – Revolver Magazine.
MSI have been whipping crowds into a furious riot in 2012 and now its Australia's turn. In a move that will please long-time fans and newbies alike, MINDLESS SELF INDULGENCE are playing sets packed with crowd favourites and rare gems pulled from their entire song catalog spanning over 10 years.
The wrecking ball that is THE BLACKOUT are preparing to unleash their potent brew of massive rock riffs, soaring melodies and maniacal screams on Australian audiences in February.
Hope is the preserve of the foolish and the brave, the light at the end of the tunnel and the ball and chain that leaves reality inescapable. 'Hope', the new album by Welsh pop-bruisers THE BLACKOUT is just that – except it sounds killer at ear-bleeding volume. "Hope' is the soundtrack to the summer you've not yet had, and from here it sounds like it might be the best one yet." – Rock Sound
CEREBRAL BALLZY were born and raised in New York's asshole and instead of crying about it, they scream their way through a sprawling mess of 80s-hardcore and punk rock, that sounds like the Beastie Boys doing drunk-covers of Bad Brains.
Led by frontman Honor Titus, and bassist Melvin Honore, the band work to restore something golden to New York's Punk Rock history – BALLS! Their self-titled debut album "is the ideal soundtrack to wild abandon this summer." NME
TICKETS ON SALE FRIDAY 25 JANUARY, 9AM
TUESDAY 26 FEBRUARY
MELBOURNE, BILLBOARD – 18+
www.oztix.com.au  www.ticketek.com.au  www.moshtix.com.au
THURSDAY 28 FEBRUARY
SYDNEY, THE HI-FI – Licensed All Ages
www.hifi.com.au
Presented by Soundwave Touring.