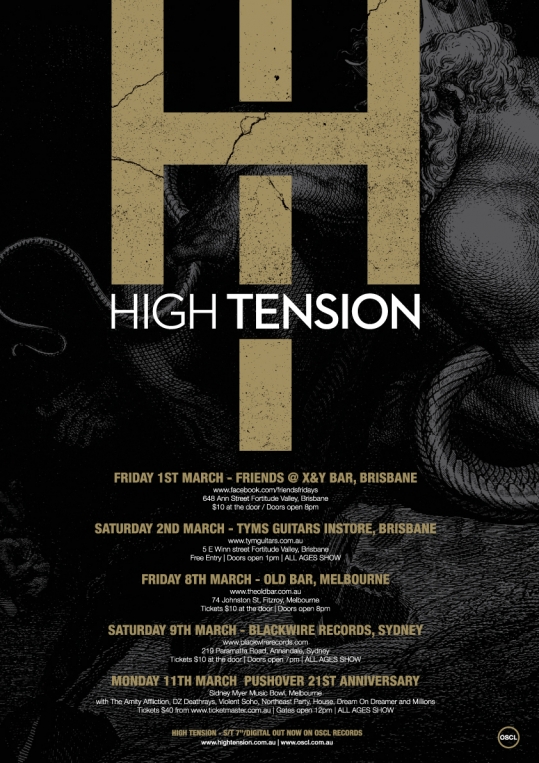 "Killer now but undoubtedly the best band of 2014." THE VINE
Melbourne's High Tension have announced a debut tour across the East Coast of Australia this March to launch their self-titled 7inch/Digital EP.
Featuring ex members of Young & Restless (Karina Utomo – vocals, Ashley Pegram – guitar), The Nation Blue (Matt Weston – bass), and Love Like Electrocution &Heirs (Damian Coward – drums), the band have already made their presence felt despite a relatively brief existence.
Inpress Magazine declared High Risk High Rewards to be "beautifully brutal" beforeTriple J jumped on board adding the track to full rotation.
Check out the video for High Risk, High Rewards here!
Be one of the first to catch High Tension live when they hit venues in Brisbane, Melbourne and Sydney this March.
Friday 1st March – FRIENDS @ X&Y Bar
www.facebook.com/friendsfridays
648 Ann Street Fortitude Valley, BRISBANE
$10 at the door
Doors open 8pm
Saturday 2nd March – TYMS GUITARS Instore
www.tymguitars.com.au
5 E Winn street, Fortitude Valley, BRISBANE
Free Entry
Doors open 1pm
ALL AGES SHOW
Friday 8th March – Old Bar
www.theoldbar.com.au
74 Johnston St, Fitzroy, MELBOURNE
Tickets $10 at the door
Doors open 8pm
Saturday 9th March – Blackwire Records
www.blackwirerecords.com
219 Paramatta Road, Annandale, SYDNEY
Tickets $10 at the door
Doors open 7pm
ALL AGES SHOW
Monday 11th March – Pushover 21st anniversary
Sidney Myer Music Bowl, MELBOURNE
with The Amity Affliction, DZ Deathrays, Violent Soho, Northeast Party
House, Dream On Dreamer and Millions
Tickets $40 from www.ticketmaster.com.au
Gates open 12pm
ALL AGES SHOW