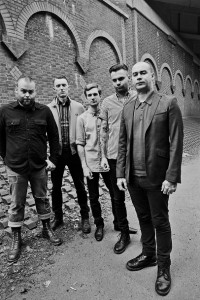 GALLOWS will bring a genuine slab of working class anarchy to Soundwave this February and we are stoked to announce they will be performing two sidewaves with very special guests SHAI HULUD, CONFESSION and MILESTONES.
GALLOWS are finally ready to unleash the next phase of their punk rock attack on the world with the highly-anticipated release of their follow-up to 2009's 'Grey Britain'. Their new self-titled album "silences any doubters with a curb stomp of gritty punk rock – making this a true continuation of the band's sneer attitude and angsty rebellion." – Absolute Punk
With an air of terror GALLOWS proceed to hand deliver their caustic state-of-the-nation address to fans across the globe with a rage unheard of. Their sonic and physical wreckage leave crowds in awe "with a live performance that, in terms of sheer energy and passion, out-strips any band you care to mention." – Rockworld
A message from SHAI HULUD…"It's the heart that pumps the blood, not the face. The heart of Shai Hulud is its content. This remains consistent, rest assured. Faces come and go. Dust off our backs, and onward…"
SHAI HULUD have returned to the forefront of a scene they helped create. While the current "metalcore" climate has a blueprint that was co-authored by SHAI HALUD, the band isn't content to rest on past triumphs. They remain more vital, essential and relevant than ever and are pushing their sound and the scene forward.
CONFESSION and MILESTONES have been selling out rooms and wreaking havoc across Australia for years. We are thrilled they are joining this killer bill!
All proceeds go to the Tasmanian Bush Fire Appeal
TICKETS ON SALE FRIDAY 25 JANUARY, 9AM
TUESDAY 26 FEBRUARY
MELBOURNE, CORNER HOTEL – 18+
www.cornerhotel.com
SUNDAY 3 MARCH
PERTH, AMPLIFIER BAR – 18+
www.amplifiercapitol.com.au and www.oztix.com.au
Presented by Soundwave Touring.