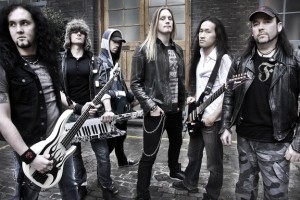 In a musical realm where bands of a similar generation are happy to ape the classic acts, London based metal superstars DRAGONFORCE are operating in a world of their own. The increased heaviness and pace they have injected has made them a fresh voice in the world of metal, and one that fans have responded to as a result.
DRAGONFORCE's fifth studio album 'The Power Within' has just been released locally through 3Wise Records and is a ten track monster which "they've carried it off with their usual cocky assurance" – Metal Hammer
To put it simply THE SWORD are a flat-out, supercharged, adrenaline-pumping outfit, a chrome-plated war machine that lauds over the blackened sky.
Coming off 2010's acclaimed concept album 'Warp Riders', THE SWORD approached their latest offering from a new perspective. Wrapping poetic and poignant imagery in a haze of crushing riffs and ethereal melodies, 'Apocryphon' is best described as 'sheer awesomeness'. – Metal Assault
TICKETS ON SALE FRIDAY 1 FEBRUARY, 9AM
MONDAY 25 FEBRUARY
MELBOURNE, BILLBOARD – 18+
www.oztix.com.au / www.ticketek.com.au / www.moshtix.com.au
THURSDAY 28 FEBRUARY
SYDNEY, THE METRO – Licensed All Ages
www.ticketek.com.au
Presented by Soundwave Touring.