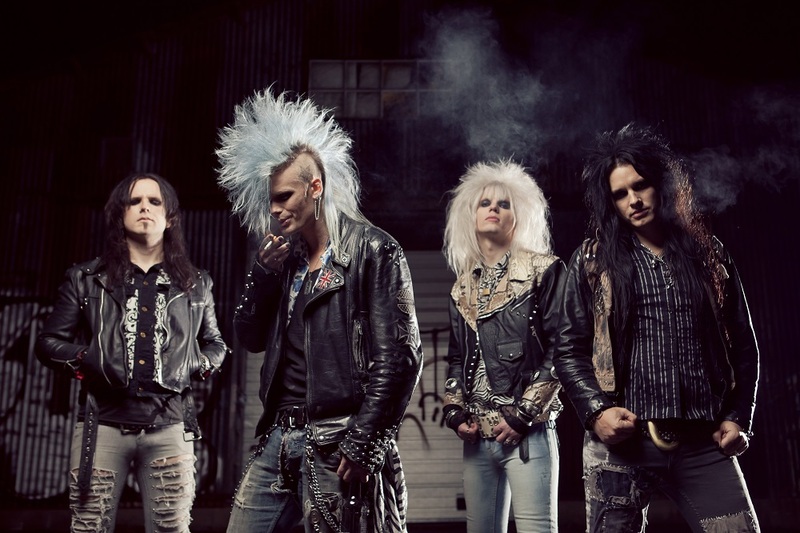 "Some say we are the poison, I say we are the cure" – CRASHDÏET are indeed the cure for those of you (like me) who are repulsed by the highly manufactured, disposable and predictable music acts that abound the airwaves in this day and age, CRASHDÏET bring back that unbridled danger and rebellion essentially absent these days from the world of rock."
Maybe it's because I've had CRASHDÏET's Generation Wild album on such high rotation since its release that the prospect of a follow up album came around super quickly…not that I'm complaining about a new CRASHDÏET album being released!  But, I guess given the tragic and explosive history of CRASHDÏET, the opportunity of recording a second album with a lead singer is a moment not to be wasted.  Since original lead singer Dave Lepard took his own life in January 2006, not much more than 6 months after the release of their classic debut album Rest In Sleaze, the band eventually decided to continue on and installed the Finnish Oliver Twisted (now lead singer of Reckless Love) as lead singer for their second album The Unattractive Revolution, but that just didn't work out and in the summer of 2008, CRASHDÏET, were once again without a lead singer.  July 2009, mowhawked front man and occasional guitarist Simon Cruz was announced as lead singer, with the April 2010 release Generation Wild catapulting the band back to the forefront of not just Sweden's, but the worlds, most exciting rock bands.
With worldwide domination being ticked off one country at a time, January 25th 2013 sees the release of The Savage Playground here in Australia through 3Wise Records.  Going into previous album Generation Wild, it was clearly a make or break time for the band and the band responded in the absolute best way possible, with the title track being one of the greatest hard rock anthems I've ever heard…period!  The album delivered everything die hard fans who have stuck with the band through thick and thin, could have possibly hoped for, whilst relentless touring worldwide saw a new legion of CRASHDÏET fans accumulate at a rapid rate.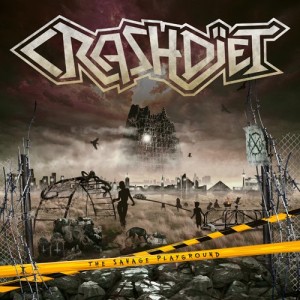 Having lived with a promo copy of The Savage Playground now for a bunch of weeks and countless listens, it comes across as an album which for the first time since their debut Rest In Sleaze, the band have actually had the freedom to make the album they wanted to make, rather than perhaps being swayed by what others expected them to make.  I had the opportunity to chat with Simon Cruz a few days ago about the album and straight up Simon confirms this statement by saying "I think we really just wrote what felt natural and we experimented with some new sounds, where you can here some oriental sounds and some string quartets and stuff like that on the album.  We did what we felt inspired by and tried out some new stuff. I think this album sounds more like ourselves than the last one, in some ways."
Lead single Cocaine Cowboys is the first taste many will have had from The Savage Playground and as with the general feel of the album as a whole, it won't smack you right between the eyes immediately, but trust me, eventually it will…give it a few listens and let it's addictive nature infiltrate you, pardon the pun.  With a video clip doing the rounds, if you haven't seen it yet, sharing something in common with Generation Wild, does Simon Cruz die yet again of a violent bloody death?, watch it and see!
As for the diehards, you will rightfully tell me that Anarchy was your first glimpse into the new album, yeah thought so…. Having first surfaced as a live clip from a festival performance, the songs pre-chorus of "angels dying, demons conspiring, kingdom starts to fall' has been goddamn stuck in my head for many months.  It has single written all over it and in fact, initially that was the plan says Cruz when I told him it was my favourite track off the album.  "Yes I too like that song, that was one of Eric's ideas from the beginning.  We worked it together and it came out pretty well.  In the beginning we thought that was the single, but in the end some other songs came along and we ended up with Cocaine Cowboys."
When asked how different it was for him personally, coming into this second album having now been in the band for over 3 years, this is what Cruz had to say "See some of the songs on Generation Wild had already been written before I joined the band, even though we did write a bunch together for that album.  This time we've evolved together as songwriters and we've obviously gotten to know each other a lot more so it's far easier to work together than when I first joined the band.  Everyone's been more involved in the writing for this album, before it was mainly Martin (Sweet) but now Eric for example.
Noticeable through the new album is some particularly venomous vocal displays from Cruz, with a track such as Lickin' Dog the perfect example. What starts off with a pretty catchy riff, then launches into a barrage of vitriol with the songs opening lines of 'you fucking dickhead, sick fucking shithead', wasn't where I was expecting that track to go, but in 3 minutes it basically rips apart some lucky sod(s)…  I'm not going to argue with the man with a mowhawk and chainsaw in hand, particularly when he has this to say about his connection with lyrics.  "Lyrics are very important for me, because given I'm singing the lyrics, it's really important for me to mean what I'm singing and it's important for them to be something that I stand for and what I can stand behind."
Compared to the bigger sized production of previous album Generation Wild, one thing instantly noticeable on The Savage Playground is the sheer rawness of the sound, which gets you pretty damn close to what it's like to experience CRASHDÏET live, which I have done so now on three occasions.  As much as wanting to define their own sound, the move towards such a rawer sound is also a kick in the face to the rock sound of today, as explains Cruz.  "We felt early on that when you listen to the rock stations here in Sweden the rock they play, everything you hear sounds the same, it sounds like programmed drums and there's so much cutting and pasting going on the music just looses its essence.  We just wanted to go back and find a good, raw sound in the studio and make it feel like it's more live and to capture the right vibe.  We actually played it live in the studio and even some of the singing takes were first takes all the way through.  I think we really achieved what we had set out to do with the sound."
The to be second single/video California, sees CRASHDÏET channelling their melodic side, with a track that along with Drinkin' Without You, Sin City and Tonight's The Night lyrically detail the soundtrack of their last three years.  "We put the songs together that we felt would sum up the last three years of our lives, I guess the album is really a soundtrack to the last three years we spent on the road together and the things we've experienced."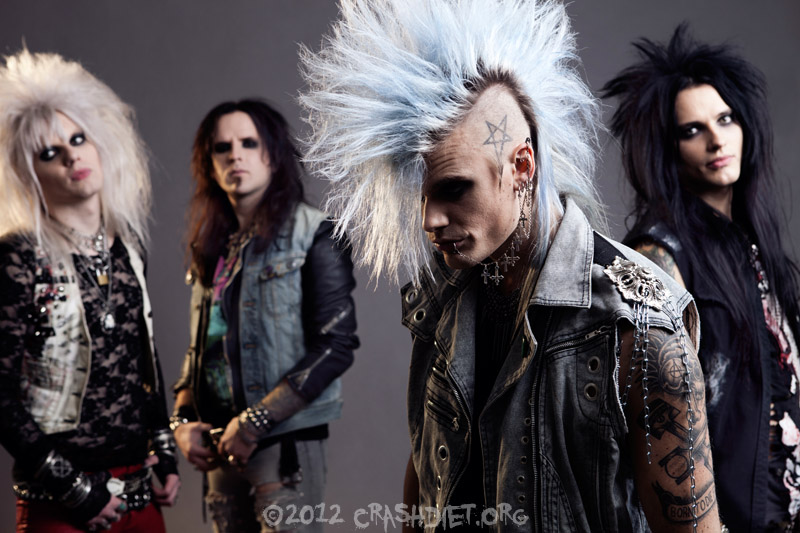 Tucked away as the second last track on The Savage Playground, don't let Excited get under your guard.  If you loved Chemical off Generation Wild, then this track could almost be the sequel, at least stylistically.  Closing off the album, the 7.14 minute epic Garden Of Babylon sees CRASHDÏET as their most musically adventurous…ever! Fuelled by an idea of Cruz's, it's a track that takes you deep into the depths of the dark and mysterious world that is The Savage Playground and CRASHDÏET.,  "I had an idea that I wanted to write a track with that kind of vibe. I met a girl who was a belly dancer and thought maybe we should try out this oriental type sounding track and Martin had a riff and we just worked it from there to see where it headed and I think it came out really cool.  The lyrics are slightly mixed between something like a dark fantasy from Persia and Babylon, then at the same time cover the whole thing of not being able to sleep at night and having nightmares.  It's a real mix between real life and a dreamworlds."
With the new album going part of the way to capture the raw energy that comes part and parcel of a CRASHDÏET live show, there's just some things you can't add onto a shiny plastic disc – chainsaws, exploding barrels of fire, a roaring motorbike, or in the case of their first visit to Australia, hordes of crazy fans storming the stage.  "The audiences were mad, completely mad, it was very crazy over there.  I was finding with the audiences that they were always jumping on stage, nearly up there as much as we were (laughs)."  But as for the biggest highlight of the Aussie visit, "I went to the beach and went surfing and I managed to stand up on the board before I wet my hair, I was very proud of that, but hopefully next time I'm down there I'll manage to ride a proper wave!"  With the backing of 3Wise Records here locally and it's tie in with Soundwave, you get the feeling that it's only a matter of when, as far as the prospect of a return Aussie visit.
"Some say we are the poison, I say we are the cure", for those of you like me who are largely repulsed by the highly manufactured, disposable and predictable music acts that abound the airwaves in this day and age, CRASHDÏET bring back that unbridled danger and rebellion essentially absent these days from the world of rock.  New album The Savage Playground offers yet another twist on the CRASHDÏET sound we've come to know and love and my best advice is to give it the amount of spins that it deserves, for it will inevitably take repeated listens for the diehards reading this to take it all in.  For those of you new to CRASHDÏET, then heed the warning on the opening track Change The World.  "yes, we pray on the living, you can't escape the truth, you will soon awake…in The Savage Playground…".
If you are an Australian based CRASHDÏET fan, then please join up the CRASHDÏET Australia Facebook Page!  http://www.facebook.com/CrashdietAust
You can also pre-order The Savage Playground right here, from JB Hi Fi Online for the bargain price of $14.99, with a bonus CRASHDÏET patch!  Click on the link below!
http://www.jbhifionline.com.au/music/hard-rock-heavy-metal/savage-playground-the-bonus-patch/678013
Essential Information
From: Stockholm, Sweden
Band members: Simon Cruz – Lead Vox, Guitar, Martin Sweet – Guitar, Peter London – Bass, Eric Young – Drums
Release date: 25 January 2013 (Australia)
Record label: 3Wise Records (Australia) http://www.3wiserecords.com
Website: www.crashdiet.org & www.davelepard.com
Tracklisting:
Change The World
Cocaine Cowboys
Anarchy
California
Lickin' Dog
Circus
Sin City
Tonight's The Night
Drinkin Without You
Snakes In Paradise
Damaged Kid
Excited
Garden Of Babylon