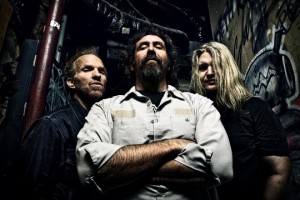 CORROSION OF CONFORMITY has begun writing material for their next album, the follow-up to the well-received self-titled record released via Candlelight Records late February 2012, the reissue of their Eye For An Eye debut, and recently released Scion A/V EP Megalodon. The album, untitled at this time, will again feature the trio of vocalist/bassist Mike Dean, guitarist Woodroe Weatherman, and drummer Reed Mullin.
Last week the band announced their first live performance for the New Year at the annual Metal Fest Chile on April 13th. It will be the first CORROSION OF CONFORMITY appearance ever in Chile. Mike Dean comments, "We have been talking about going to South American forever and with Chile being a big source of so much of our Facebook traffic, I know it's going to be epic. Another chance for us to do a festival with Down is always a very good thing."
The festival follows the completion of the band's recent US tour that concluded in southern California alongside High On Fire. The trio was also a featured participant on Barge From Hell that left Florida shores on December 7. Dean notes, "The cruise was pretty awesome. We had Rick and Jonathan from Torche masquerading as our crew and watching their antics alone was worth the trip. The seas were calm so there was no hurling over the bow."
CORROSION OF CONFORMITY continues to promote the self-titled album in interviews with media as well spreading word on their recently released Megalodon EP. The EP, sponsored by the amazing folks at Scion A/V, is available for free now via various outlets. Dean says, "The EP was written, recorded, and released in two months time. It really challenged us in a good way. It feels good to get two releases out in one year and I expect that we will continue that level of productivity." Continuing he shares, "The self-titled album is holding up very well for me. There is a wide variety of material there. It's all definitely COC but at the same time everything is really a stretch for us. Within the realm of never being totally satisfied, I am very happy with how it came out."
Formed in Raleigh, North Carolina in 1982, CORROSION OF CONFORMITY quickly transformed heavy music. Politically charged and socially aware, the band has influenced countless others and today remains humble about their accomplishments. With over 1.1 million albums sold in the United States alone, the band continues to find new fans via non-stop touring.
"Thirty years into an expansive and rollercoaster career, CORROSION OF CONFORMITY have done the major label song-and-dance and survived, and markedly changed musical directions more than once. Their latest isn't a comeback album or an example of diminishing returns. It's a testament to immense talent and the elusive endowment of staying power." – Invisible Oranges
"In an era when doom metal keeps growingbleaker and artier, and hardcore skews ever more dire, CORROSION OF CONFORMITY serves as a reminder that swagger, soul, and songcraft still have a place in the heavy-rock underground. CORROSION OF CONFORMITY, indeed." – Pitchfork
"CORROSION OF CONFORMITY will challenge as many fans as it excites. And that, of course, suits COC's legacy, no matter which era holds your allegiance." – Indy Week
http://www.coc.com
http://www.facebook.com/corrosionofconformity
http://candlelightrecordsusa.com