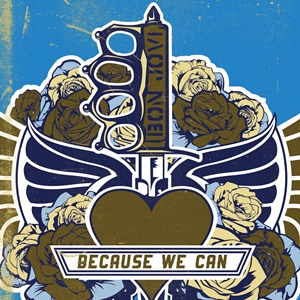 BON JOVI's NEW SINGLE "BECAUSE WE CAN" AVAILABLE AT iTUNES TODAY, COINCIDING WITH GLOBAL RADIO LAUNCH !
NEW ALBUM, "WHAT ABOUT NOW" SET FOR MARCH 22nd RELEASE!
BON JOVI APP AVAILABLE NOW!
"NOT RUNNING ANYMORE" BY JON BON JOVI NOMINATED FOR GOLDEN GLOBE AWARD, FROM NEW MOVIE, STAND UP GUYS
Bon Jovi's brand new single "Because We Can" has been blasted out to worldwide radio this morning and is available on iTunes HERE . The track is moving up fast and is already at #28  on Australian iTunes at the time of this release.
"Because We Can" is the first single from WHAT ABOUT NOW, Bon Jovi's upcoming studio album, set for March 22nd release on Universal Music.  "Because We Can" was written by Jon Bon Jovi, Richie Sambora and Billy Falcon.  Additional songs will be available prior to the March 22nd album release date, these tracks will be eligible for an iTunes "Complete My Album." The Official Bon Jovi App is available now for download HERE:
WHAT ABOUT NOW will feature an original Jon Bon Jovi song, "Not Running Anymore" from the new Lionsgate motion picture Stand Up Guys.  The song has been nominated for a Golden Globe Award for Best Original Song.  This is Jon's second nomination, after he first won the Golden Globe in 1990, for "Blaze of Glory" from Young Guns II.  The Golden Globe Awards ceremony will be telecast live this Sunday, January 13th at 5:00 p.m. PT/8:00 p.m. ET on NBC.
"Not Running Anymore" Music Video:
Bon Jovi's return to the road in 2013 will launch the latest chapter in an ongoing blockbuster run which has already secured Bon Jovi's status as the essential live rock band. "BON JOVI Because We Can – The Tour" will make its way across the globe with dates in the USA, Canada, Europe, Japan, South Africa, Brazil, and Australia.
For up-to-date information on all things Bon Jovi, please visit www.bonjovi.com
Bon Jovi Tickets: http://live.bonjovi.com/tour