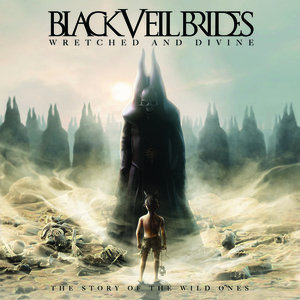 In summary: "Concept style albums seem to be what a number of bands like to do at least once in their career, so… let's see what this concept is all about."
Concept style albums seem to be what a number of bands like to do at least once in their career, whether it be Queensryche with 'Operation Mindcrime' or My Chemical Romance with 'The Black Parade' there seem to be a few that you could name off the top of your head. This time around it's Black Veil Brides who have just released their third album 'Wretched and Divine', so… let's see what this concept is all about.
A spoken intro introduces the album and flows directly into 'I Am Bulletproof' which is a heavy rocker full of as many guitar notes and drum beats that can fit in to a song and pretty much gives you an idea of what you can expect on this new album. The tracks all flow in to each other, for instance 'New Year's Day' with a 5,4,3,2,1 is a solid song and with a big catchy chorus, I like these openers but will be waiting for 'the song' on this album to clearly jump out at me.
The first of four probably not needed spoken 'F.E.A.R.' transmissions is up next as an interlude to the next and title track 'Wretched and Divine' I like this one a lot, we're definitely building and I like the way it's heading. The concept continues, in case you hadn't got it yet, it's a very somewhat post-apocalyptic drama, religious 'Heaven' and 'Hell' themed type album but without the preaching nor thrusting it upon you. With a track like 'We Don't Belong' I could hear this as a single as it has that hook that would stand out, and as a live track, this will be a winner.
Another spoken intro track to 'Devil's Choir' ooh I like this one, this is a great track, once again with a million note guitar solo but I kinda dig that, yet it's the piano intro and solemn matured vocals of Andy Biersack that start 'Resurrect The Sun' that has me intrigued oh right, that didn't last long, it rocks up a chorus but then what I like is that it returns to a quieter verse after the first chorus but with an underlying heaviness second time around. I did enjoy the production on that track and with John Feldmann at the helm who you may have heard his work before with The Used, Papa Roach, Escape The Fate and more. 'Overture' is a string outro of the last track we just heard and is really good, I feel though that if they'd used the strings in the song itself that they would've brought out even more in the song.
'Shadows Die' has just about everything AND the kitchen sink in it, another very quick spoken track in to 'Days Are Numbered' that instantly to me sounds like an 80's hair metal track rocked up and given the BvB treatment. It's a solid song with a nice little appearance from Bert of The Used, but when 'Done For You' takes on a Johnny Cash 'Hurt' style, you'll hear it when you listen, it's a ballad and I really like it though, no bells or whistles (so far) but annoyingly a short track that could've built to something amazing, shame that. Of course the guitars get turned up again with 'Nobody's Hero' I've noticed the BvB love the use of a harmony guitar riff or lick, but in this one a killer guitar solo is the stand out, nice work.
The piano returns for 'Lost It All' and with Andy's deep vocals over the music it starts to build and as the band kicks in I think I've found my favourite track on the album. Of course it's a big power balladesque track but it stands out from the others and both lyrically and musically works. "We all fall down sometimes…" I do like that sentiment. With only three tracks to go and two of them F.E.A.R. intermissions, in the midst of those two is the heavy and perfect choice to close the album and weirdly the first single lifted from 'Wretched and Divine' namely 'In The End' and to say that I found my two favourites on this album at the end of the album is an understatement. I am loving this one the most, it's loud, it's aggressive and catchy. What away to end it, I'm happy with that. "Who will remember this last goodbye?" they say, well, me for sure after that song.  The final spoken outro sums up the album in almost a radio transmission and that's it. You cannot escape F.E.A.R… (Although really I'm still not sure about the need for these interludes…)
So, did this concept work? As a whole, yeah I enjoyed it. The subject matter wasn't thrown in your face, it just worked, the songs were good, but with concept type albums it's hard to really pick a single or a real standout other than the last two on the album, although you could easily listen to the songs as standalones rather than always having to listen to the album as a whole to understand it. So as much as I did enjoy it, I need to go back and listen to it again to get more from it. I'd also be interested to see how they'll take this album to the stage, hopefully we'll all get to see very soon. Overall it was a cool album and now that they have the concept out of the way, let's see what BvB can do next…
Essential Information
From: USA
For fans of: Rock
Release date: 11 January 2013
Record label: Universal Music Australia
Producer: John Feldmann
Website: http://www.blackveilbrides.net
Track listing:
1. Exordium
2. I Am Bulletproof
3. New Year's Day
4. F.E.A.R. Transmission 1: Stay Close
5. Wretched and Divine
6. We Don't Belong
7. F.E.A.R. Transmission 2: Trust
8. Devil's Choir
9. Resurrect the Sun
10. Overture
11. Shadows Die
12. Abeyance
13. Days Are Numbered  (feat. Bert McCracken of The Used)
14. Done for You
15. Nobody's Hero
16. Lost It All  (feat. Juliet Simms)
17. F.E.A.R. Transmission 3: As War Fades
18. In the End
19. F.E.A.R. Final Transmission