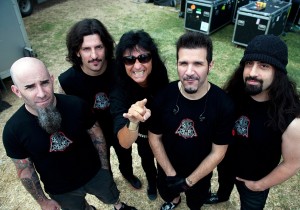 TV has soap operas, literature has Shakespeare, and metal – well, metal has ANTHRAX.
ANTHRAX are that fire-breathing, thrash-spitting, multi-headed beast of a band that – 30 years since the day Scott Ian and then-bassist Danny Lilker searched a biology textbook for the disease that would become their moniker – smiles back at you with a monstrous, upturned middle finger and refuses to fucking die.
But then, if you have an inkling about heavy metal, you'll have heard of their meteoric rise in the 80s alongside the likes of Slayer, Megadeth, and a little band that once crashed on ANTHRAX's studio floor known as Metallica. You'll know all about their game-changing, crossover hit with Public Enemy in 1991, "Bring The Noise". You'll have listened to generations of bands that owe everything to their signature stomp and crushing riffs. And in more recent times, you'll have witnessed an almost irrational will to survive in defiance of monumental odds. And that, true believers, is the story of one of the most doggedly heroic bands in metaldom.
 The road has not been easy but ANTHRAX are back to their glorious best with their latest album, 'Worship Music'. The band have retraced their steps to a position of greatest strength, and "this is the high-speed, moshtastic Anthrax of old and could be considered the best of Anthrax's career….worthy of praise, indeed."  – Hardrock haven
No matter what people say, bigger is always better – especially when we're talking about heavy metal. And heavy metal doesn't get much bigger than FOZZY.
FOZZY, the band featuring WWE Wrestling Superstar CHRIS JERICHO and Stuck Mojo mastermind RICH 'The Duke' WARD will be joining ANTHRAX in Melbourne. There is no doubt the FOZZY are one of the most dynamic and energetic live acts on the scene making this a Sidewave not to be missed!
Long Island's THIS IS HELL are the new wave of American thrash metal.  With four albums and countless tours under their belt, THIS IS HELL deliver a blistering fast, loud, fierce knockout punch of metal at their high-energy live shows.  Set to release 4 track EP 'The Enforcer' via 3Wise Records right in time for Soundwave, be sure not to miss what Punknews describes as "unrelentingly dissonant yet throat-punchingly direct, THIS IS HELL is a prime band to watch."
BRISBANE AND MELBOURNE TICKETS ON SALE FRIDAY 18 JANUARY, 9AM
THURSDAY 21 FEBRUARY
BRISBANE, THE HI-FI – 18+ (Anthrax only)
www.thehifi.com.au
MONDAY 25 FEBRUARY
SYDNEY, BIG TOP LUNA PARK – 18+ (Slayer, Anthrax + Kingdom Of Sorrow)
Tickets on sale now –  www.bigtopsydney.com /www.oztix.com.au / www.ticketek.com.au
THURSDAY 28 FEBRUARY
MELBOURNE, THE HI-FI – 18+ (Anthrax, Fozzy + This Is Hell)
www.thehifi.com.au
Presented by Soundwave Touring.