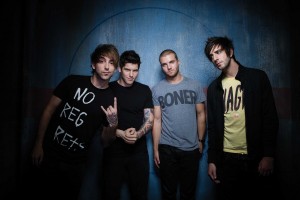 ALL TIME LOW have succeeded where so many have failed; in bringing back the glory days of pop punk.
Since the release of their sophomore album 'So Wrong, It's Right', the Baltimore pop punkers have been amassing a feverish fan base across the globe. Their new album 'Don't Panic' is a culmination of everything they have created up until now and sees the boys raising the stakes even higher… "this is All Time Low at its very best". – Absolute Punk
On the back of their Soundwave 2013 performances, ALL TIME LOW, will be performing two club shows only with very special guests Polar Bear Club and Chunk! No, Captain Chunk!
When POLAR BEAR CLUB last toured Australia they left an indelible mark on their fans, and everyone who witnessed their live show was left in awe.
POLAR BEAR CLUB's latest album 'Clash, Battle, Guilt, Pride' is without doubt their defining moment. It's a constantly churning and evolving opus that defies convention and "isn't about a short buzz; it's about subtle brilliance and continued momentum. Not only is this album great, it may well prove to be pivotal." – Alter The Press
CHUNK! NO, CAPTAIN CHUNK! are the life of the party! Named after the '80s classic adventure movie 'The Goonies' and with a sense of fun that sees them make their own rules musically. This French beatdown pop punk quintet is sure to bring a giant smile to your face with their rousing, anthemic and infectious debut album 'Something For Nothing'. "Their blend of pop-punk and hardcore is raising eyebrows all over the world, and now they are set to take the world by storm." – Absolute Punk
TICKETS ON SALE FRIDAY 1 FEBRUARY, 9AM
MONDAY 25 FEBRUARY
SYDNEY, THE FACTORY – Licensed All Ages
www.factorytheatre.com.au and www.ticketek.com.au
WEDNESDAY 27 FEBRUARY
BRISBANE, THE AUDITORIUM, RNA SHOWGROUNDS – All Ages
www.oztix.com.au
Presented by Soundwave Touring.