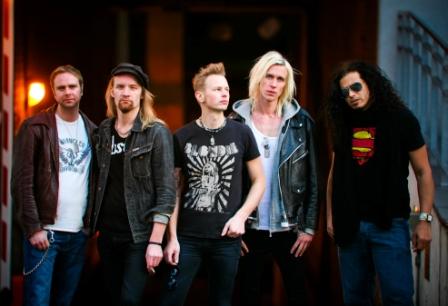 Swedish/American supergroup W.E.T. to release their anticipated sophomore album "Rise Up" in February on Frontiers
Frontiers Records is excited to announce the release of W.E.T. new studio album "Rise Up" on February 22nd in Europe and February 26th in North America.
The W.E.T. debut album in 2009 was one of the rare occasions when a band, created by the vision of a record label president, managed to create such a wave of enthusiasm and interest from fans and the media alike. Not only did it go beyond the band's own expectations, but it pushed the musicians themselves to raise their own game, when in the beginning they thought "no one would care except maybe the die-hard fans from the three bands the name W.E.T. came from".
The key element to the success of "W.E.T" was to create a modern Melodic Hard Rock sound and drive it into the future with powerhouse rhythm and production, making it an equally classic and contemporary release.
Robert Säll (the "W" from Work of Art), Erik Mårtensson (the "E" from Eclipse) and Jeff Scott Soto(the "T" from Talisman), along with returning Eclipse members Magnus Henriksson and Robban Bäck, accepted the daunting task to create a follow-up, that could live up to the expectation of thousands of fans across the globe.
The album's release will be anticipated by the release of the single "Learn to Live Again" onDecember 17th – an unbelievably radio-friendly song, which features for the first time a vocal duet between Mårtensson and Soto.
"Rise Up" presents again a massive production and equally impressive songwriting, which updates the term "classic rock" into the new century. "The songs were written between December 2011 to February 2012 and were recorded between March through May. We then wrote/added three more songs in September, recorded them in October and the whole album was finally mixed and mastered", says Erik Mårtensson. "To me this album sounds more like a 'band' verses the 1st album", adds Jeff Scott Soto "The first album was great as it had a lot of great songs but this one has great songs and a band personality which shows growth as far as I'm concerned".
Hook after hook, "Rise Up" is another one of these albums where you can enjoy the dynamics of a brilliant partnership bringing out a unique result. Melodic bullet rockers are followed by haunting ballads and fabulous arena rockers in an album that will leave listeners in awe from start to finish.
"We took what we all loved about the first album and built the songwriting and sound from that. We wanted to give the band more of an identity and tried to find 'our' own sound. I really think we achieved it with this album. Heavier and darker than the first album which we all in the band love. It's melodic rock for a new century!", tells Mårtensson. Soto adds: "Strangely my faves are the more uptempo songs and ballads on this album, W.E.T do great AOR stuff naturally but to have more strength on some tracks and then get emotionally charged in others made those songs the more interesting for me".
W.E.T. plan to launch the new album through a special live show in Stockholm at the Debaser Club on January 17th 2013. The band so far has made only one live appearance at the annual Firefest event in the UK in October 2011, but in this new and special concert appearance, they will be showcasing for the first time new songs as well as digging some tracks from the now classic debut, plus some cool surprises. Tickets can be bought in advance following this link:https://secure.tickster.com/Intro.aspx?ERC=89TYN1LGME921HT
"Rise Up" will be released in February, but it will be very difficult to envision anything better to come out during the year to beat the "Melodic Rock album of the year" for 2013!
"Rise Up" tracklisting includes: Walk Away; Learn to Live Again; Rise Up; Love Heals; What You Want; The Moment; Bad Boy; On The Run; Broken Wings; Shot; Still Believe In Us; Still Unbroken.
"Learn to Live Again" sample
The YouTube ID of 2LhTMPgZ-44  is invalid.
W.E.T. is:
Jeff Scott Soto: Lead Vocals
Erik Mårtensson: Guitars, Bass, Keyboards, Vocals
Robert Säll: Keyboards, Guitars
Robban Bäck: Drums
Magnus Henriksson: Guitars