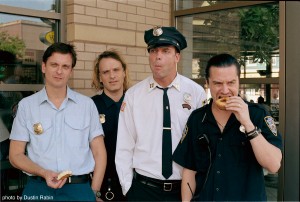 TOMAHAWK are back!
Where were they? What were they doing? Is this a reunion? Who are they now? What's next?
So many questions. Here are those answers and more!
TOMAHAWK took a break to discover the many truths of the universe. They also uncovered several non-truths. They were primarily holed up in a special place similar to the many caves in the mountains of Appalachia. They found time to create the new tunes that make up their new record 'Oddfellows' that will be released worldwide in January 2013 on Ipecac Recordings.
TOMAHAWK is Duane Denison (the Jesus Lizard, Unsemble, etc), Mike Patton (Faith No More, Fantômas, etc) and John Stanier (Helmet, Battles, etc), and this time around joined by Trevor "field mouse" Dunn (Mr. Bungle, Fantômas, etc).
The band released their self-titled debut in 2001, followed by 'Mit Gas' in 2003 and 'Anonymous' in 2007. They released a limited edition vinyl box set 'Eponymous to Anonymous' (cheeky, huh?) in early 2012. They camped out at Dan Auerbach's Easy Eye studios in Nashville with Collin Dupuis and left with 'Oddfellows' to show for it. This is indeed a golden age, when sirens of this quality are allowed to whisper into our ears without any risk of crashing souls against the jagged rocks of mediocrity that surround us.
So what does all of this mean? Ok, we will allow this final question. It means that TOMAHAWK are back! Rock and roll will be saved and destroyed. They plan to play live shows for the first time since 2003 and are willing to go anywhere as long as they can get a warm bed with cold pillows and a square meal. Australia… prepare.
TICKETS ON SALE FRIDAY 21 DECEMBER, 9AM
TUESDAY 26 FEBRUARY
SYDNEY, THE METRO – Licensed All Ages
www.ticketek.com.au
WEDNESDAY 27 FEBRUARY
MELBOURNE, BILLBOARD – 18+
www.oztix.com.au, Oztix outlets / www.ticketek.com.au / www.moshtix.com.au