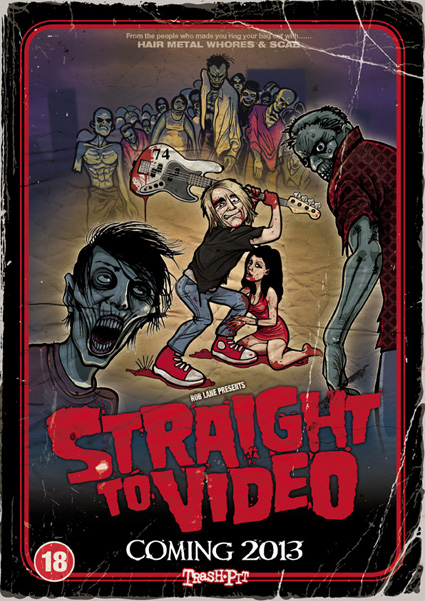 "I wanted an unashamedly fun project that represented every element of the things I love, particularly what I grew up with and made me – ME! I wanted a huge melting pot of music, film, nostalgia and fun – with no apologies!"
For almost a decade as bassist for Nottingham power pop merchants TEENAGE CASKET COMPANY, whilst also being all round Hard Rock 'gun for hire' with the likes of THE BULLETBOYS, BLACK MOLLYS and even 90's Pop Rockers LET LOOSE, Rob 'Laney74' Lane has now decided to take a sharp left turn and delve into his love of the Movie Soundtrack with a brand new EP titled, STRAIGHT TO VIDEO.
Scheduled for release in March 2013 through TrashPit Records, the STRAIGHT TO VIDEO EP features Laney's pick of favorite songs from film soundtracks of the past few decades, helped along with guest appearances from a whole host of artists spanning various musical genres.
"Long before I became obsessed with all things Hair Metal & Cock Rock, pretty much my entire music collection consisted of just Movie Soundtracks. Littered in those tapes were tunes, which to this day, are still some of my favorite songs ever! With STRAIGHT TO VIDEO, I get to put my own spin on them with the help of some good friends!"
The new EP boasts a guest list featuring the likes of Jaret Reddick (Bowling For Soup), Johnny Monaco (Enuff Z'Nuff / Almost Famous), Tory Stoffregen (The New Black 7 / Enuff Z'Nuff / Black Mollys), Richie Wermerling (Let Loose), Richie Hudson & Keef Gibbs (Kitty Hudson) and former TCC band mate Jamie Delerict (JD & The FDCs) along with a whole host of other great underground talent.
"I've always been a huge fan of albums like 'Confessions' by Dweezil Zappa or the first Golden Smog CD which just had these killer guest lists. I've also been incredibly lucky to know and work alongside some insanely talented people who've made me feel humbled by agreeing to be part of a crazy idea like this!"
A Limited Edition of the STRAIGHT TO VIDEO EP will come boxed within its very own VHS Video Case with Exclusive T-Shirt.
For more information and to keep up to date please visit www.straighttovideo.co.uk