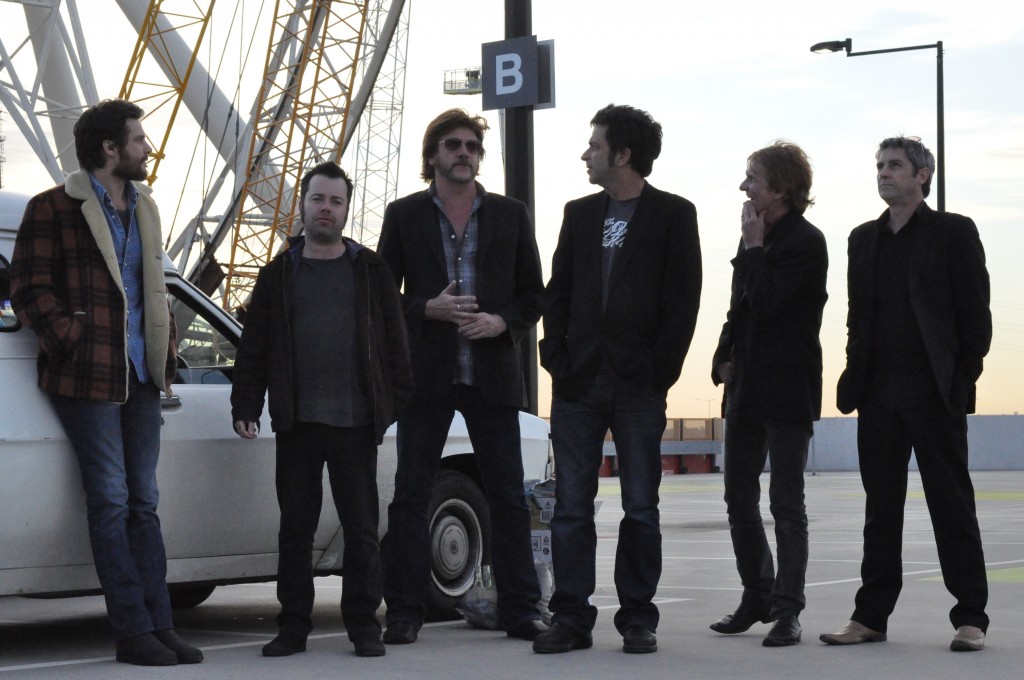 Originally primarily starting out as the backing band for Australian rock icon Tex Perkins, The Dark Horses, as is evident on new album Everyone's Alone have grown to become so much more.  Tex Perkins and fellow Dark Horses – Charlie Owen, Joel Silbersher, James Cruickshank, Stephen Hadley and Gus Agars have recently embarked on a national tour of Australia and the new album has been doing the rounds now for the best part of 5 weeks with it's dark and mysterious soundscapes…
Joel Silbersher and his caps lock key was kind enough to check in with us and give a bit of background to the new album.  Check it out below…
Hey Joel, thanks for taking the time to answer these questions!  So the new album 'Everyone's Alone' has been out now for a few weeks and having played a bunch of shows since it's release, how would you gauge the reaction to the new songs and the album from The Dark Horses fans so far?
PEOPLE SEEM TO REALLY BE ENJOYING THE NEW SONGS, PARTICULARLY ELDERLY PEOPLE. THEY LIKE THE OTHER, OLDER ONES TOO SO I PRESUME THAT THEY'RE BASICALLY ON OUR SIDE.  I'M NOT SAYING THAT WE COULD RELEASE AN ALBUM OF OUR COLLECTIVE FARTS AND HAVE IT EMBRACED AS GENIUS BUT GENERALLY I THINK A HUGE AMOUNT OF GOODWILL HAS BEEN GENERATED BY US OVER THE YEARS AND NOW IS THE THE TIME FOR THE DARK HORSES TO CASH IN ON THAT. WE ARE REAPING REWARDS OF OUR PRIOR KINDNESSES.
In what ways do you feel this album may differ from your previous release in a musical sense?
WE DID IT QUICK. WE HAD BEEN PLAYING LIVE A BIT AFTER THE LAST ALBUM AND PERKO SAID HE WANTED TO DO ANOTHER STRAIGHT AWAY, SO WE DID. THIS IS UNUSUAL FOR A BAND THAT HASN'T MADE A RECORD FOR YEARS BUT IT WAS GOOD. FRESH.
What do you think are some of the key things that now really define what The Dark Horses is all about musically?
GOOD PLAYERS NOT TOO COMFORTABLE WITH EACH OTHER BUT MUSCALLY RESPONSIVE AND, AS HUMANS, ACTUAL DARK HORSES.
'Everyone's Alone' can you share the meaning/concept behind this as both the first single and it's importance in representing the album as a whole by it being the title?
YOU CAN'T TAKE IT/THEM WITH YOU.
How different was the songwriting process for this album compared to the previous few albums – is this something you guys are all involved in?
MAINLY IT WAS STILL PATTO/PERKO, THOUGH I WROTE ONE AND CHARLIE WROTE ONE. WE ALL ADDED BITS TO THE SONGS. I'VE FELT FAR MORE INVOLVED IN THE OUTCOME THESE LAST COUPLE ALBUMS.
Throughout the album, there's a real sharing of roles and parts, in the sense that nobody is contained to simply playing just one instrument.  How do you find having this flexibility within the band and it's influence on both The Dark Horses in both the studio environment and when performing live?
IT'S ALWAYS BEEN LIKE THIS. IT'S A PLEASURE AND A NECCESITY.
You recorded the album at Tender Trap Studio, what are some of your most vivid memories that immediately spring to mind when you think back to the recording sessions for the album?
NONE OF YOUR BUSINESS! MY CHEEKS BURN AT THIS QUESTION!
The album has a few instrumental tracks, how different did these tracks come together (if at all) in comparison to the songs with vocals?
WE JAMMED UP NORTH ON A COUPLE THEMES AND THERE WAS NO NEED FOR WORDS. THE MOTIFS ARE SIMPLE AND STRONG.
You have played a bunch of shows in recent weeks to support the new album, how have the new songs slotted into the setlist and how have the shows gone so far?
GREAT. A THIRD THIS ALBUM, A THIRD THE LAST AND THE REST 'CLASSIC' DUCKHOSERS. KEEPS US AND THEM HAPPY, SEEMS…
Each of you within The Dark Horses has a well established presence with your individual musical endeavours over the years – so who have you maybe observed The Dark Horses appeal to in terms of demographic of the crowd at your shows etc?
I CAN'T SPEAK FOR THE OTHERS BUT FOR ME IT'S IT'S OWN THING. I'VE BEEN PLAYING WITH TEX AND CHARLIE, MAINLY AS DARK HORSES FOR OVER 13 YEARS NOW SO I AM VERY FAMILIAR WITH THIS STUFF, THOUGH I'M FLEXIBLE.
So after this immediate run of shows is done with, what's next on the horizon for The Dark Horses?
ANOTHER ALBUM AND SOME MORE GREAT SHOWS AND ME AND GUS CONTINUING OUR AWARD WINNING MOTEL ROOM IPHONE PORNO.
Essential Information
From: Australia
Website: www.darkhorses.com.au  www.texperkins.com.au
Latest release: 'Everyone's Alone (November 2nd Dark Horse Records/ Inertia)