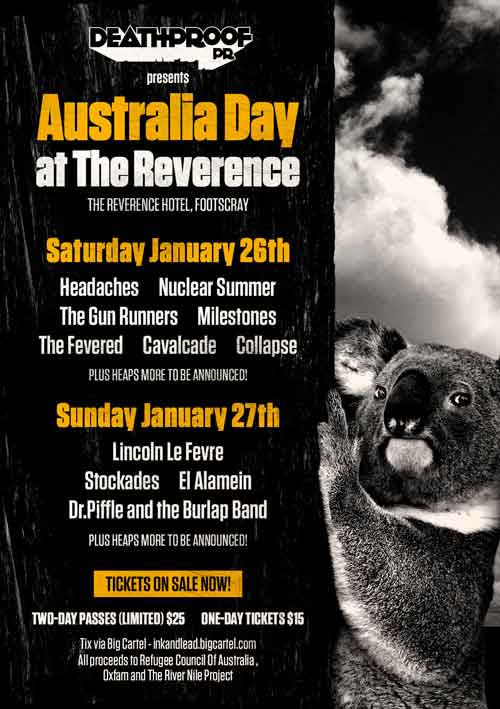 For a few years the Australian punk rock community has gotten behind a sure-fire good-vibes Australia Day event to raise money for three very worthy causes. In 2013 it will spread across both days of the Aus Day weekend and move to Melbourne's new favourite watering hole; The Reverence Hotel. Deathproof PR is proud to present the first installment of bands…
LINCOLN LE FEVRE has been breaking hearts all of over the country with his sophomore album and soulful live show. He'll bring the full band back to The Rev and make it a Sunday worthy of a bunch of beers. Local Melbourne legends confirmed include the reliably rocking THE GUN RUNNERS, and insatiable punk rock up-and-comers CAVALCADE and the tense, tight sounds of STOCKADES.
As always, the Brissie contingent will be strong and loud. HEADACHES are bringing their smart pop punk (and a brand new 7") to Melbourne for the first time in yonks. NUCLEAR SUMMER, smashed 2012, supporting Refused and touring exhaustively into South-East Asia. Propping up the rest of the QLD party will be MILESTONES and EL ALAMEIN, who've both released killer new stuff in 2012. Adelaide's nutso 10-piece gypsy-outfit DR.PIFFLE AND THE BURLAP BAND have hopped on board too.
All proceeds for the Australia Day Weekend at The Reverence will go to The Refugee Council, Oxfam and The River Nile Project who are three amazing organisations, more than deserving of your support.
Event organizer, Tom Jenkins explains the origins of the annual Australia Day event: "After seeing things like Cronulla riots happen and a general decline in positive activities surrounding Australia Day, it seemed like more people felt it was necessary to focus on being a drunken, racist asshole… My friends and I were discussing how there could be a way to counteract all this, raise a bit of money and generally have a bit of fun, and from there it grew into the very first Australia Day at The Tote". 
Tickets on sale right now folks. A limited amount of two-day passes are available at http://www.inkandlead.bigcartel.com for only $25 buckeroos. More bands to be announced soon!
Deathproof PR presents… 
AUSTRALIA DAY WEEKEND AT THE REVERENCE 
The Reverence Hotel, Footscray VIC
Tickets on sale now! 
Limited two-day passes at available now for only $25 
One-day tickets $15 
Tix via Big Cartel: http://inkandlead.bigcartel.com
SATURDAY JANUARY 26
Headaches
Nuclear Summer
The Gun Runners
Milestones
The Fevered
Cavalcade
Collapse
Plus heaps more to be announced! 
SUNDAY JANUARY 27 (Aus Day Holiday Eve)
Lincoln Le Fevre
Stockades
El Alamein
Dr.Piffle and the Burlap Band
Plus heaps more to be announced