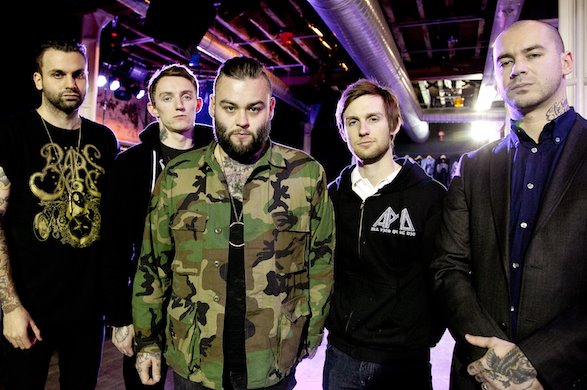 "You know I think bands just have a tendency to get a little stagnate when they've been going for a little while and obviously the massive shake up for all of us about a year ago, so I think it just pushed everybody together and made us focus on how much we love music and how big a part of it is in our lives…"
Gallows unleashed the next phase of their punk rock attack on the world with the highly-anticipated release of their follow-up to 2009's Grey Britain on September 14th.  The self-titled album was recorded, produced, mixed and mastered by long-term friends Thomas Mitchener and Steve Sears at Broadfields Studio in Watford in May this year.  It also is the first release with new singer Wade MacNeil formerly of Alexisonfire.
We chatted to Wade MacNeil about joining the band, their new album as well as their forthcoming Soundwave appearance and maybe a question about Alexisonfire too…
You're heading over to Australia to play the completely sold out Soundwave festival, what can people expect to see when they come to a Gallows set?
Absolute fucking chaos. We go stage every day and play as physically hard as we can so we can't do it for another 24 hours and I don't know, it's just all release, it's all chaos.
The bill as you'd know is huge, but are there any bands specifically that you're pumped to be sharing the tour with?
Fucked Up are playing, they are definitely in my opinion one of the best punk bands in the world, from Toronto, known them for years, yeah that will be amazing and to see them on the other side of the world.
You've been a part of the Soundwave festival before with Alexisonfire, do you have any great memories of that tour you can share with us?
Yeah, it's cool, there's tonnes and tonnes of bands playing and I think the line-up keeps getting better every year and I think you meet some unlikely people you wouldn't normally cross paths with.  Like and I always found this funny, we were playing one year and there was this guy that looked like one of the Hanson brothers from the movie 'Slap Shot' like Hockey looking guy with these big Elvis Costello glasses on and long hair and I thought 'Who is this guy?  He looks like one of the Hanson brothers.'  He got off stage and it was Noodles from The Offspring, and that was awesome and I don't know what other scenario there would be running in to that dude, so it's cool to bring bands together you know?
It seemed like a case of great timing that drew you in to the band, was it as simple as that or had the guys had you in mind for a little while?
On their end I'm not really sure how long it ended up going, but for me it was a very immediate thing.  They asked and we got in to it right away, and I think that's what's worked so well.  When I said yes they were like 'alright we're going in the studio and recording with Joby from The Bronx in a few weeks and we've got a tour booked in a few weeks after that.' So we kind of just jumped in right away and sometimes that's what's appealing about it you know.
As the new guy in the band what was it that you brought that has injected new energy in to Gallows?
You know I think bands just have a tendency to get a little stagnate when they've been going for a little while and obviously the massive shake up for all of us about a year ago, so I think it just pushed everybody together and made us focus on how much we love music and how big a part of it is in our lives and it's starting to work you know?  I've been a songwriter for a long time and I think that helped to just bring some new ideas and we just changed the way the band has been doing some things and some things stayed exactly the same, so it's been really cool.  It was relatively easy thing to do for a massive life changing decision.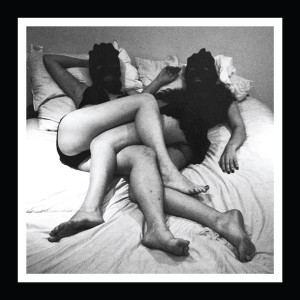 You can hear it, there seems to be a new fire lit and ferocity in the songs, was that intentional or did it evolve this way when writing?
Yeah I mean I think we didn't sit down and say this is the kind of record we're going to make, when the five of us get in a room together that's what comes out and I think in general we made a record and I think for me, it's pretty much my favourite stuff.  It's wild sounding but it's melodic and straight to the point and doesn't go off on any tangents, it's just really unrelenting, it's my favourite record I've ever made.
So on to the new album, what was the idea behind making the release a self-titled effort?  Is that almost a reintroduction to the band?
Absolutely, I think we can all say this is the sound we've all been looking for, for a long time and that was a very deliberate choice.
How has the fan reaction been to both yourself and the new album?
It's been really good, it's been really positive and when we play live the new songs are going down as well as the old stuff and that's always really encouraging and it's been cool , we've been out on the road for about four months now and we're not slowing down yet. We just got to Detroit, we're playing here tonight and every day…
Had you been a fan of Gallows prior to joining as you've toured with them in the past?
Yeah I was.  I met them in England and then we started hanging out a lot, we did a Warped Tour together in 2009 and spent a lot of the summer barbequing, drinking beer and watching each other's bands.  We were even on Soundwave the same year last time when I was on it, so yeah I've been a fan of this band for a really long time.
The album has been released on your own label Venn Records, was this a big decision to step out and take on a project like that rather than shop to a new label?
I think we were just really thrilled with the idea of being able to put it out ourselves you know?  Growing up in a punk and hard core community it's just a dream come true, I'd always wanted to do that, be able release of my own music and other bands and we met some people in the UK that were able to help us set everything up and it's been awesome.
Are there any plans for the label to work with other artists?
Yeah we're releasing a seven inch by a band called Marmozets and that's the first non Gallows related release on Venn. So next year we're going to be putting out a bunch of seven inches and then go from there.
Before Soundwave next year with Gallows, you'll be here next month for the Alexisonfire farewell shows, are there some mixed emotions in finally putting the band to rest?
Yeah I mean obviously everyone in the band is really excited to do those shows but obviously it's going to be kind of bittersweet you know what I mean?  To go and play what should be some of the best shows of our career but it's going to be the last shows of our career, so we're all really excited about it.  I'm sure it'll get strange a few times but I'm happy that we can do it and properly close the door and end it on a really positive note.
Thanks for your time Wade, see you in December and in February.
Thanks pal, see you then.
Essential Information
From: Watford, Hertfordshire
Band members: Wade MacNeil – vocals, Laurent Barnard – guitars/keys/vocals, Steph Carter – guitars/vocals, Stu Gili-Ross – bass, Lee Barratt – drums
Website: http://www.gallows.co.uk
Latest release: Gallows (out now – Venn Records / Halfcut / Shock Records)
SOUNDWAVE FESTIVAL – FEBRUARY/MARCH 2013
SOUNDWAVE FESTIVAL VENUES AND DATES
SATURDAY 23 – BRISBANE, RNA SHOWGROUNDS – SOLD OUT!
SUNDAY 24 – SYDNEY, OLYMPIC PARK – SOLD OUT!
FRIDAY 1 – MELBOURNE, FLEMINGTON RACECOURSE – SOLD OUT!
SATURDAY 2 – ADELAIDE, BONYTHON PARK – SOLD OUT!
MONDAY 4 – PERTH, CLAREMONT SHOWGROUNDS – SOLD OUT!
For more information head to www.soundwavefestival.com