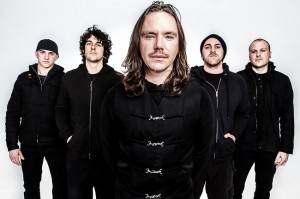 "Finally! A Twelve Foot Ninja full-length release!" Blunt Magazine
"This is the must discover band of 2012" – Beat Magazine
"This is the heavy rock album of the year – 10 out of 10" – Zoo Magazine
"The most ambitious debut album release for 2012" – Dom Alessio, Triple J
"Twelve Foot Ninja are basically one of the best live bands I have ever seen in my life….. Holy f*ck they are tight." – Misha Mansoor, Periphery
Following their ground breaking 12-week album & comic release campaign entitled 'Project 12' – heavy genre benders Twelve Foot Ninja step up the onslaught yet again, officially releasing their debut album, dropping their mind-boggling new single/video 'Coming For You', and announcing the SILENT MACHINE national tour in January-February 2013.Presented by Sludge Factory, Premier Artists and Volkanik Music, Twelve Foot Ninjawill embark on their biggest headline tour to date, heading to NSW, VIC, WA, SA and QLD. After cutting their touring teeth supporting the likes of Periphery (US), Tesseract (UK), Dead Letter Circus and Fair To Midland (US), Twelve Foot Ninja are finally ready to step it up a notch, and cement their reputation as Australia's next big thing in heavy alternative music.

The sheer breadth of Twelve Foot Ninja's musicianship on one body of work shows a fearless approach to their debut album. When the band first announced their album release date, fans crashed the band's website in the rush to pre-order. Then the Australian music press joined in the fanfare, delivering 5 star reviews, one of which hailed Silent Machine as 'the best heavy music album of the year'.
---
Volkanik Music, Premier Artists & Sludge Factory present…
SILENT MACHINE – TOUR DATES
TICKETS ON SALE FRIDAY 9th NOVEMBER at twelvefootninja.com
Thu 10 Jan – Cambridge Hotel – Newcastle
Fri 11 Jan – Annandale Hotel – Sydney
Fri 18 Jan – Corner Hotel – Melbourne
Sat 19 Jan – Ferntree Gully Hotel – Ferntree Gully
Thu 24 Jan – Prince of Wales – Bunbury
Fri 25 Jan – Amplifier – Perth
Sat 26 Jan – Mojos – Fremantle
Fri 1 Feb – Enigma Bar – Adelaide
Thu 7 Feb – The Venue – Townsville
Fri 8 Feb – Tempo Hotel – Brisbane
Sat 9 Feb – Miami Shark Bar – Gold Coast
---
Check out the insane new video for 'Coming For You'!
Never a band to take itself too seriously (except when it comes to their music), Twelve Foot Ninja's new video sees them drawing inspiration from Buena Vista Social Club, Earth Wind & Fire and Korean drumming YouTube sensation Kwon Soon Keun, transmitting a mind-altering narrative whilst also showcasing Twelve Foot Ninja's explosive live performance. Don't blink, 'cos you might miss something!
---