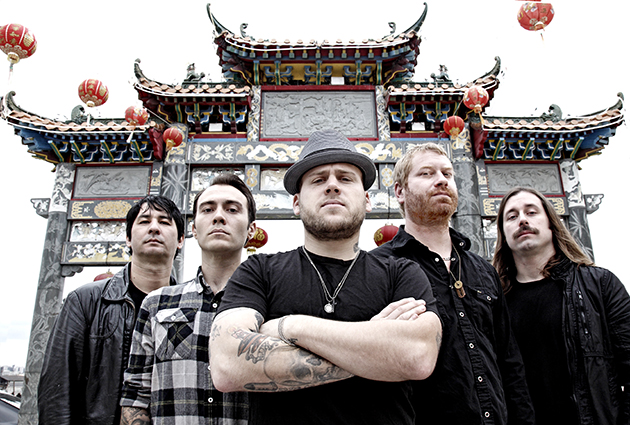 THE BRONX (IV), THE FIRST ALBUM IN FIVE YEARS FROM THE LOS ANGELES-BASED PUNK BAND, SET FOR RELEASE IN AUSTRALIA AND NEW ZEALAND ON FEBRUARY 8, 2013 through Shock Records
"Ribcage," A track from the upcoming album, is out today On 7" Vinyl and as a download
The Bronx
 are back with 
The Bronx (IV)
, the first album in five years from Australia's favourite LA punk band. Today, the world gets a taste with 
'Ribcage,'
 the first single lifted from the album, which is now available from iTunes and on 7" vinyl at 
www.punkshop.com.au/bronx/
. The limited edition vinyl also features 
'Into The Black,'
 a previously unreleased B-Side.
The Bronx (IV) 
will be released through White Drugs/Shock in Australia and New Zealand on February 8, 2013. Produced by
Beau Burchell, 
The Bronx (IV)
 is the band's first album in five years and comes as the group celebrates its 10
th
 anniversary. It can be pre-ordered now at 
www.punkshop.com.au/bronx/
Punching out 12 tracks in just under 40 minutes, The Bronx (IV) has picked up where The Bronx (III) left off; an album which NME hailed as a "brilliantly sleazy punk rock'n'roll album," urging: "Play it loud; for 33 thrilling minutes it'll make you feel like you can walk through walls."
Since the release of The Bronx (III) in late 2008, the band members have recorded two eponymously titled mariachi albums as Mariachi El Bronx, a project which has already seen Australian shores a few times, most recently at the Big Day Out 2012 festival nationally.
The Bronx (IV) – 
Track Listing
1. The Unholy Hand
2. Along For The Ride
3. Style Over Everything
4. Youth Wasted
5. Too Many Devils
6. Pilot Light
7. Torches
8. Under The Rabbit
9. Ribcage
10. Valley Heat
11. Life Less Ordinary
12. Last Revelation
Comments
comments