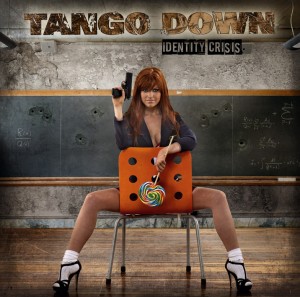 In 25 words or less: There's no Identity Crisis going on here, Tango Down,will appeal to anyone with a love of 80's influenced hard rock with a melodic twist.
In the 6 or so years of their existence, New York based hard rockers Tango Down are one of those bands that I've had awareness of, but for whatever reason I had never taken the time to properly check them out, beyond simply a few cursory listens via their website etc.  Well that has now all changed with the release of this their now 3rd album, Identity Crisis.  Once again continuing the trend of their past releases, this release features a different lead vocalist, with those duties on Identity Crisis being handled by the mega talented David Reece of Bangalore Choir and Accept fame.
Musically, there's seemingly no Identity Crisis going on here throughout these 10 tracks, the sound of Tango Down will firmly and squarely appeal to anyone with a love of 80's influenced hard rock meets melodic rock.  Blasting off with the ball tearing Crying To Me, this sees Tango Down at their heaviest and gnarliest.  The keyboards heralding the intro of Alone adds some suspense and anticipation before the song seeps out a real Dokken meets Whitesnake vibe.  Did someone order an old school Van Halen riff for Dream Child?  Well that's what you've got on this feel good rocker.  Blame is one of those real melodic rockers that you immediately can pick is going to blossom into one of those uplifting, addictive choruses and it doesn't disappoint.  Of course there are ballads on the album, you've got the traditional "power" ballad with Corners Of My Mind and Back To Life offers more of a slower tempo rocker, rather than a traditional ballad as such.  There's plenty of huge backing vocals at the centre piece of the Tango Down song, with Hearts Catch Fire and on the classic blues rock of closing track Magic Pudding, David Reece really gets to stamp his authority as a the renowned powerhouse vocalist that he is.
Tango Down and Identity Crisis don't deliver anything that we haven't heard before in the hard rock sphere, but what they do, they do it well and there's certainly a hefty dose of enjoyment to be had from this album.
Essential Information
For fans of: 80's styled hard rock with a melodic twist
Release date: 1st October, 2012
Record label: Kivel Records
Website: www.tangodownband.com
Track listing:
Cryin' To Me
Alone
Dream Child
Blame
Corner Of My Mind
Enlighten Me
Back To Life
Hearts Catch Fire
Calling Out
Magic Pudding