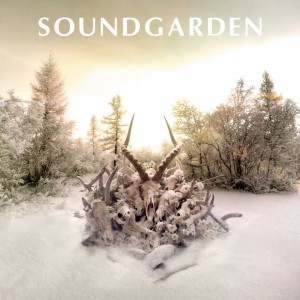 In summary: "This to me is what an album is about, it takes you back to a time and a feeling, and it was kinda cool."
Here we have a band that have had for far too many years between drinks, 'King Animal' is the first album from Soundgarden in get this, sixteen years!  This album sees the Seattle Grunge pioneers return with a collection of all new music just like it was 1991 and in my opinion that's a good thing. Album opener 'Been Away Too Long' is the perfect title and welcome back for the band and although they have in fact been away for too long, you wouldn't know it.  The sound is still there, this is Soundgarden and after the opening track I feel like we're in for a record that although has been many, many years in the making will show us how it's done.
Chris Cornell's voice is without doubt one of the most distinguishable in rock music today, through his solo releases and three albums with 'super group' Audioslave he has stayed prominent in the industry where as his bandmates guitarist Kim Thayil and bass player Ben Shepherd have played a much lesser part in the scene, oh besides drummer Matt Cameron who also plays in some band called Pearl Jam, not sure, haven't heard much from them but keep an ear out they sound like they could be big… so to see this Soundgarden line-up reunite after so long apart is pretty damn cool.
As I said, on 'King Animal' the sound is there, the vibe is there, the weird time signatures as well as the almost middle eastern guitar sounds at times are all back and it's actually quite hard to believe this is only the bands sixth album, I guess the time was right to get back out there again.  By no means is this their finest effort, I personally can't get past 'Badmotorfinger' for that (what do you expect?  I was 15 when it came out), but this could very easily come in as a close second for me given a few more listens, it really is a rockin' album and I did have to check my calendar while listening a few times throughout just to make sure it was still 2012.  That to me is what an album is about, it takes you back to a time and a feeling, and it was kinda cool.
I'm not going to single out each track as there was no clear stand out for me, but believe me when I say that this is a Soundgarden record, if you know the band you'll understand what I mean. They haven't gotten back together to reinvent themselves, to take on a new direction or to shock fans, this is pretty much the album many fans have been waiting for since the break began many years ago, some who thought it may never happen, but many of their fans are now much older and wiser yet I'd say it's guaranteed if the reception and presence at their sold out shows when they toured Australia in January are anything to go by, there will be many a flannel shirt being draped back on and some cut off shorts being dusted off to turn out the lights, put on King Animal and remember a sound that is back, one that I personally hope doesn't go away in a hurry.
You can win a copy of 'King Animal' simply by clicking here…
Essential Information
From: Seattle, Washington, USA
For fans of: Soundgarden and 'alternative' rock
Release date: 12 November 2012
Record label: Universal Music Australia / Vertigo Records
Producer: Soundgarden & Adam Kasper
Website: http://www.soundgardenworld.com
Track Listing:
1. Been Away Too Long
2. Non-State Actor
3. By Crooked Steps
4. A Thousand Days Before
5. Blood on the Valley Floor
6. Bones of Birds
7. Taree
8. Attrition
9. Black Saturday
10. Halfway There
11. Worse Dreams
12. Eyelid's Mouth
13. Rowing