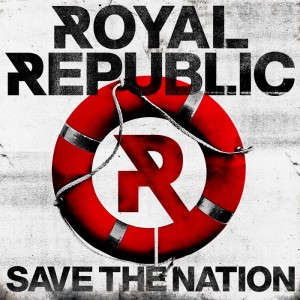 In 25 words or less: "You gotta let your hair down, you gotta do it alright, HEY, HEY!!
Royal Republic first came to my attention when they hit Australia last year as part of the touring Soundwave juggernaut.  Seeing them live before I'd really heard them in recorded form, the Swedish rockers firmly and squarely came across as a band intent on delivering a kick ass, fun rock show, all wrapped up with a pretty cocksure, but highly likeable attitude.  A mix of Eagles Of Death Metal, Danko Jones and fellow Swedish natives The Hives, Royal Republic hit back now with second album Save The Nation. 
Delivering a pretty much straight ahead rock sound to begin with, Royal Republic haven't flirted too much with that formula.  Save The Nation simply oozes with a further shot of the self assuredness that they've always had, but which has been further confirmed with 350+ live shows performed since they recorded their first album.  Song titles always amuse me and amused I certainly was with a couple of the albums most addictive tracks Everybody Wants To Be An Astronaut and Make Love Not War [If You Have To Make War – Make Sure To Make Time To Make Love In Between].  Frontman Adam Grahn on a track such as Molotov exhibits the "preacher" like qualities evident in their live show and on a song such as Punch Drunk Love the band are at their most rambunctious and full blown garage punk mode.
The brand of rock delivered on Save The Nation is nothing that we haven't heard before, but the appeal of bands like Royal Republic is they are on a mission to bring the fun, bring the live show and preparedness to take it to the world.  Whilst they may not necessarily Save The Nation with this album, they do offer some sage advice through their song Let Your Hair Down-  "you gotta let your hair down, you gotta do it alright, HEY, HEY!!
Essential Information
For fans of: The Hives, Eagles Of Death Metal, Danko Jones, fun rock!
Release date: September 28th, 2012
Record label: Roadrunner Records
Website: www.royalrepublicband.com
Track listing:
1. Save The Nation
2. You Ain't Nobody ['Til Somebody Hates You]
3. Be My Baby
4. Everybody Wants To Be An Astronaut
5. Make Love Not War [If You Have To Make War – Make Sure To Make Time To Make Love In Between]
6. Strangers Friends Lovers Strangers
7. Addictive
8. Molotov
9. Punch Drunk Love
10. Sailing Man
11. Let Your Hair Down
12. Revolution