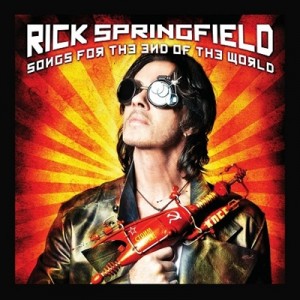 In 25 words or less: Songs For The End Of The World is about as brilliant as you could hope an album of melodic pop/rock to be!
To the vast majority, the mere mention of either Rick Springfield or Richard Marx is usually met with comments referring to anything but their phenomenal musical and importantly song writing talents.  But for those of you like me who have been consuming with gleeful abandon every single one of their album releases over the last 20 to 30 year, then I'm sure you also agree that these guys are almost without peer when it comes to capturing edgy melodic rock/pop at it's absolute finest.  On new album Song For The End Of The World, which follows on from the 2009 release Venus In Overdrive, Springfield has assembled song after song of pure, unadulterated melodic pop goodness.
For those of you that dug Springfield's previous album, Venus In Overdrive, well this new one pretty much continues where that last album left off, albeit with a more direct and immediate song writing approach.  The opening duo of Wide Awake and Our Ship's Sinking hit me right between the eyes as far as essentially capturing everything I love to feature in a three minute pop song – whooaaah, whooooah, whoooah, yep there's plenty of those in the latter!  Our Ships Sinking especially has immediately become one of my all time favourite Springfield songs, it's just that damn good, and not just because John Waite and Richard Page (Mr Mister) provide backing vocals.  I Hate Myself kicks off with a guitar riff that is Third Eye Blind meets the latest Matchbox Twenty single She's So Mean, an uptempo feel good pop rocker, musically belying it's lyrical themes and with a chorus that is Def Leppard sized arena massive.
When the tempo is dropped back a few notches on You and Me and Gabriel, infectious melodies dominate and allows a chance to appreciate the fact that Rick's vocals are sounding just as good today as they ever have.  The pop'tastic A Sign Of Life along with the slightly darker and moody I Found You and Depravity are thouroughly modern rockers to defy anyone who may dare challenge Rick's relevance in music today.  If you've read Rick's autobiography Late, Late At Night and his lifelong battle with depression then you will fully understand where lyrics in songs such as Love Screws Me Up come from.
When it comes to the prospect of a new Rick Springfield release for me, it's never a question or doubt if it is going to be any good, it's always a question of just how good and Songs For The End Of The World is about as brilliant as you could hope an album of melodic pop/rock to be!
Essential Information
For fans of: Rick Springfield and modern melodic pop rock
Release date: November 2nd, 2012
Record label: Frontiers Records/Riot! Entertainment
Produced by: Rick Springfield & Matt Bisonette
Website: www.rickspringfield.com
Track listing:
Wide Awake
Our Ship's Sinking
I Hate Myself
You And Me
Gabriel
A Sign of Life
My Last Heartbeat
Joshua
Love Screws Me Up
I Found You
Depravity
12. One Way Street