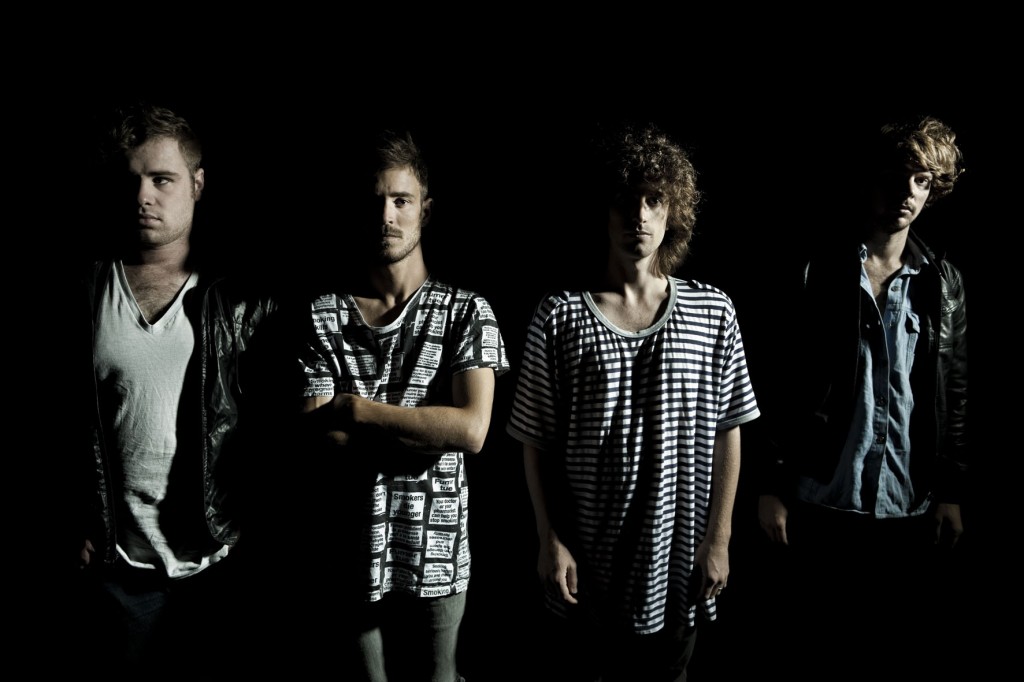 Armed with a new EP titled The Colour Age, led by new single and video, Empty Town, Melbourne's Red Ink look set to well and truly build upon their rise of a few years ago on the back of their first single Audrey, which saw them playing festivals such as Pyramid Rock, Stereosonic and sharing stages with the likes of Biffy Clyro, Miami Horror and British India.
Between their Mornington Peninsula roots and recording the video for Empty Town at seaside Brighton in the UK, the influence of the "sea" is noticeable both in the songs throughout The Colour Age and the visual landscapes portrayed.
Red Ink are about to embark on a tour that will see them play shows in Melbourne, Sydney and Adelaide.  We chat with vocalist John J about the new EP, songwriting and picking up on planes!
FREE TICKETS – If you want to go check out Red Ink, we've got 2 double passes to give away for their show in Melbourne @ The Toff on November 15th and for their show in Sydney @ Beresford on November 30th.  Click here to enter…
Red Ink is not necessarily a new band, but for the benefit of those reading about you for the first time, how would you describe what the band is all about musically?
We're four guys from the sunny Mornington Peninsula and we write songs. It sounds very vague, but in a time of hipster sounds and nothingness lyrics, we take pride in writing real, honest songs.
As a further introduction to readers, let's learn a little more about each of the members in Red Ink.  Can you introduce each band member and give us a rock 'n' roll fact or myth about each?
Aaron's the drummer; he has a fetish for wearing dirty moustaches.
Brendan plays guitar and he rides bikes Cadel Evans style.
James slappa da bass and knows pretty much everything about movies  and he rolls a mean cigarette.
John sings and seriously enjoys Craig David.  Seriously
You have your new EP released and it's titled The Colour Age, here's your chance to tell us everything we need to know about it…
We were tired of pretending to be a tough rock band, so ditched that idea, spent some time in a beach house and a bike store room and started writing what felt honest to who we were as artists.
How do you feel your sound has progressed from your earlier EP release(s)?
As mentioned above, we shifted from tougher party tracks to songs with a maturity and elegance.  Our music influences changed as well.  We still like to think our music is fun and 'danceable' but with something extra to it..
Empty Town is the single and video that has been released.  Tell us a bit more about this song, both in a lyrical and musical sense…
Lyrically it speaks of being trapped in a place where you don't feel you belong. It's about crying out to break from that.  I suppose writing the lyrics was a somewhat introspective process for John.
Musically the track is heavily led by a solid groove from the bass and drums but the guitars and vocal soaring over the top give it the atmospheric, optimistic edge.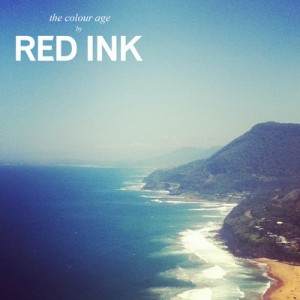 What do you feel are the key "ingredients" that need to feature in a Red Ink song?
Substance.  Both sonically and lyrically we like our music to have 'feeling' and not seem to throwaway.
When it comes to songwriting, is there a typical process within the band – does it start from one person, or is it something that is a shared thing?
We like to treat each song differently.  One song may begin with a guitar riff or another with a piano ballad melody and lyric.  We try not to give ourselves any rules when writing and prefer to vibe out together.  When we get into our home studio we can then nut out the finer details.  No two songs have ever developed in exactly the same way.
Tell us about the environment in which you wrote and recorded the EP and how you feel that may have influenced what we hear throughout The Colour Age?
We decided to take a new direction in song writing and in order to kick it off, we booked a beach house on Philip Island and began to jam.  I suppose that atmosphere of space and serenity definitely came through in the music we began to produce in that moment.  The EP definitely follows in that vibe.
Earlier this year you had the opportunity to play some shows in the UK, how was that experience?
Crazy good!  We've spent over 5 years driving up and down the Hume every other week so it was refreshing to play to a new audience who were immediately stoked with our music and our show.  We already had a bit of a fanbase growing over there so it was great to finally meet them!  Plus, James picked up on the flight over there!  rue story.
If you were a person in the crowd at one of your upcoming gigs, what five words would you walk away using to describe the performance you just witnessed?
Passionate, energetic, sweaty, charismatic and limber.
For the benefit of those reading this in galaxies far, far, away, how would you describe the current music scene in Melbourne/Australia and Red Ink's place within it?
Thriving.  But everyone's obsessed with what's hot right now.  Bands are-a plenty, but "good" bands are a lot harder to find if you don't know where to look.
Here's a chance to gaze into your crystal ball, over the next 12 months, Red Ink will have:
1.  Spent some time overseas.
2.  Spent a lot of money.
3. Enjoyed every minute.
Essential Information
From: Melbourne, Australia
Sounds like: Visual rock!
Band members: Aaron S – Drums, Brendan J – Guitar, James M – Bass, John J – Vocals.
Website: www.facebook.com/redinkmusic
Latest release: The Colour Age EP
TOURING NATIONALLY IN NOVEMBER/DECEMBER…
Fri 9th Nov @ The Castle, Dandenong, VIC (AA)
Thu 15th November @ The Toff, Melbourne, VIC
Fri 16th Nov @ 'CATS' Rocket Bar, Adelaide, SA
Fri 30th Nov @ Upstairs Beresford, Sydney, NSW
Sat 1st Dec @ Rock Lily, Sydney, NSW
Fri 7th Dec @ Can't Say, Purple Sneakers, Melbourne, VIC
The YouTube ID of E5cR3LjmBgo  is invalid.